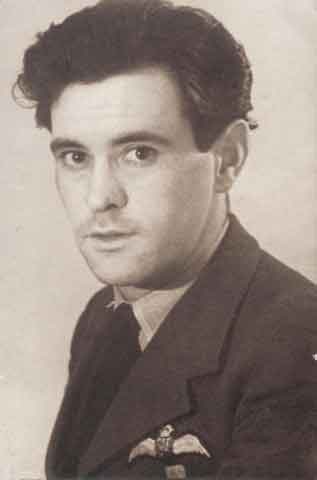 Before I joined 118, I was in 602 (City of Glasgow) Squadron during the last 10 or so months of hostilities. I had "B" Flight, while Raymond Baxter, who died just recently, had the other Flight. He had been my deputy as a Flying Officer, then bumped up to Flight Lieutenant before taking over "A" Flight for the last two months of the war. And most importantly, as far as my future family life was concerned, Squadron Leader "Max" Sutherland, with a couple of DFC's, was our CO - most importantly, because I then married his eldest sister, having met her when the Squadron was disbanded immediately after VE Day. A certain Flight Lieutenant Wm. Harbison was my Best Man when we married on 1st December, 1945.

---

The following is an extract from No 602 City of Glasgow Spitfire Squadron F540 Operation Record Book recording operations against the Shell-Mex Building on the 18th March 1945:

"RAF STATION LUDHAM. MARCH,1945
18th (Cont'd)
13.00 hrs After a very careful briefing the Section carrying 1X 500 lb and 2 x 250 lb bombs fused
11 sec delay, and consisting of F/LT H.R.P.PERTWEE - F/LT A.G.PULLMAN - F/LT G.D.STEPHENSON -
F/O R.F.BAXTER - and F/SGT ZUBER C.J.-AUS. 424677 - led by our Commanding Officer -
S/LDR R.A.SUTHERLAND D.F.C. were airborne and rendezvoused with No 124 Squadron over LUDHAM.
Both No's 453 and 124 Squadrons were to make diversionary attacks on the target of the Race
Course in THE HAGUE whilst our six aircraft made a low level attack on the BAATASCHFE PETROL COY.,
Building which is situated in the built up area north of the HAAGSCHE BOSCH, two miles from the coast.
Whilst 453 and 124 Squadrons were making their attack on the racecourse, our six aircraft having
crossed in at 2000 ft and dived to ROOF TOP LEVEL, approaching the target from the North-
West released their bombs in straight and level flight below the level of the roof of the target
building at a range of approx 50 yds, four of the aircraft STRAFFING the face of the building
in the approach. F/SGT ZUBER'S aircraft was hit in the starboard
mainplane just prior to the release of his bombs which fell 50 yds to port of the building.
One cluster of bombs overshot 50 - 100 yds but the remainder hit the base of the building.
As the Section broke to clear the roof of the target S/LDR SUTHERLAND'S aircraft was hit by
flak which was considerable and the starboard elevator destroyed.




Damaged elevator on the Spitfire 16 of Sqn Ldr Max Sutherland DFC - SM351

Red smoke and flames were seen to roll from the eastern face of the building from bombs which must have
penetrated inside the building and smoke and debris rose to a considerable height. White smoke rose from
the Western side and the target was last seen enveloped in dense black smoke. The roof of
the building however, appeared to be intact, but from the clouds of red smoke which were seen
just after the attack and the heavy pall of smoke which later obscured the target it is
considered that the inside must be totally destroyed.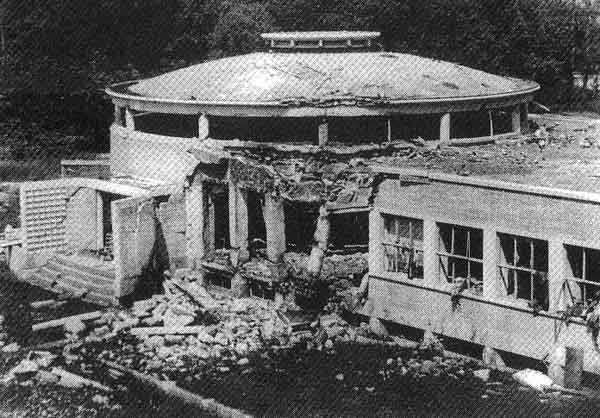 Shell-Mex Building after the attack on 18Mar45.

All aircraft landed at URSEL where after refuelling and re-bombing, four took off
to bomb interdiction target at the Leader's choice. Crossing in at MAASLUTS at 10,000 ft.,
he selected the DELFT - ROTTERDAM Railway line and bombed it from 8000 to 3000 ft,. but
unfortunately no results were seen.

18.25 S/Ldr Sutherland returned to base at 18.25 hrs - thirty five minutes after the others -
having flown back in F/Sgt's Zuber's aircraft, leaving his own to have a new elevator fitted
and to be brought back by F/Sgt Zuber.

19th.
08.40 Four Spitfire's each carrying 2 x 250 lb bombs fused 11 sec delay took off to bomb inter-
diction targets. Crossing in North of THE HAGUE they flew to UTRECHT and bombed the railway
junction North-West of the town, with all bombs, from 8000 to 2000 ft. A thick haze over
the area made visibility extremely poor and only one cluster of bombs were seen to fall a
few yards east of the railway lines. The Section recced to AMSTERDAM - HAARLEM at 2000 -
3000 ft and west of ALSMEER a stationary staff car and a small van were attacked by all
aircraft and many strikes seen. No flak was encountered throughout the operation.

13.05 Weather conditions steadily got worse and the newt Section of six aircraft were recalled
by Controller after 12 minutes flying.

20th. Except for the last mission of the day our aircraft were kept busy bombing Railway
Interdiction targets.

08.50 Four aircraft each carrying 1 x 500 lb and 2 x 250 lb bombs fused 11 secs delay, took
off and set course for KATWIJK. After crossing in they proceeded towards HAARLEM, bombing the HAARLEM -
LEIDEN Railway lines from 7,000 to 2,000 ft. An exceptionally strong wind made bombing somewhat
difficult and only 1 x 250 lb bomb fell on the track. The remainder of the bombs fell from
10 - 30 yards east of it.

The Section landed at URSEL, but two aircraft were unserviceable due to mechanical
trouble. Whilst waiting for these aircraft to be made serviceable the remaining two aircraft
were scrambled on an Air-Sea Rescue patrol. They patrolled an area eight miles north of
THE HAGUE for 60 minutes. The pilot was seen sitting in his dinghy and later a Walrus aircraft
landed about 100 yds from him, having encountered some flak from the coast. It taxied around
the dinghy during which time coastal batteries opened up on it. Our pilots last saw the
aircraft taxying westwards about two miles from the dinghy. Our aircraft made many unsuccessful
attempts to contact the Walrus by R/T and attract her attention by diving towards the dinghy,
but it was learned later that the aircraft had damaged its rudder when landing on the very
rough sea. On returning to URSEL these two aircraft re-fuelled and re-bombed and took off at
14.15 14.15 hrs. They bombed the same target as before from 7,000 ft to 2,000 ft -....."


---
DATE
AIRCRAFT
TYPE & NUMBER
CREW
DUTY
TIME
DETAILS OF SORTIE OR FLIGHT
UP
DOWN
16th
SPITFIRE XVI
SM356
SK235
F/LT G.D.STEPHENSON
W/O CROSLAND J.
PILOT
"
18.35
"
19.20
"
TWO AIRCRAFT Flew to SKEGNESS to carry out square
search northwards for 6 miles, apart from 1 lifeboat no
movement seen.
18th.
SM342
SM350
SM400
SM235
F/O J.P.FARREL(CAN)
F/O W.M.CAMPBELL
F/SGT ZUBER C.J.(AUS)
W/O BAERLEIN R.M.
PILOT
"
"
"

18.50
"
"
"
10.35
"
"
"
ARMED RECCE, bombed HAARLEM-LEIDEN-3 sticks of bombs
fell on track-cutting it in 3 places. Recced to AMSTERDAM
but no movement seen.
SM301
TD911
SM424
SM234
F/O R.F.BAXTER
W/O AMIES J.N
W/O SOLLITT S
F/SGT GOM S
PILOT
"
"
"
10.15
"
"
"
11.35
"
"
"
ARMED RECCE-INTERDICTION. Bombed rly bridge over LEIDEN-
GOUDA scoring direct hit on it and other results good. Recced
BOSKOOP EGMOND but no movement seen.
SM342
SM400
F/O J.F.FARRELL
F/SGT LOVE T.L.
PILOT
"
11.25
"
15.20
"
Escort to 2 Mustangs - uneventful.
SM351
SM424
SM361
SM276
SM234
SM343
S/LDR R.A.SUTHERLAND DFC
F/O R.F.BAXTER
F/LT G.D.STEPHENSON
F/LT H.R.P.PERTWEE
F/LT A.O.PULLMAN
F/SGT ZUBER G.J.(AUS)
PILOT
"
"
"
"
"
13.00
"
"
"
"
"
14.30
"
"
"
"
"
LOW LEVEL ATTACK ON BATSCHFE PETROL CO. Bombs released
in straight and level flight below level of roof with 4 a/c straffing
as they dived. Results considered good. LANDED B67, where
one aircraft stayed owing to mechanical trouble.
SM343
S/LDR R.A.SUTHERLAND DFC
PILOT
17.40
18.25
SM424
SM361
SM276
SM234
SM351
F/O R.F.BAXTER
F/LT G.D.STEPHENSON
F/LT H.R.P.PERTWEE
F/LT A.O.PULLMAN
F/SGT ZUBER G.J.(AUS)
"
"
"
"
"
16.10
"
"
"
"
17.50
"
"
"
LANDED
AT ERSEL
Took off from B67 and attacked DELFT-ROTTERDAM railway
but no results observed.
19th.
SM234
SM424
SM342
SM276
F/LT A.O.PULLMAN
W/O CROSLAND J.
W/O SOLLITT S
W/O ELLISON H.G.(NZ)
PILOT
"
"
"
08.40
"
"
"
10.30
"
"
"
ARMED RECCE-INTERDICTION TARGET. Seen that the Batschfe
Petrol building & surrounding area very badly burnt. Bombed
Rly junction near UTRECHT-good results.
SM276
SM424
SM342
SM234
SM361
SM400
F/LT H.R.P.PERTWEE
F/O W.J.H.ROBERTS
F/O J.F.FARRELL(CAN)
W/O BAERLEIN R.M.
F/LT G.D.STEPHENSON
F/SGT GOM S
PILOT
"
"
"
"
"
13.05
"
"
"
"
"
13.30
"
"
"
"
"
This mission was abortive as the aircraft were recalled
by the Controller.
20th.
SM342
SM234
SM276
SM235
F/O J.F.FARRELL(CAN)
F/O W.J.H.ROBERTS
F/SGT ZUBER C.J.(AUS)
F/O W.M.CAMPBELL
PILOT
"
"
"
08.50
"
"
"
10.20
"
"
"
ARMED RECCE-INTERDICTION TARGET. Crossed in KATWIJK at
9000ft Bombed HAARLEM-LEIDEN Rly with good results, landing B67.
Two a/c U/S mechanical trouble.
SM234
SM235
F/O J.F.FARRELL(CAN)
F/SGT ZUBER C.J.(AUS)
PILOT
"
14.15
"
15.45
"
Bombed same target with good results.
TD911
SM351
SM361
SM400
F/O R.F.BAXTER
F/SGT GOM S
F/LT G.D.STEPHENSON
W/O ELLISON H.G.(NZ)
PILOT
"
"
"
10.40
"
"
"
11.30
"
"
"
ARMED RECCE-DIVE BOMBING INTERDICTION TARGETS.
Attacked LEIDEN-HAGUE Rly with good results, and it was
observed that no attempt was made to repair damage caused by
previous attacks.
20th
TD911
SM351
SM361
SM400
F/O R.F.BAXTER
F/SGT GOM S
F/LT G.D.STEPHENSON
W/O ELLISON H.G.(NZ)
PILOT
"
"
"
12.35
"
"
"
14.00
"
"
"
LANDED B67-taking off 12.55 to attack road junction north
of DELFT, 2 clusters on junction & 1 on bridge.
SM424
TD911
P/O M.V.FRANCIS
F/SGT LOVE T.L.
PILOT
"
14.30
"
16.15
"
Escort to P.R.U. Mustangs-uneventful apart from 20 bursts
of inaccurate 40 mm flak at Mustangs.
SM234
SM235
F/O W.J.H.ROBERTS
F/O W.M.CAMPBELL
PILOT
"
11.00
"
13.00
"
Two aircraft whilst at B67 were scrambled for A.S.R. Patrolled
& located pilot which a Walrus a/c endeavoured to pick up.
SM351
SM400
SM288
SM343
F/LT A.O.PULLMAN
W/O BAERLEIN R.M.
W/O SOLLITT S
W/O AMIES J.N.
PILOT
"
"
"
16.20
"
"
"
18.00
"
"
"
ARMED RECCE-TARGET HAGUE/YPENBURG AIRFIELD. Attacked
target & saw large fire already burning in aiming point area. 3 clusters
of bombs fell 50ft from aiming point, Recced to ARRHEN shotup...
Flying Record Book F541 for No. 602 City of Glasgow Squadron when it bombed the Shell-Mex Building in March 1945 led by
Sqn Ldr Max Sutherland DFC.
---

A few weeks after 602 got the chop, Max Sutherland was bumped up to Wingco, and posted to Bentwaters to take over as Wingco Flying, for 118 and 64 Squadrons, and then moved with them up to Horsham St. Faith's, just outside Norwich. Just then, Paddy was down at Tangmere, on the Fighter Leaders School course (I had just done it, in March and April, of that year), and the other Flight Commander - who I never met - had already departed, so the Squadron was short of two effective flight commanders for a short time. This is relevant, as I will explain later. So, using a bit of string pulling, my future brother-in-law got me posted into the vacant flight commander's slot, and my association with Paddy then started.



The next bit, as far as squadron history is concerned, you probably already know. With hostilities over, Fighter Command very noticeably became a peacetime organisation, with training, training, training the order of the day, and with very little to relieve the monotony. We escorted Marshal of the Air Force Lord Trenchard - the legendary "Boom" Trenchard - on our very best behaviour that day, we escorted some Mosquitoes to Aberdeen on one occasion (couldn't they find their way there themselves?), and the Squadron took part in the large flypast over London and Buckingham Palace on 16th September. I wasn't on the flypast, but instead was briefed to carry out what I logged as a weather test when I had to fly over the route of the flypast about an hour beforehand. There I was, one solitary Mustang, with full permission to do the unforgivable, flying over London at about 1,000 feet, right up the Mall and over Buck House - with a quick nod by way of a bow as I passed over the royal bungalow.



And then the blow fell. We - 118 and 64 - had been told that we would be converting on to Hornets, and the first one or two had arrived and gone to 64. I, for one, was looking forward eagerly to the conversion and I had already taken up one or two of our bods for a spot of dual in the station's Oxford - I had a "B" instructor's ticket for "twins" - so when the blow fell, it was a great disappointment. We, 118, were to be disbanded, while 64 would go ahead with the conversion, but be reduced to cadre status only, just one flight, which Paddy later took over.



Quite some time previously, I had applied for a Permanent Commission, as had Paddy, and Max Sutherland, but at this time none of us had had any news as to how successful - or not - we might be. So, thinking it might enhance my prospects, I thought a staff job would do the trick, and I managed to get a posting to fly a desk in 65 (London) Reserve Group, based at Hendon, with the ultimate remit to reinstate the Auxiliary Squadrons and the Volunteer Reserve, but to take over, as a going concern, all the ATC squadrons in the London area. This proved to be one career move too many; it was a complete backwater and a total waste of time so far as getting a PC was concerned.



And so, I came out in December, 1946, and ended up in Nigeria, selling beads to the natives - well, not quite, but it sometimes felt like that. In the meantime, we had rather lost touch with Paddy. He had been down to the flat several times, a flat we had rented in West Norwood, belonging to another of the 118 gang, Peter Darling, while I was doing my stint with 65 Group, but we then heard that (1) he, Paddy, was posted to Japan as Assistant Air Attache; Wrong! Then (2) that he had broken his collarbone: Wrong again, it was his leg he got bent (undercarriage failure???), when (3) he had been playing rugby - at least we had got that one right! Over the years, we had thought quite often about him and had made one or two rather half-hearted but futile attempts at tracing him, but our 60th wedding anniversary two years ago gave it some impetus, and we finally managed it, through Graham's contact with you - for which we are exceedingly grateful!

PS. I should mention that 118 were a very keen rugger-bugger outfit. The station had a regular team, - a first class team - in which 118 was well represented, but we could, in fact, field a team ourselves from 118 personnel entirely!

Graeme, Iain' son fills in a part of his Father's history:



"Dad was a pilot during the War, firstly on Hurricanes with 257 Sqn ( CO Bob Stanford Tuck), then to Malta June 1941 - Feb 1942 with 118 Sqn, flying clapped out Hurricane IIs. After a spell training new pilots in Rhodesia, he returned to Europe and in 1944, joined 602 City of Glasgow AuxAF Sqn as "B" Flight Commander on Spitfire XVIs, dive bombing V2 sites etc. As dad is from Glasgow (his nickname is "Jock" - I wonder why ?), he was very pleased to join his "Home" unit. The CO of 602 was "Max" Sutherland, my mother's brother. That is how mum and dad met. At first my dad's No2 in "B" Flight was Raymond Baxter (Mr Motor Racing on BBC), Bax later becoming Commander "A" Flight. A couple of years ago, he was made an honorary Life Member of the 602 Association, and recently attended the celebration of the Reformation of 602 Squadron. I think he may be the oldest surviving member at 87. Dad converted to Mustangs in 1945 joining 118 until he was demobbed.



Bax died in September last year, and unfortunately we could not go to the funeral; however, we did manage to attend a thanksgiving for his life at St Clement Danes in April. Mum and dad came down from Scotland and stayed with me for about ten days Vampire FB.5 & 9