Born in 1927. David Lockspeiser studied aircraft design at Miles Aeronautical Technical School and Hawker Siddeley between 1945-9. He joined the RAF and flew on No.118 Fighter Ground Attack and No.245 Fighter Squadrons. He Qualified as a Pilot Attack Instructor and Instrument Rating Examiner 1949-55.

He left the RAF as a Flight Lieutenant to join Hawker Aircraft Ltd as a test pilot, flying various aircraft and programmes but mostly on the Hunter Production development, weapons development and demonstrations between 1955-68. He Joined the Civil Aircraft Division of British Aircraft Corporation, where his Commercial Pilot License was endorsed for half a dozen types between 1968-76.

David became a Test pilot with Lockheed Aircraft Services Singapore, where a comprehensive new weapons and reconnaissance installations update was undertaken with the Singapore Air Force Hunters. After redesigning the instrument panel, he carried out all aspects of the flight test programme including reports and compilation of operating notes.

As a full spare time private venture, David designed and built, with help, the LDA Boxer, a single engined tandem wing proof of concept utility aircraft. He formed Lockspeiser Aircraft Ltd. and had developed the project to the anticipated production configuration. However before these modifications could be flown the aircraft was totally destroyed by an arson attack on the hangar where it was kept.



Lockspeiser LDA-01 Boxer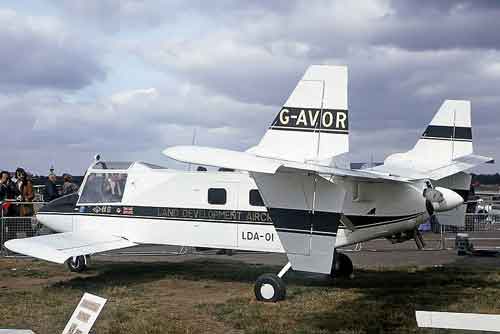 The Lockspeiser LDA-01 ("Land Development Aircraft") was a British seven-tenths scale research and development tandem wing aircraft, which was designed and built by David Lockspeiser to prove a concept for a low-cost utility transport. The LDA-01 was a single-seat canard monoplane, fabric covered with metal construction. It had a canard foreplane which was the same size as each mainplane. The wing was mounted at the rear-end of the box structure fuselage which was fitted with a four wheeled landing gear. It was designed to be fitted with a detachable payload container to allow easy conversion between roles, and was powered by a rear-mounted pusher engine.

The LDA-01 G-AVOR first flew on 24 August 1971 at Wisley in Surrey, under the power of an 85 hp (63 kW) Continental C85 piston engine, but was later refitted with a more powerful Lycoming O-320 engine. The aircraft (which by this time had been re-registered G-UTIL), and had been renamed the Boxer 500, was being modified to planned production configuration by Brooklands Aerospace at Old Sarum Airfield when it was destroyed in a fire on 16 January 1987. Specifications: Data from British Civil Aircraft since 1919 and Jane's All The World's Aircraft 1976-77. General characteristics: Crew: One; Length: 22 ft 6 in (6.86 m); Wingspan: 29 ft 0 in (8.84 m); Height: 9 ft 1 in (2.77 m); Wing area: 112.6 ft2 (10.46 m2); Empty weight: 1,236 lb (561 kg); Gross weight: 1,617 lb (733 kg); Powerplant: 1 Lycoming O-320, 160 hp (119 kW). Performance: Cruise speed: 106 mph (170 km/h); Range: 299 miles (481 km). (Thanks to Wikipedia.)

David had flown over 7,000 hrs on around 100 different types of aircraft - (160 types if you include variants).


---
Thanks to the Jerry and Beccy Lockspeiser, his children, we learnt the sad news that their father David Lockspeiser has flown his last flight. He died on Sunday March 23rd peacefully at home with them at his side and other family members nearby. David had been battling pulmonary fibrosis for several years. Thanks to his fighting spirit and excellent care he lived longer and better than expected. By last Sunday the time had come for him to use the ejector seat, aged 87. The funeral will be held at 1.30pm on Wednesday April 9th at Aldershot Crematorium, Guildford Rd, Aldershot, Hampshire GU12 4BP and will followed by a gathering nearby. No flowers please. Those wishing to may make a donation to the RAF Benevolent Fund by sending a cheque to them at 67 Portland Place, London W1B 1AR. David had a wide network of friends and contacts and pursued his interests through several organisations and clubs. Please feel free to forward this notification to others who may like to know.
---
Obituary from Daily Telegraph 29 May 2014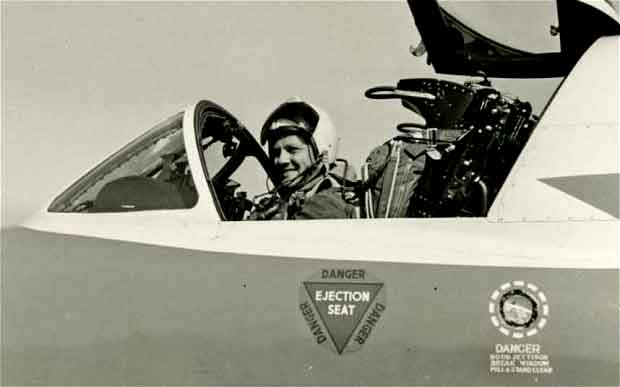 David Lockspeiser, who has died aged 86, was a leading test pilot and an innovative aircraft designer and engineer who designed and built the Boxer utility aircraft, an "Aerial Land Rover".

Originally named the LDA-01, or Land Development Aircraft, the Boxer was intended as a multi-purpose aircraft for developing and agricultural regions. A single-seat monoplane of metal and fabric construction, it had a canard foreplane, which was the same size as each mainplane mounted at the rear of the box structure fuselage, itself fitted with a four-wheeled landing gear.

It was designed to have a detachable payload container to allow easy conversion between roles, and was powered by a rear-mounted pusher engine. Safe, hard-wearing and inexpensive, it could fly at low speeds, making it suitable for a variety of rural uses: transporting people, animals and goods, and crop spraying.

Lockspeiser built a prototype in a Nissen hut at Dunsfold aerodrome, where he was working for Hawker Aircraft Company as a test pilot, and the hut had to be dismantled to extricate the aircraft. Lockspeiser flew it for the first time in August 1971, at British Aircraft Corporation's airfield at Wisley.

Developments, including fitting a more powerful engine, continued until 1987, when the aircraft was destroyed during an arson attack on the hangar at Old Sarum, where it was being stored.



Click to see a U-Tube Clip Demonstrating the Boxer

David Lockspeiser was born at Farnborough, Hampshire, on April 12 1927. He studied at the Miles Aeronautical Technical School from 1945 and, against his father's wishes, joined the RAF and trained as a pilot.

He flew Vampire and Meteor fighters with No 118 Squadron at Fassberg in Germany and No 245 Squadron in Britain. Having qualified as a pilot attack instructor and instrument ratings examiner, he left the RAF in 1955 as a flight lieutenant, joining Hawkers as a production and development test pilot.

His work took him all over the world. During a trip to India and the Middle East in 1959 he noted that the consumption of alcohol was banned. He was told the only way he could have a drink was to get a certificate from the police station stating that he was an alcoholic - a challenge he accepted.

In India he learned that the Burmese Air Force had grounded its Sea Fury aircraft after a series of unexplained fatal accidents, and he was asked to investigate. He discovered that the pilots had not worn oxygen masks and, due to poor servicing, carbon monoxide had leaked into the cockpit, rendering them unconscious. Once the aircraft were fully serviced and the correct procedures explained, the aircraft were fit to fly. However, a local soothsayer had said ghosts of the dead caused the accidents and the pilots were not keen to fly again.

In 1968 Lockspeiser joined the Civil Aviation Division of BAC as a communications pilot, but returned to test flying in 1977 when he moved to Singapore to join Lockheed Air Services, developing extensive upgrades to the Singapore Air Force's fleet of Hunter fighters. He enjoyed the Singapore lifestyle and was able to further his interest in Scuba diving.

During his time with Hawkers, he had been forced to give up his hobby of motor racing, the company frowning on the risk to one of its best pilots. On his return to Britain in 1984 he was free to drive his Lotus Elite on rallies across Europe and the UK.

Lockspeiser - an enthusiastic member of the Society of Experimental Test Pilots - flew more than 7,000 hours in 100 different aircraft. He never stopped designing aeroplanes, and had been working on his latest project until a few weeks before his death.

He was divorced from his wife, Anne, in 1971, and is survived by a son and a daughter.

David Lockspeiser, born April 12 1927, died March 23 2014.