Wilhelmshaven Newspaper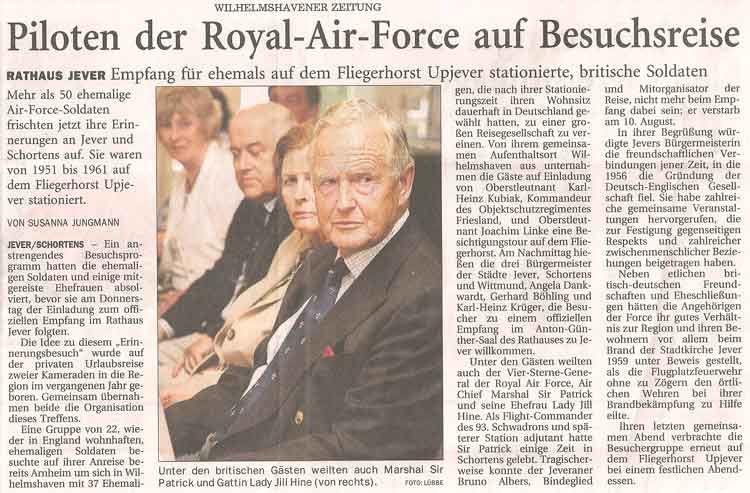 Marshal Sir Patrick Hine and his wife,


Lady Jill, were amongst the British


guests (from the right). [Beyond


Mick Ryan and Mayoress


Angela Dankwardt.]

Royal Air Force Pilots on a visit

Jever Town Hall Reception for British servicemen formerly stationed at the airfield in Upjever

More than 50 Air Force ex-servicemen renewed their memories of Jever and Schortens. They were stationed at the airfield in Upjever from 1951 to 1961 by Susanna Jungmann.

JEVER/SCHORTENS - The ex-servicemen, some accompanied by their wives, had already completed a strenuous visitors' programme before they joined the invitation to an official reception in the townhall.



The idea for this reminiscence visit was born last year when two comrades [Chris Stone and Mick Ryan] were privately on holiday in the area. Together they undertook the organization of this meeting.



A group of 22 ex-servicemen now living back in England had already visited Arnheim on their outward journey before joining up with 37 more in Wilhelmshaven who had chosen to live permanently in Germany after their service careers. From their joint abode in Wilhelmshaven the guests undertook a sight-seeing tour of the airfield on the invitation of Wing Commander Karl-Heinz Kubiak, commander of the Objektschutztregiment Friesland (Site Protection Regiment Friesland) and Wing Commander Joachim Linke. In the afternoon they were welcomed to an official reception in the Anton-GUnther-Hall in Jever townhall by the three mayors of the towns Jever, Schortens and Wittmund; Angela Dankwardt, Gerhard Milling and Karl-Heinz Kruger.



The 4-star general, Air Chief Marshal Sir Patrick Hine and his wife, Lady Jill, were amongst the guests. Sir Patrick had lived for a while in Schortens when he was flight commander of 93 squadron and later station adjutant. Unfortunately Bruno Albers, from Jever, the liaison officer and joint organizer, was no longer able to be present at the reception; he died on 10th August.



In her greeting Jever's mayoress showed her appreciation of the friendly relations in those days when the Anglo-German Society was founded in 1956. It brought about numerous joint meetings which contributed in establishing common respect as well as many personal connections.



Apart from several British/German friendships and marriages the members of the Air Force proved their good relations with the area and its inhabitants particularly when Jever's town church was on fire. Without hesitation the airfield fire brigade hurried to help the local fire brigades in fighting the fire.



The visitors spent their last evening together once again on the airfield in Upjever at a festive dinner.

(Thanks to Angela Dankwardt.)