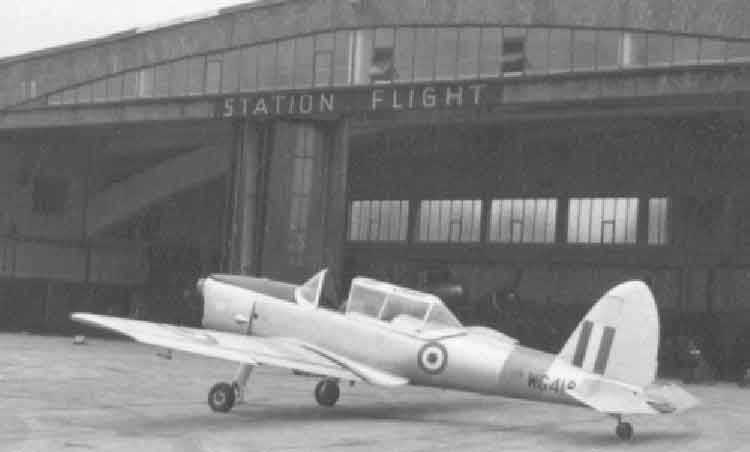 de Havilland Chipmunk T.10 WG418 Station Flight - 1st May 1959.
(Thanks to Mike Wilson.)

de havilland Chipmunk T.10

Originally designed by de havilland (Canada), the Chipmunk T.10 was developed by the parent company to meet RAF basic training requirements, which the aircraft fulfilled until the Chipmunk was replaced by the Scottish Aviation Bulldog in the 1970s.

Canadian production came to 218 examples, and a further 1,014 aircraft were built in the UK, the UK aircraft comprising military T.10s and civilian Mk.21s. Sixty were built under licence in Portugal and larger numbers of ex-RAF machines were subsequently civilianised as Mk.22 or Mk.22A. Canadian-built Chipmunks carried the designation T.30

Crew: 2; Powerplant: one de Havilland Gipsy Major 8 4-cylinder in-line engine; Performance: max speed 222 Km/h (138 mph); range 480 Km (300 miles) service ceiling 4,880 m (16,000 ft) Dimensions: wingspan 10.46 m(34 ft 4 in); length 7.82 m (25 ft 8 in); height 2.16 m (7.1 ft ). Weight: 907 Kg (2,000 lb) loaded. (Thanks to The Encyclopedia of Aircraft edited by Robert Jackson).