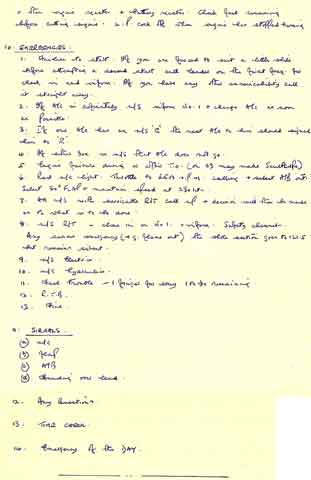 The above briefing notes were written by Paddy Hine when a Flight Commander
on 93 Sqn and Brian Butterworth kept Paddy's handwritten notes.
This particular brief was obviously given on the DFCS course
as the base is West Raynham. Paddy is leading and the other members
of the formation are all well known fighter pilots of the time who were
either course students or DFCS staff.

                ATTACK FORMATION (OFFENSIVE)                                             Comments in red

           + then engine master + battery master.   Check fuel remaining
           before cutting engine.   L.P. cock off when engine has stopped turning.

     10.  EMERGENCIES.
            1.   Failure to start.   If you are forced to wait a little while
            before attempting a second start call leader on the first freq. for
            check in and inform.   If you have any other unserviceability call
            it straight away.
            2.   If a/c is definitely u/s inform No.1 & change a/c as soon
            as possible.
            3.   If one a/c has an u/s 'G' the next a/c to him should signal
            him to 'R'.
            4.   If either box is u/s that a/c does not go.
            5.   Engine failure during or after T.O. (on 03 may make Sculthorpe)         Sculthorpe is an airfield a few
                                                                                         miles North of West Raynham and
                                                                                         Runway 03 is pointing in that
                                                                                         direction.
            6.   Red u/c light.   Throttle to 6500 r.p.m. calling and selecting A/B out.
            Select 30° FLAP & maintain speed at 230 kts.
            7.   All u/s with serviceable R/T call up & decision will then be made
            as to what is to be done.
            8.   U/s R/T = close in on No.1 and inform.   Safety channels.
            Any serious emergency (e.g. flame out) the whole section goes to 121.5
            but remains silent.
            9.    U/s electrics.
            10.  U/s hydraulics.
            11.  Fuel trouble - 1 finger for every 100lb remaining.
            12.  R.T.B.
            13.  Fire.

     11.   SIGNALS.
            (a)  u/c
            (b)  Flap.
            (c)  A/B.
            (d)  Handing over lead

     12. Any Questions.

     13. TIME check.
            
     14. Emergency of the Day.                                                         One emergency is highlighted and
                                                                                       subject to explanation and
                                                                                       questioning on each day.

End of Page 6.

(Thanks to Chris Stone for being the Technical Advisor for this series.)