No II (ARMY CO-OPERATION) SQUADRON, ROYAL AIR FORCE


Motto: "Hereward"

Western Front 1914-1918, Neuve Chapelle 1915. Ypres 1915, Somme 1916, France and
Low Countries 1939-1940, Dunkirk 1940, Normandy 1944, Arnhem 1944.

     Formed on May 13, 1912, at Farnborough, No. 2 Squadron flew to France in
August, 1914, to start a long career of outstanding service as an Army Co-operation
unit.   Within a fortnight the squadron achieved the distinction of "driving" down
the first aircraft of World War I.   At Ypres in April, 1915, 2nd Lieutenant W. B.
RhodesMoorehouse was posthumously awarded the first air V.C., and in March, 1918,
2nd Lieutenant Macleod was likewise awarded the squadron's second V.C.

     On 22Sug14 Sergeant Major David Jillings became the first airman to be wounded in
WW1 when he was hit by a rifle bullet whilst on a recce flight.
(Click to see full story).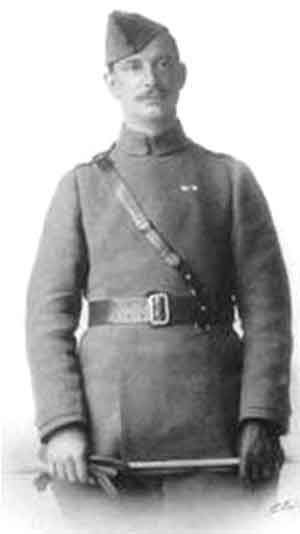 Sergeant Major David Samuel Jillings wearing the ribbon of his MC, after having been commissioned.


     In February, 1919, the squadron returned to England where it disbanded on
20th January, 1920.   On 1st February, 1920, No. 2 re-formed at Oranmore in Ireland,
returning to the U.K. in February, 1922.   From April to October,1927, it served in
Shanghai.  The squadron went to France in October, 1939, until forced to withdraw
to the U.K. in May, 1940, where it operated with the Army in tactical reconnaissance,
bombing, supply dropping and training roles.






        Early RAF Mk.I Mustangs of No.2 Squadron at Sawbridgeworth, possibly in January 1942.



---


                                     North American P-51 Mustang



     The North American P-51 Mustang was initially produced in response to a 1940 RAF 
requirement for a fast heavily armed fighter able to operate effectively at altitudes in excess of
6,199 m (20,000 ft).



     North American built the prototype in 117 days, and the aircraft, designated
NA-73X, flew on 26Oct40.   The first of 320 production Mustang 1s for the RAF flew on 1May41,
powered by an 821 KW (1,100 hp) Allison V-1710-39 engine.   RAF test pilots soon found that
with this powerplant the aircraft did not perform well at high altitude, but that its low-level 
performance was excellent.   It was therefore decided to use the type as a high-speed 
ground-attack and tactical reconnaissance fighter, and it was in this role that it entered service 
with Army Co-operation Command in Jul42.



     The USAAF, somewhat belatedly realized the fighter's potential and evaluated
two early production Mustang 1s under the designation P-51.   The RAF suggested that the P-51 
would perform much better as a high-altitude interceptor if it were re-engined with the Rolls-
Royce Merlin, but the suggestion was initially ignored and the first two USAAF Mustang variants, 
both optimized for ground-attack and designated A-36A and P-51A, were fitted with Allison engines.



     Trials with Packard-built Rolls-Royce Merlin 61 engines showed dramatic improvement
in performance, maximum speed being raised from 627 km/h (390 mph) to 710 Kp/h (441 mph).
Production of the Merlin powered P-51B finally got under way in the autumn of 1942.   North 
American's Inglewood factory went on to build 1,988 P-51Bs, while the 1,750 aircraft built 
at the new Dallas plant were designated P-51C.



     The RAF, which had ordered 1,000 P-51Bs under the designation Mustang Mk.III, began to
receive its first aircraft early in 1944, the first 36 aircraft having been diverted to the US
Eight AAF to alleviate the critical shortage of escort fighters.   The RAF was not happy with
the very poor visibility from the Mustang's cockpit and replaced the existing canopy with a 
streamlined frameless bubble-type hood designed by Malcolm Aircraft Ltd.   The canopy was also
fitted to some of the USAAF's P-51Cs.   The real solution to the problem, however, was found
by North American, which tested two P-51Bs with a one-piece sliding canopy and cut-down rear 
fuselage.   In this guise the aircraft became the P-51D.



     The first production P-51Ds began to arrive in England in the late spring of 1944
and quickly became the standard equipment of the USAAF Eighth Fighter Command.   There were no
doubt at all that the Mustang won the daylight battle over Germany.   Operating from bases in
England and Italy, it provided not only fighter escort for the bombers engaged in a two-pronged 
assault on Hitler's Reich; it also hunted the Luftwaffe on its own airfields.   In the Pacific, 
Mustangs operating from the captured Japanese islands of Iwo Jima and Okinawa adopted similar 
tactics from April 1945, escorting B-29s to their targets and neutralising the Japanese air force 
on the ground.   Production totalled 7,956 P-51Ds and 1,337 basically similar P-51K (which had an
Aeroproducts propeller instead of the Hamilton Standard unit); 876 became Mustang IVs with the RAF, 
and 299 became reconnaissance F-6Ds or F-6Ks.   The fastest Mustang version, which saw service
in the Pacific toward the end of the war, was the P-51R, with a top speed of 784 Km/h (487 mph).
The Mustang continued to serve with some 20 air forces around the world for years after WWII, and 
gave valiant service during the early months of the Korean War with US, Australian, South African 
and South Korean air units.



Specifications apply to the North American P-51D Mustang.



Crew: 1; Powerplant: 0ne 1,112 KW (1,490 bhp)Packard Rolls-Royce Merlin V-1656-7 vee-type engine. 
Performance: max speed 704 km/h (437 mph), range 3,347 Km (2,080 miles); service ceiling 12,770 m
(41,900 ft). Dimensions: wingspan 11.28 m (37 ft); length 9.85 m (32 ft 3 in); height 3.71 m
(12 ft 2 in). Weight: 5,493 Kg (12,100 lbs) loaded. Armament: six 12.7 mm (0.50 in) machine guns;
provision for up to two 454 Kg (1,000 lb) bombs or six 12.7 cm (5 in) rockets.

(Thanks to The Encyclopedia of Aircraft edited by Robert Jackson).

---


     After playing a notable part in pre-invasion reconnaissance the squadron returned to France 
for the third time in its history, reconnoitring ahead of the Allied advance into Germany, where 
it remained at the end of the war.

     After 1946, No. 2 operated in the dual roles of high altitude photographic and tactical
reconnaissance, but after re-equipment in 1950 it became entirely a tactical reconnaissance 
squadron.   Since then the squadron has remained in Germany and is now stationed at R.A.F. 
Laarbrüch.

Aircraft:

1912-1915 - Various numbers of B.E. variants, Breguet, Farman Longhorn and Shorthorn,
RE5, RE1; 1914-1917 B.E.2c, 2d, 2f; 1917-1919 A.W. F.K.8; 1920-1930 Bristol F2B;
1929-1933 A.W. Atlas; 1933-1937 Hawker Audax; 1937-1938 Hawker Hector; 1938-1942
Westland Lysander 1, 2; 1941-1942 Curtis Tomahawk; 1942-1945 N.A. Mustang 1, la, 2;
1944-1951 Spitfire 14, 11, 19; 1950-1956 Meteor PR10, FR9; 1956-1961 Supermarine
Swift FR5; 1961-1971 Hawker Hunter FR1O; 1970
to date Phantom FGR2.
(Thanks to Jurgen Balke.)



     Before ever flying a II (AC) Squadron Swift,
a pilot was conscious of the fact that it had failed the in-service competition with
the Hunter: the Hunter went
into quantity production and a low-level role was allocated to the existing Swifts.
Hence the improved Swift FR5 with F95 cameras, saw-tooth leading edges, a ventral tank,
brake boost and a primitive reheat.   However, there was a great secret, shared only
among those privileged to fly it: the Swift FR5 was a great aircraft for low level
operation (if a little short on range).



     Because of its reputation as a somewhat unforgiving aircraft, it seems that the
Powers-That-Were had decided never to post inexperienced pilots to the Swift squadrons.
A pilot arriving at Jever following the Hunter course at
Chivenor found himself surrounded by a particular breed of fellow officers which one
finds it difficult to define clearly.   Certainly they were all very experienced.
Certainly some were career officers.   ;Equally certainly, some were not.
;Together, however, under long-suffering commanding officers of squadron-leader rank,
they formed a viable force in the fighter reconnaissance role.



     A newly arrived pilot was often given the thespian treatment.   On his arrival, as
soon as he had arrived in the mess and unpacked, he would be told that his squadron
commander and other senior officers were expecting him and waiting to meet him in the
bar.   There he would meet the actors - all officers he had never met before - playing
their parts with skill: Station Commander, Squadron Commander, OC Flying Wing,
etc.   The following morning was then very confusing for our new arrival who, armed
with his arrival chit, found that the senior faces didn't fit their appointments.
Those "sirs" of the night before were all smiling junior officers.



     In the late 1950s and early 60s the Cold War was waged vigorously between the West
and the East.   A hot war felt very close: it needed only a provocation like the later
Cuban crisis to precipitate World War III and Armageddon.   Perhaps it was for this reason
that Monday to Friday training for war was a serious business but, at the end of the week,
parties were in order to relieve the tension.



     One memorable party was hosted by the II (AC) Squadron officers.
A ship was hired in nearby Wilhelmshaven.   It sailed at the appointed time with all the Jever
officers and their ladies aboard, and the party commenced.   After two or three hours the ship
was ordered to return to the quayside to drop off those wimpy guests who couldn't stand the pace.
The No II (AC) officers were not expected to leave.
Those who did disembark early were rousted out of their beds by the senior flight commander quite
early the following morning (a Saturday or a Sunday) and ordered to present themselves in the
Squadron Commander's office in No. 1 uniform, hat on, immediately.   A strongly-worded castigation
was administered.   A pregnant wife, or a wife collapsed because of the strength of the punch
provided aboard, or even a death in the family were not viable excuses.