Mick Ryan,
Chris Stone,
Gunter Kipp
and Maurice Parker

Over the next few weeks I will be filling out this story with illustrations from the pictures that we all took while on the visit.

The visit was advertised on the Home Page of the JSL web site for several months. About 2 weeks to go, in fairness to the German hosts, we closed the list of attendees. Mick Ryan was on holiday with relatives at Detmold and Chris Stone flew over from his home in Charlottesville, Virgina via Frankfurt and Paderborn. Mick collected him from Paderborn airport and installed him in his Nephews' flat in Detmold for Monday night 15Aug05. Next morning, Mick and Chris left Detmold by car at about 0630hrs and met up with Gunter Kipp, co-author of "RAF Hunters in Germany", and Maurice Parker at the Guardroom at about 1030hrs. Maurice was in the Armament Section, Technical Wing (Feb57-Aug59) and has lived 1 mile off the end of the Runway at Schortens for 30+ years.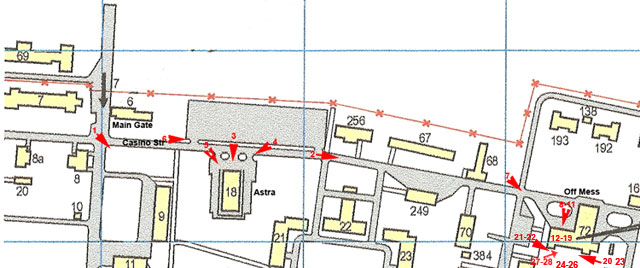 Map of Camp Area marked with red arrows showing the orientation of first 28 photos.