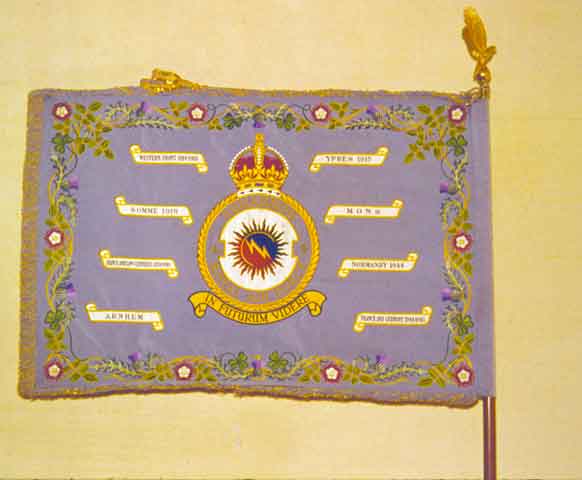 No. 4 Squadron Standard
A Further Brief History of No 4 Squadron


     No. 4 Squadron was formed in September 1912 at Farnborough and was under the command of Major G.H.
Raleigh.  In the days prior to the First World War it was engaged in experimental roles, principally 
those of night landings, aerial photography and wireless aids.  Within a fortnight of the outbreak of
war, however, the Squadron was moved to France, there to participate in some of the early aerial
combats.  It was during the first month of hostilities that two pilots of the Squadron, Lieutenants
Mapplebeck and Atkinson, recorded the first forcing-down and capture of an enemy aircraft.  After
gaining Battle Honours in most of the historic struggles during the course of the war, the Squadron
in 1919 was reduced to a cadre basis.  Within a year, however, it was once more at full strength and
was to serve in many regions of the world during the inter-war years.  It was during this time that
pilots established a precedent, when they became the first land-based crews to take-off from an
aircraft-carrier.

     The early days of the Second World War were spent by the Squadron in photographic reconnaissance
and in employing delaying tactics against enemy forces in France.  On the return to England many of
the personnel embarked at Dunkirk, whilst the aircraft, the last of the Lysander squadrons to leave,
flew out from a nearby airfield.  Once in England the major tasks were defensive patrols and then
later, as the re-equipment with Mustangs progressed, pre-invasion reconnaissance.  Gradually
the offensive role was expanded until 1943 it became part of the newly-formed 2nd Tactical Air Force.
The remaining days of the war were devoted to high and low photographic reconnaissance.  Once again
numerous Battle Honours, including those of Normandy, Arnhem and the Rhine, were awarded.

     The cessation of hostilities saw the introduction of the British Forces of Occupation and No. 4 
Squadron immediately became an integral part of this Command.  Since then the Squadron has served
continuously at various airfields in Germany.  No matter where it has served No. 4 Squadron can
claim that it has upheld the traditions of the Royal Air Force throughout the 41 years of its
unbroken existence.

     In late 1969 the Squadron moved to Wildenrath, Germany, with the unique Harrier jump-jet.
After a lengthy period at Gutersloh, the Squadron moved to Laarbruch, and later re-equipped with
second-generation Harrier Gr7s before moving to Cottesmore with its sister 3(F)Sqn during April
1999.

     Despite the disruption of relocating, the Sqn continued to maintain their commitment to
Op DELIBERATE FORGE on a rotational basis with the other 2 Gr7 Sqns, until they were tasked with
the draw down from Gioia del Colle in April 2001.  The Sqn then focused on a period of training
until they were deployed to Kuwait in support of Op TELIC (IRAQI FREEDOM) in February 2003, where
they were employed in the close air support and reconnaissance role.

     The Sqn returned from Op TELIC in April 2003 and rapidly rebuilt skill sets for the European
theatre. However, the desert beckoned again and Joint Force Harrier (JFH) was soon on the move.
In August 2004, the Force deployed to Kandahar Airfield to support NATO troops in Afghanistan
for Op HERRICK. In March 2005, whilst deployed to HMS INVINCIBLE for Ex MAGIC CARPET,
No IV(AC) Sqn conducted the UK's first strike mission from an aircraft carrier into
Kandahar Airfield. The Sqn's primary role in Afghanistan remains close air support (CAS)
and reconnaissance with a secondary commitment of training NATO Forward Air Controllers.

     On 31st March 2010 20(Reserve) Squadron disbanded and IV(Army Co-Operation) Squadron
renumbered to become IV(Reserve) Squadron before moving to RAF Wittering.


ANOTHER SHORT HISTORY OF NO. 4 SQUADRON

Motto: In futurum videre "To see into the future"

Badge: A sun in splendour divided per bend by a flash of lightning - approved by
HRH King Edward VIII in May 1936.  The red and black segmented sun suggests round-the-clock
operations, while the lightning flash is a reference to the unit's early use of wireless
telephony for artillery co-operation. 

Western Front 1914-1918, Mons 1914, Somme 1916, Ypres 1917, France and Low Countries 1939-1940,
Normandy 1944, Arnhem 1944, France and Germany 1944-1945.

     The squadron was formed at Farnborough in August 1912 and was, until the outbreak of World War
mainly concerned with experimental work.   In August 1914 the squadron joined the Expeditionary
Force in France. Subsequently, its duties in co-operation with the army were many and diverse
with an outstanding record for consistently good work.   In January 1918 "A" Flight was
redesignated No. 4A Squadron for attachment to the Portuguese Forces.   In February 1919,
reduced to cadre, the squadron returned to England and in April 1920 was reformed at Farnborough
as a permanent squadron.

     From November 1920 until January 1922 a detachment of No. 4 Squadron was based in Ireland and
in September 1922 the squadron went to Turkey, returning in September 1923.   Engaged on army
co-operation duties it served in England until, in September 1939, it went to France with the
B.E.F., returning in May 1940.   From then until March 1943 the squadron was based in Yorkshire,
training with the army, it then moved to East Anglia and then Southern England to join in the
preparations for the invasion of France.   In January 1944 No. 4 undertook photographic
reconnaissance duties and in August 1944 returned to France.   In October 1944 the squadron partly
turned to low level operations and in November moved to the Netherlands, where it remained until
the end of the war.   After a few months in Germany, it disbanded on 31st August 1945.

     On 1st September 1945 No. 605 Squadron at Celle was renumbered 4 Squadron for occupation
duties.   In October 1953 the squadron re-equipped to become a day fighter squadron and then
on 1st January 1961 the squadron disbanded again.

     On 14th January 1961, No. 79 Squadron was renumbered No. 4 Squadron at Gutersloh to
provide fighter reconnaissance for 2nd ATAF.   In September 1969 No. 4 Squadron (UK Echelon)
was formed with the specific purpose of converting to the Harrier.   No. 4 Squadron in
Germany was disbanded at the end of May 1970 and the first 4 Squadron Harriers arrived there
on 22nd June 1970 to reform the squadron at Wildenrath.

Aircraft:

1912-16 Various numbers of B.E. variants, Breguet, Avro 500, 504, Maurice Farman, Voisin,
Martinsyde S.1, Bristol Scout, Caudron G3, Morane Parasol, 1916-17 B.E.2c, 2d, 2e. 1917-18
R.E.8. 1920-29 Bristol F2B. 1929-32 A.W. Atlas. 1931-37 Hawker Audax. 1937-39 Hawker Hector.
1939-42 Westland Lysander 1, 2, 3, 3a. 1942 Tomahawk, Fairey Battle 2. 1942-44 N.A. Mustang 1.
1944 D.H. Mosquito 16. 1944-45 Spitfire 9, Hawker Typhoon 1B. 1945-50 D.H. Mosquito Fb6.
1950-53 D.H. Vampire Fb5. 1953-56 N.A. Sabre. 1956-1970 Hawker Hunter F4, F6, FR1O. 1970
to date Hawker Siddeley Harrier GR.7 and T.10.
(Thanks to Jurgen Balke.)
Squadron Battle Honours
1st WORLD WAR 1914 - 1918


Western Front 1914-1918.
Mons.
Neuve Chapelle.
Somme 1916.
Ypres 1917.
Lys.
Somme 1918.


2nd WORLD WAR 1939-1945


France and Low Countries 1939-1940.
Fortress Europe 1942-1945.
France and Germany 1944-1945.
Normandy 1944.
Arnhem.
Rhine.


After 2nd WORLD WAR 1945-

Iraq 2003

COMMANDING OFFICERS NO 4 SQUADRON

Major G. H. Raleigh                         Sept. 1912 - Jan. 1915
Major H. R. P. Reynolds                     Jan. 1915  - Jan. 1915
Major C A. H. Longcroft                     Jan. 1915  - Aug. 1915
Major F. F. Waldron                         Aug. 1915  - Sept. 1915
Major G. E. Todd                            Sept. 1915 - Feb. 1916
Major V. A. Barrington-Kennett              Feb. 1916  - Mar. 1916
Major T. W. C. Carthew D.S.O.               Mar. 1916  - Sept. 1916
Major L. Jenkins D.F.C.                     Sept. 1916 - Nov. 1917
Major R. E. Saul D.F.C.                     Nov. 1917  - Jan. 1919
Major H. B. Prior                           Jan. 1919  - Feb. 1919
Sqn. Ldr. C. H. B. Blount O.B.E., M.C.      April 1920 - April 1925
Sqn. Ldr. J.C. Slessor M.C.                 April 1925 - Nov. 1928
Sqn. Ldr. N. H. Bottomley                   Nov.1928  - Dec 1929
Sqn. Ldr. C. F. H. Medhurst O.B.E., M.C.    Jan. 1930 - Jan. 1931
Sqn. Ldr. S. P. Simpson M.C.                Jan. 1931 - Oct. 1933
Sqn. Ldr. F. M. F. West V.C., M.C.	        Oct. 1933 - Sept. 1935
Sqn. Ldr. Kingston McLoughry D.S.O., M.C.   Jan. 1936 - May 1937
Sqn. Ldr. I. O. B. McGregor                 Jan. 1938 - Aug. 1939
Sqn. Ldr. G. P. Charles O.B.E.              Aug. 1939 - Sept. 1940
Sqn. Ldr. P. L. Donkin                      Sept. 1940 - Sept. 1940
Sqn. Ldr. Maffet                            Oct. 1940  - Dec. 1940
Wg. Cdr. P. H. R. Saunders                  Dec. 1940 - Feb. 1941
Wg. Cdr. G. P. Charles O.B.E.               Feb. 1941 - Jun. 1941
Wg. Cdr. P. H. R. Saunders                  Jun. 1941 - Oct. 1942
Wg. Cdr. G. E. Mac Donald                   Oct. 1942 - Mar. 1943
Sqn. Ldr. R. H. D. Rigall                   Mar. 1943 - Apr. 1943
Wg. Cdr. R. Noel-Smith                      28 Apr. 1943 - 11Nov. 1943
Flt. Lt. A. S. Baker                        Dec. 1943 - Dec. 1943
Sqn. Ldr. R. J. Hardiman                    Dec. 1943 - May 1944
Sqn. Ldr. W. Shepherd                       May 1944  - May 1945
Sqn. Ldr. Harris St. John                   May 1945 - Sept. 1945
Wg. Cdr. M. P. C. Corkery                   Sept.1945 - May 1946
Wg. Cdr. R. L. Jones                        May 1946 - Nov. 1947
Sqn. Ldr. B. Everton-Jones                  Nov. 1947 - Sept. 1949
Sqn. Ldr. C. P. N. Newman                   Sept. 1949 - Feb. 1951
Sqn. Ldr. P. G. K. Williamson D.F.C.        Feb. 1951 - Aug. 1953
Sqn. Ldr. P. W. Gilpin CBE, D.F.C.          Aug. 1953 - Jan. 1956
Sqn. Ldr. R. C. Chapman                     Jan. 1956 - Sep. 1957
Sqn. Ldr. T. J. McElhaw                     Sep. 1957 - Mar. 1959
Sqn. Ldr. R. J. Spiers OBE                  Mar. 1959 - Dec. 1960



LOCATIONS


Farnborough              England             Sep 1912 Raised
Netheravon               England             Jun 1913
Eastchurch               England             Jul 1914 Home Defence
B.E.F. France            France              Aug 1914 to Feb 1919
Portuguese                Portugal               1917 4a formed with Portuguese
Northolt                 England             Feb 1919
Farnborough              England             Apr 1920 to Sep 1922
Ireland                  Ireland             Sep 1920 to Jan 1922 'A' Flight
Gallipoli Peninsular     Turkey              Sep 1922 to Sep 1923
Farnborough              England             Oct 1923 to Feb 1927
Squadron Badge approved by H.M. The King     May 1936
Odiham                   England             Feb 1937 to Sep 1939
B.E.F. France            France              Sep 1939 to May 1940
Mons en Chaussee         France              Sep 1939
Monchy Lagache           France              Oct 1939
Lille, St Omer, Dunkirk  France              May 1940
Ringway                  England             May 1940
Linton                   England             Jun 1940
York                     England             Aug 1940
Bottisham                England             Mar 1943
Gravesend                England             Jul 1943 
Odiham                   England             Aug 1943 
Sawbridgeworth           England             Nov 1943
Aston Down               England             Dec 1943
Sawbridgeworth           England             Feb 1944
Normandy                 France              Jun 1944
Ben sur Mer              France              Aug 1944
Fresney Folny, Fort Rouge, St Denis France   Sep 1944
Gilze Rijen              Netherlands         Dec 1944
Twente, Enschede         Netherlands         May 1945
Celle                    Germany             May 1945
Gutersloh                Germany                 1946
Wahn, Celle              Germany             Jan 1950
Wunstorf                 Germany             Jul 1950
Jever                    Germany             Mar 1952
Gutersloh                Germany             Jan 1961
Wildenwrath              Germany             Late 1969
Gutersloh                Germany             ?
Laarbruch                Germany             Nov 1992
Cottesmore               England             Apr 1999
Wittering                England             Mar 2010 Reserve Sqn