When "Clam" was first posted to 93 Squadron, he walked into the Squadron crewroom and introduced himself as "Clayton-Jones, usually known as "CJ"".

"Lulu" Leigh-Lancaster dryly remarked that as the initials CJ were the same as the hit film of the day, "Calamity Jane", he would henceforth be known as "Clam".

Clam was on 93 Sqn from 1955 to 1957. He was a natural formation aerobatics pilot and was soon chosen to fly No 4 in the slot of 93's 2TAF Formation Aerobatic team led by Sqn Ldr Paddy Minnis. He gave Paddy a few scary moments in their Helsinki display in September 1957 - but that is another story! You had better ask Paddy.

Eric Pigdon says that Clam had a brother in the RAF who was a Navigator on Javelins on either 5 or 11 Sqns when he knew him at Geilenkirchen in 1964. He went on to flying training but Eric does not know where he is now. [Click to see George's entry in the database.]

Clam was a natural and he went on to greater things in later years. By 1963-64 he was a test pilot. He was also an ace at the Cresta Run. Eric Pigdon has unearthed a book about the Cresta which he bought for £1 second hand. The following excerpts are not all about Clam but it shows his reputation in that "other world".


Extracts Featuring Clam from the Book on the Cresta Run
Page 231 ...to his nephew Nino Bibbia, a loyalty which takes the form of immediately telephoning the maestro whenever a record on the Run is broken. Within minutes Bibbia comes hot-foot to the Clubhouse, determined to attempt to improve upon the new record.

The 1963 Fairchilds MacCarthy Cup was won by Nick Rayner, one of three dashing brothers from South Devon, who had originally been initiated into the mysteries of the Run by Moritz Marky who was managing the Hotel Schweizerhof at the time. Nick was always considered by Mac to be one of the finest natural riders ever seen on the Cresta. Unlike test pilots of the calibre of Colin Mitchell and Clayton-Jones*, who calculated every inch of the Run, Nick never planned a single move. He never seemed to bother to brake; one morning even forgot to put on his spikes, and gave the impression that his sole object was to race down the Run as fast as possible in order not to keep his admiring 'birds' from becoming bored in his absence. Mac often made capital out of the brothers' exploits by pertinent and amusing remarks over the tannoy. One morning all three brothers were congregated at the finish when, to their astonishment, they heard Mac announce that a fourth Rayner was in the Run. It was their sixty-five year old father, who had no intention of being outdone by his musketeer sons.

Obviously, riding with such panache and gay abandon, the brothers sometimes found that the Fates were against them. Ranulf once travelled from Scylla to the finish on his chest, almost demolishing three sweaters, and on one infamous evening, the brothers crashed into a snow wall when riding down the Bob Run on a single skeleton. Badly bruised, they had to conceal their injuries for several days as the police had been informed and were on the warpath. For many experienced Cresta riders, the Rayners typified the best possible amateurism, and their deprecating comment that the Run was no more than a 'sort of grown-ups garden slide' endeared them to more than just the blondes and brunettes who admired their bravado.

Nick Rayner's victory in the 1963 Fairchilds MacCarthy Cup was made even more of a family affair by his brother Ranulf finishing second. For days prior to the betting races, the Rayners would appear to be riding with singular lack of dash. Their times would become slower and slower, but no one - least of all the handicappers - would be misled by such disappointing results. The only object of producing these poor results was to ensure a generous handicap, from which they had a chance of bringing off a betting coup - the financial spoils being immediately spent on a stupendous binge for all and sundry. John Bingham, Earl of Lucan, finished fourth in the same MacCarthy Cup. Described, at a later date, by Mac as 'one of my favourite people - on and off the Run. Gentle, soft spoken, generous to a fault altogether just especially nice to be with', Lord Lucan was a more than competent rider, who was always difficult to beat in handicap races. It seemed that he was not intending to visit St Moritz in 1964, until a telephone call from Mac made him change his...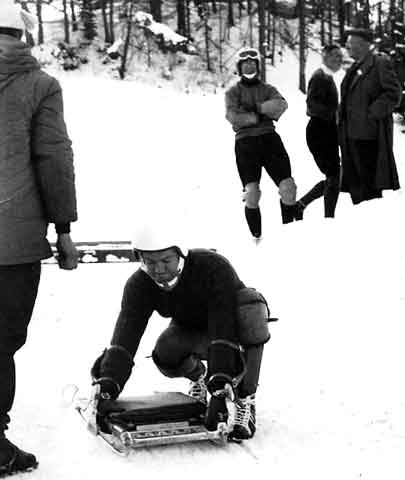 CJ getting ready for the Cresta Run.

*Clayton-Jones was killed in a flying accident in Jamaica in 1975



---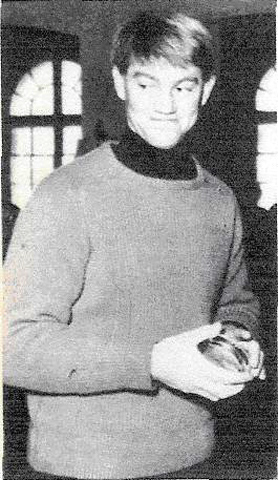 W. R. 'Rubber face' Clayton-Jones



...The following season, the American Broadcasting Company televised the second day of the Brabazon Trophy for their 'Wide World of Sports' programme, and one of the camera crew worthily became a member of the Shuttlecock Club. Six days later, every competitor in the Gunter Sachs Challenge Cup was determined to win when it was announced that Mrs Gunter Sachs was to present the prizes. W. R. Clayton-Jones had trained specifically with this race in mind, and the thought of the coveted prizes to be won 'urged him forward' - if the words of one of his more vulgar contemporaries are to be believed. His training resulted in a well-deserved victory, and a double ration of congratulatory kisses from Mrs Gunter Sachs - who was not unknown under her film name of Brigitte Bardot. Clayton-Jones, consistently a first class rider, who described descending the Cresta as 'falling off the Empire State Building', was known to his friends as 'Rubber face'. A highly experienced test pilot, he decided during the 1964 season to collaborate with John Savage in his attempts to improve the toboggan. After various unsuccessful experiments, the two men decided that an improvement could be made by radically altering the profile of the grooves in the runners, fluting both sides of the runners at the rear in addition to the bottom. This left two sharp knife-edges on each side, at the back of each runner. The modification greatly improved the resistance to the centrifugal force which pushed the rider upward on a bank, and made the toboggan easy to steer on the banks.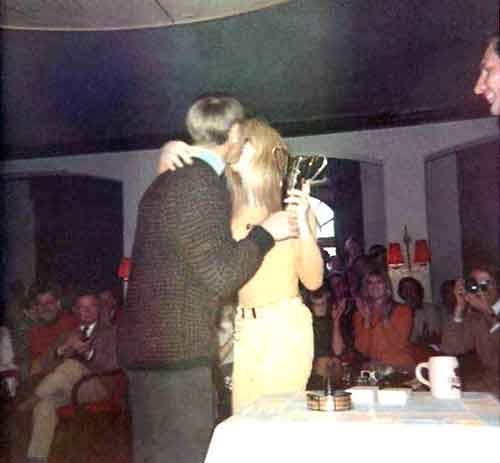 CJ taking his Cresta prize the cup and a kiss from Brigitte Bardot!

The presence in St Moritz of both Brigitte Bardot and the American television team may have made some Cresta members light-headed, for at the AGM it was suggested that either instead of, or in addition to, riding the Cresta in the morning, the Run should be used between the hours of 6 p.m. and 10 p.m. Such essential costs as lighting the Run from Top, to the Finish, and employing an extra team of maintenance workmen were glossed over by the supporters of the proposal. Another proposal, from Hans Kuederli and George Brauchbar, which gained greater support was that silk Cresta scarves should be designed and produced for lady members. Although women had been banned from going down the Run, at least one valiant sportswoman was determined to overcome this ban. To do so required a considerable amount of conspiracy and collusion. However, during the season, suitably garbed and wearing the darkest of goggles, she queued up at Junction awaiting her turn under the pseudonym of a Canadian 'Dave Magwood'. Asked by one of the Run officials if everything was in order she replied 'Quite all right Sir'. Never before had she called her husband 'Sir'. She completed in flawless fashion, and the panic that she might crash and end up in the men's ward of the local hospital was overcome. She must have passed on some hints to her son who, ten years later, became one of the Cresta's most avid disciples, riding in fast time from both Junction and Top. Understandably when he eventually heard of the incident Mac was not amused.


---
There are many apocryphal tales that have grown up around Clam. Eric Pigdon tells me that he had heard that one year at the Cresta he got very drunk and asked the daughter of the Ringling circus family to marry him, she was delighted. As he sobered up he either remembered or was told what he had done, the solution was to quickly go out and ask a whole lot of other girls to marry him - problem solved. We now know from George Clayton-Jones, Clam's brother that he went on to marry Sally Ringling of circus fame and sadly she has just died on 29Aug05. Their two children, Kate and Charlie, live in the USA. Both have inherited their father's passion for flying and dangerous pursuits, in fact Charlie nearly killed himself free-fall parachuting a couple of years ago and Kate is a qualified instructor on fixed wing and balloons! He was a great guy and Eric reports that at one of Eric and Val's leaving parties he got stoned and with a big smile on what the Cresta book described as his rubbery face, he climbed in to their baby pram much to Val's horror.

Eric Pigdon has re-established contact with George Clayton-Jones, Richard's Brother who was a navigator in the RAF. His last partner Andrea Edmonds has contacted the web master and has supplied the following sad but true ending to Clam's career:



"One or two versions of what happened to Richard have been offered over the years, but in fact as re-counted here the truth was that Richard's last flight in which he was tragically killed whilst crop spraying in Jamaica, was really the most awful accident. Engine failure caused him to make an emergency landing. He was making for the road, but in those seconds two pedestrians stepped out and in order to avoid them he was forced to over shoot the road into a field. As he touched down the aircraft wheels caught in a tree root which violently spun the aircraft around 180 degrees. There would have been time to escape but his foot was caught under the rudder pedal and the impact of the spin had broken his leg preventing him from getting out in time. A spark from the loosened battery ignited the fuel and he tragically died in the explosion. 5th November 1975.


Richard's partner, Andrea and their son Christopher, who was just two months old at the time, stayed on in Jamaica for a while and then returned to England. Christopher like his father leads a life of fascination with speed, height and adrenaline. Chris is now a Chief Petty Officer in the Royal Navy, and is known to many as quite a character too. Chris had his first motor bike at the age of 13! also has pilot training, is a keen climber, and diver, and a father to Joseph, Richard's grandson. Remarkably, Joseph is yet another de ja vu - or should it be 'chip off the old block'.


All three of Richard's children, Kate, Charles and Chris are remarkably like him, they all have his mannerisms, swagger and love of the extraordinary! And when Chris and Charlie are together - yep there's always mischief! The C-J genes it would seem, are destined to continue. Those that loved Richard may miss him, but his spirit is alive and well in his children and grandson. All of whom are still closely kept an eye on by Andrea." Andrea Edmonds, E-mail: andreaedmonds@btinternet.com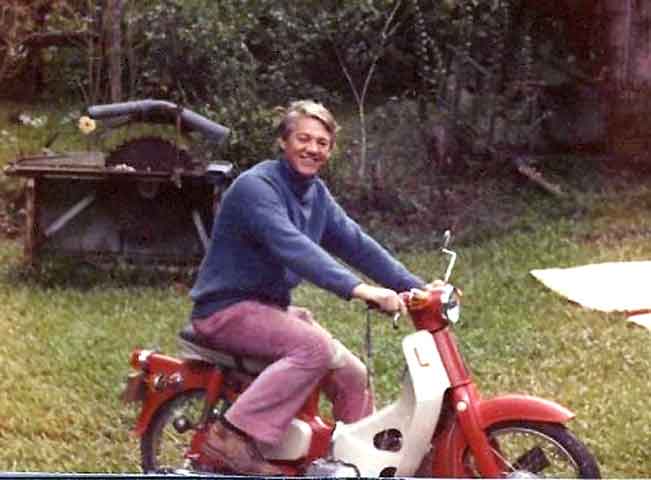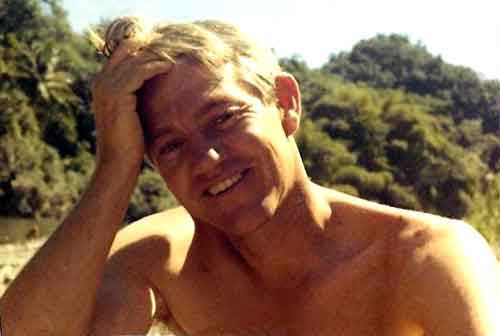 Clam in Jamaica in the 70s.