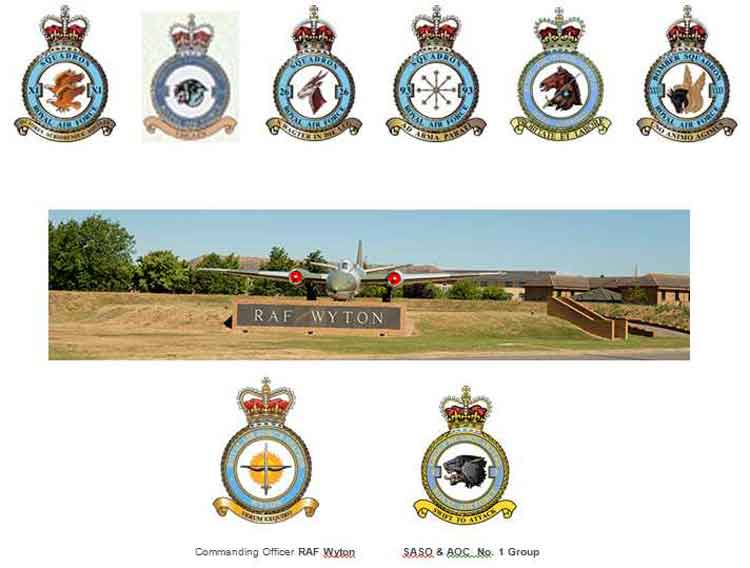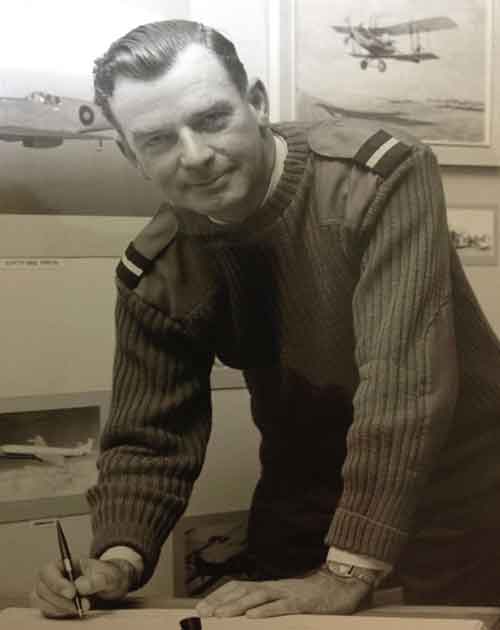 This quick resumé owes much to Tony's splendid daughter in law, Sharon, previously an admin and Secretarial RAF officer, who rapidly provided much useful information and the photographs, a small selection of which we have included here.

Henton (Tony) Silvester Carver was born in Alexandria, Egypt on 30th September 1928 to Felix and Margaret (Peggy). His father, worked for Carver Brothers the family firm of Egyptian Cotton Brokers. Tony was the middle of 3 children, with an older sister, Elizabeth (Liz) and younger brother Edmund (Robin).

In 1941, it was decided that his aunt would take Tony, his siblings and cousins down to South Africa where the boys boarded at St Andrew's College and from the 'Old Andreans' website it would appear that Tony left in 1945.

Tony had an initial year of National Service in autumn 1946 with many unit moves & possible holding postings including ITS North Coates and EFTS Shellingford in July to August 1947 before Ramridge House selection at Andover and being on 49 Entry (C Sqn) at the RAF College from Oct47-Apr50 (Cricket colours and Flt Cadet Sgt in his final term), followed by 203 AFS at Driffield until July and Stradishall 226 OCU until September.

Tony joined 11 Squadron at Wunstorf in 2nd TAF on 30Sep50 with their Vampire FB5's (until Dec52) with Venom FB1's arriving from Aug52 with many detachments including a brief sojourn with the RAF Mission to Switzerland (12-21Apr53) before or after completing his tour, which must have been linked, one imagines, to the imminent Swiss AF use of Venoms for well over three decades from 1954.

Tony's posting to Central Fighter Establishment at West Raynham began with Mar-Aug53 on AWW (the All Weather Wing was concerned with the development of trials and the all-weather fighter, radar & AI equipment, instruments, navigation and approach aids. He then finished his full three year tour at CFE on AFDS, the Air Fighting Development Squadron until Feb56. The AFDS task was the operational evaluation and handling trials of all new day-fighter aircraft as well as the ancillary and special equipment of day fighters and flying clothing for fighter use. On April-May 1955 Tony was at Hawker's at Dunsfold for his Hunter F1 conversion.

A short spell followed at 233 OCU RAF Pembrey with No. 1 Sqn (OC Sqn Ldr John Burton) his being OC B flight which was the Hunter F1 element after the Vampire A Flight FB5 component (OC A was then David Luck) between Feb-Nov56 and then posting to 26 (AC) Sqn at Oldenburg (OC Sqn Ldr John Severne AFC with Hunter F.4's until its 8 months disbandment in Sep57) as C Flt Cdr Dec56-27Jul57 when he moved on 27 Jul57 (after the Sandys Axe) up to 93 Sqn at Jever until Autumn 1958. From Mick Ryan's Jever website and Tony's log book, he was detached to Helsinki and Stockholm 4-7Sep57. So Tony must have been involved on the ground side up at Helsinki and Stockholm the 93 Sqn team's display (photo below) was connected with the British Trade Fair at Helsinki. The photo was used in the Gunther Kipp and Roger Lindsay softback book, 'RAF Hunters in Germany' - it must be one of the most striking formation shots of Hunters displaying. This was OC 93 Sqn Ldr H 'Paddy' Minnis leading the second day's display, having brought their four Hunter F.6's up off the harbour front ( 93 were sometimes referred to as The Golden Arrows & occasionally with 118 Sqn & 2nd TAF solo display pilot, Ken Goodwin, joining as No.5 elsewhere).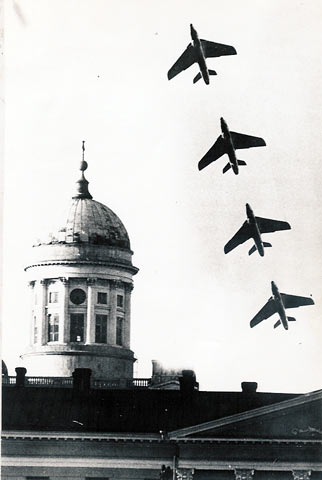 The shot must have been on 7Sep57 as the enterprising Finnish press photographer learned from the first display exactly where he should get this immaculate next day's photograph with the Helsinki Cathedral as a foreground (Tsar Nicholas 1 was heavily involved in the neo-classical design and the German-born architect went to St Petersburg). Until Finnish independence in 1917 this was St Nicholas Church and is actually the Finnish Evangelical Lutheran Cathedral. After Fg Off B AE 'Sandy' Sanderson's tragic loss in May, the team re-numbered now with Fg Off Geoff Timms (2) Flt Lt Chas Taylor (3) and Fg Off W R 'Clam' Clayton-Jones back again as No.4 (Roger Hymans was the reserve). Of extra interest in the picture is the glint off Clam's pitot head tip, which can be clearly seen. The team had carried out 90 practice and display sorties in six European countries and this was the following year after Sqn Ldr Desmond Browne led the 93 sqn four.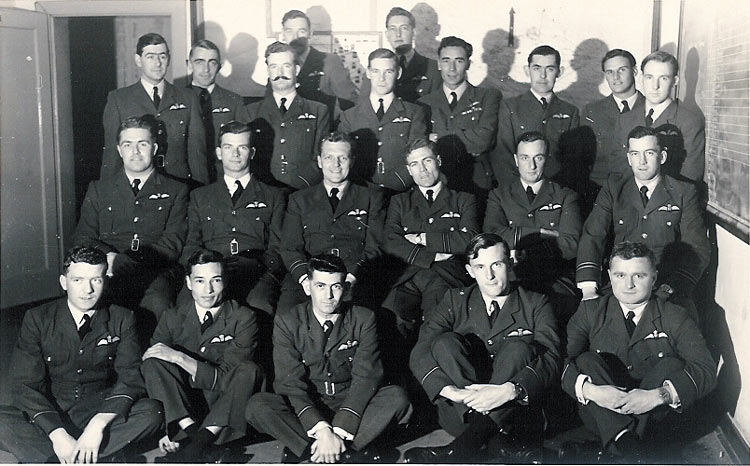 93 Squadron Aircrew In crewroom at RAF Jever probably late summer 1957

Back row: John Lakeman, Roger Hymans
Next to Back Row: Stanford Howard, Tommy Thomson, Jim Bradley, Gordon Talbot, Ray (Birdy) Biggs, John Cummins, Guy Harries, Dave Gleen.
2nd Row Back: Geoff Timms, Tony Carver A Flt Cdr, CO Sqn Ldr Paddy Minnis, Brian Watson B Flt Cdr, Joe Parker C Flt Cdr, Taff Taylor
Front row: Unknown, Pete Raeburn, Robbie Lynn Sam Newington and Pat King. (Thanks to Paddy Minnis).

The OATS Course.(Officers' Advanced Training School) at Bircham Newton followed in Aug-Oct58 before Tony's new and second posting to Central Fighter Establishment at West Raynham with his joining No.3 DFCS (Day Fighter Combat School). On No 3 Course late in 1958, also there were Dave Goodwin, Baz Gowling, R W 'Dickie' Millward, Brian Weeden and Flt Lt Tawab [IAF] Tony was then OC DFCS as Sqn Ldr until November 1958 when he was selected for a long tour as Equerry to HM The Queen before Staff College and then HQ Middle East Command at RAF Steamer Point Aden where he met his future wife, Gael MacLeod.

After Aden, Tony went through JSSC at Latimer in 1966 and then he most unusually must have swapped roles, as fairly soon beyond that he was flying Vulcan B2's as OC 35 squadron at RAF Cottesmore Tony's only son, Michael Henton Graham Carver was born in October 1967 - now Gp Capt Michael Carver - I remember once being told, on a visit to see Tony at his Loadhams Nursing Home in Farnham, that Michael was then the youngest captain in the Hercules fleet. Tony for many long years had to cope with having lost both his lower legs being amputated after diabetes. We once managed to take Tony down to a Tangmere event which he much enjoyed and it was good to hear from his family that, over the last three years at Dene Place at West Horsley, he had more social contact and opportunities - far less satisfactory was the total lack of information concerning the whereabouts of their former residents, when the whole Loadhams site was redeveloped.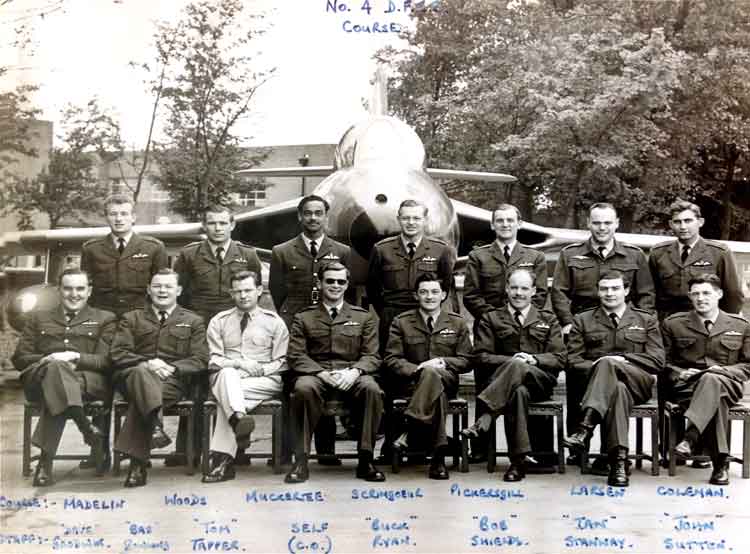 Tony as OC DFCS, resplendent with sunglasses and the staff and first 1959 Course (4) as above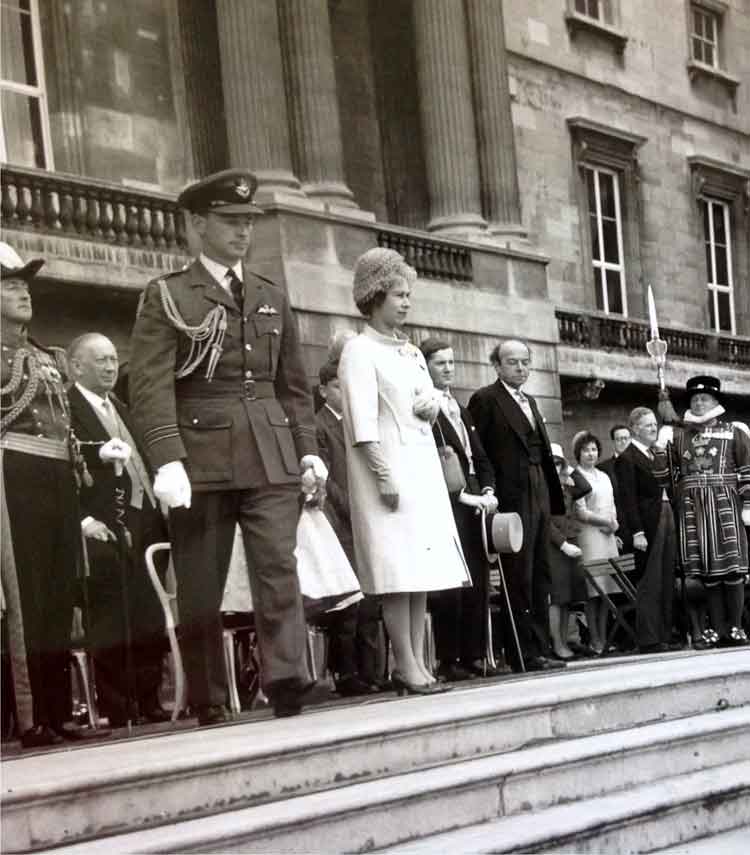 OHMS . . .
Tony at some stage when Equerry to HM the Queen from 1959-1963 for which he was awarded the MVO, later upgraded to LVO.

Afterwards, in the late sixties. Tony served as CO at RAF Changi. He was Stn Cdr at RAF Wyton from June 1975 to February 1977 (it was at the end of this tour that Tony and Gael separated and later divorced). He was promoted to Air Commodore after his tour at Wyton and served as Assistant Commandant at RAF College Cranwell between March 1977 and September 1979.

Tony was the Parade Commander at the Royal Air Force Silver Jubilee Parade held in July 1977. The excellence of the parade and the flying display was rather overshadowed by a more than soporific S of S for Defence, Fred Mulley. He is best remembered for falling asleep during the Queen's Jubilee Review of the Royal Air Force at RAF Finningley in 1977 when there was considerable noise around him. Having a small sleep during exercise was referred to by members of the RAF as having a "Fred Mulley". It was suggested in the satirical magazine Private Eye that Mulley was guilty of treason (then still a capital offence) for having slept with the Queen.

Tony served as SASO 1 Group at RAF Bawtry between September 1979 and February 1982. He was awarded the CBE in June 1983. Asked to extend his Service to and to succeed Air Vice-Marshal David Parry-Evans the post of AOC 1 Group to oversee the merger of HQ 1 Gp and HQ 38 Group. Tony remained at RAF Bawtry as AOC 1 Group from 17th September 1983 until his retirement in March 1984, handing over command to Air Vice-Marshal Michael Simmons.

Tony retired to Farnham, Surrey where he enjoyed playing golf at Hankley Common Golf Club and among other things, playing bridge at the Conservative Club in Farnham. He spent his latter years at Crispins and Loadhams Nursing Home, Farnham and his last three years at Dene Place Nursing Home, West Horsley, still in Surrey.

He sadly passed, following a short illness on 12 May 2014 at the Royal Surrey Hospital, Guildford. Tony is survived by his sister, Liz. His son, Mike (who followed in his footsteps and is Hercules Pilot) currently serving as a Group Captain at Air Command, High Wycombe and he leaves 4 grandchildren: Edward (16), Ellie (13), Katie (5) and Lucy (2 months).