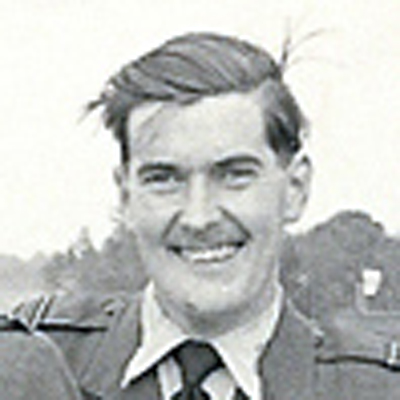 Des was promoted to Squadron Leader from his post as a Flight Commander on No. 20 Squadron at RAF Oldenburg. On 20 Sqn he had formed an embryo formation aeros team consisting of 3 aircraft. Having been involved on fighter squadrons in Germany, from Vampire 9s through Sabre 4s and finally on to Hunter 4s, he considered the Sabre as a vital transition to powered controls, ejection seats, radar gunsights and trans-sonic flight for the Hunter, Javelin and Lightning era. He considered the Sabre's limitations as lack of firepower, limited high speed, low level manoeuvrability (wing warp), poor radius of action without the use of under wing drop tanks and no independent engine start facility.

He was uniquely placed to see the wider effects of the Marshal Aid Plan (MAP). Aircraft supplied to European nations were completely tied to the US servicing, re-supply and management systems, controlled by the voluminous USAF servicing manuals. RAF personnel, particularly National servicemen, lost touch with RAF systems and without extensive cross-training, could not be cross-posted within the RAF. In most NATO Nations this ploy was successful and they continued to buy US aircraft. Only the French and British broke away and kept their own national aircraft industries.

When Des arrived in September 1954, 93 Sqn were on detachment at Armament Practice Station RAF Sylt. One of the first things he did was to campaign to stop Sabre spares going first to UK Sqns, 66 and 92.

There were further implications of having to use the USAF servicing systems. The structure for the first line squadron maintenance was unwieldy, causing servicing problems unnecessarily, which resulted in reduced flying hours from too few available aircraft, in spite of a U.E. of 22 Sabres. In short there were too many specialised sub-sections in the ancillary trades, i.e. electrical, instruments, radar, radio, photographic, gun sights and armament, all of which, with many overlapping functions, caused "buck passing" rather than close co-ordination to cure unserviceabilities.

Airframe and engine problems were more easily resolved, but with all trades the lack of ready spares was critical. Spares were only obtainable by handing over the relevant "black box" for exchange from USAF resources. To temporarily overcome these shortages and delays, the u/s aircraft had to be "cannibalised" or "Christmas treed". So 22 U.E. resulted in only 12-16 aircraft that could be maintained in an operational condition at any one time.

So under Des 93 Squadron completely re-organised the ground crew structure into two composite servicing flights. One - all airframe and engine trades were put under a newly appointed Airframes Flight Sergeant. Two - ancillary trades were grouped under and directly answerable to an Electrical Flight Sergeant. All other SNCOs above Sergeant/Senior Tech. were transferred to the Station Second Line Servicing Squadron, also responsible for major and minor servicing and Category 2 repairs. This simplified organization clarified tasks and responsibilities and allowed unserviceabilities to be identified initially by the responsible Flight Sergeant who directed the task of rectification. By devising special unserviceability proformae for pilot completion on landing the fault was easily identified (i.e. no "buck passing").

The new system worked very well as flying hours increased and aircraft were always available to meet the training programme each day. Consequently gunnery improved and aircraft availability for other tasks (Battle Flight, formation aeros etc.), were met without jeopardising the overall programme. No. 93 Squadron then achieved its monthly flying target throughout the year and even launched 12 aircraft formations on Saturday mornings, normally a servicing period, to show the flag to other Sabre squadrons!

This re-organised servicing arrangement lent itself to a natural transition to the re-equipment with Hunter aircraft, without a break in the operational status of the Squadron. The "cannibalised" Sabres were eventually rebuilt and flown out for re-issue by MAP/USA to, it is believed, Greece. The RAF squadrons were once again under their own flexible servicing with the arrival of the Hunter and all its attendant advantages:- independent engine starts, good manoeuvrability (no wing warp at high speed low level), much better fire power (4x30mm Adens versus 6x0.5inch), and better radius of action.

The formation aerobatic commitments excused 93 Squadron from fitting Long Range Under-wing Drop Tanks and they were the only 2ATAF squadron allowed not to fly with them normally. In point of fact, unless jettisoned when empty, they did little to extend the Sabre's radius of action. The tanks slowed the rate of climb, reduced height and manoeuvrability and limited the G allowed to be pulled. During inter-command RAF exercises, the Sabres were used as simulated bombers against Fighter Command. No 93 Squadron could still reach the UK coast and return to Jever with the same fuel reserves as squadrons equipped with drop tanks (i.e. 4, 26, 98, 118 and 234 squadrons).

Soon after arriving as the Commanding Officer Des Browne started practicing formation aerobatics. The squadron was then detached to RAF Wunstorf while the runway at Jever was being extended. [Click to see description of extension]. The first few flights on 21st, 25th and 26th October were with three aircraft. On the 26th RAF Wunstorf requested a demonstration of sonic booms on the airfield. So at the end of a high level battle formation, the formation dived from 40,000 feet and pulled out at 25,000 feet pointing at the airfield. Air Traffic radioed that they had not heard any bangs - but whilst they were still transmitting, the formation then heard over the radio their booms arrive, (four doubles), followed by muttered comments of "Oh my God" from the tower! This was perhaps the first and only time RAF Wunstorf had heard the booms as it caused some consternation, it was also a unique experience to hear one's own sonic boom whilst in the air. On 10th November they were allowed by Air Traffic Control to boom RAF Jever, but this was the only time.

Tom Balfour contributes a follow-up story to this incident: "A couple of days after the event I had to visit the nearest service hospital, Rinteln I think, for a medical. I was picked up at the mess and the Kombi driver asked me if I was part of the boom, which I was, as he thought it was a good laugh. Next we proceeded to pick up four ladies who had to attend the ante natal clinic at the same hospital. Once we got on the way they started nattering about that bloody lot from Jever and how they had frightened the life out of everyone and upset all the kids and one rather large lady described rather graphically what she would do to any of them she got her hands on. At this stage I was trying to make myself as small as possible as the driver was laughing fit to bust and the penny dropped with the large lady. After a bit of initial abuse she calmed down and we all had a laugh as she reckoned we had almost saved her the journey to the hospital."

The team was Des Browne as leader, Fg Off Dave Chadwick was No. 2, Fg Off Don Exley was No.3 and Fg Off Tinker Bell was in the box. The team worked up to a standard of performance and on 2nd December 1954 performed in front of Gp Capt Tom Prickett, the Station Commander. He authorised them to continue practicing as the 122 Wing team and cleared them down to 250 feet above the ground. They were also selected as the official 2 ATAF Formation Aerobatic team.

All of this work up was completed to a background of operational flying and training which had the first priority. Most of May and June 1955 the Squadron was involved at RAF Sylt and as demonstration of their commitment to operational performance first, they were the winners of the 2 ATAF Duncan Trophy for 1955 as the highest scoring squadron for live air-air firing, both at high level 20,000 feet, and low level, normally 10,000 feet. Des's personal score was 20.8% at high level and 21.6% at low level. The Squadron average overall was 16%. This was the second time that 93 Squadron won the trophy - the previous being in 1953 on Vampire 5s.

With the improved serviceability, especially in the ancillary trades, the radar ranging on towed targets became reliable. The targets themselves had been improved by adding a reflective metal box structure to the flag towing bar - called the "Anning Reflector". These gave good positive radar "lock on" up to 600 yards; ideal firing range being 300 yards with a 300 deflection angle. The close analysis of cine film after each sortie helped to sort out fundamental errors. Glider targets were trialled (ex-Army?) but they were scarce and often damaged beyond repair, especially on landing, so the trial was abandoned. There was nothing wrong with the Anning towed flag. The gliders were simple metal monoplanes of about 20 foot span, used for artillery training in the Army.

With good aircraft and gunsight serviceability and an effective radar reflective towed target, air gunnery improved immensely. The more experienced squadron pilots achieving 20% now, flying at low level, about 10,000 feet, and nearly as well at high level, 20,000 feet and above. No 93 Squadron would have won, for the third time (Vampires and Sabres), the coveted Duncan Trophy for the highest scoring squadron in 2 ATAF, but Meteor night fighters were allowed to double their squadron average. This was because of their more critical harmonised range (250 yards), with their wing mounted cannons, but even so 93 Squadron was only piped by a couple of decimal points behind the winning 14.7% result.

The aeros team display sequence was normally a box take-off, steep turns around the airfield, barrel roll along the runway axis, pull up in to steep wing over and return for a loop in box formation, wing over and formation change for opposite direction roll, back again for a loop, tight steep turns in to downwind, reducing speed using dive brakes, wheels down, flaps in stages, and finishing with a box landing. The spare aircraft, if available, often joined in on the initial loop if the display didn't include take-off. A full display sequence normally took 15 minutes.

The team practiced 10 times in July 1955, only twice in August but again 10 times in September 1955. During September there were three formal displays - dress rehearsals and the actual display for the C-in-C 2 ATAF inspection, visits from the C-in-C Italian Air Force and other VIPs.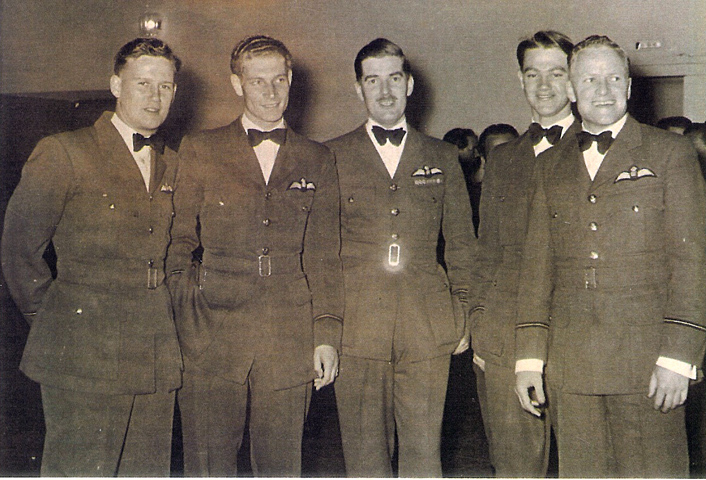 The Golden Arrows (Fleche D'or) formation Aeros team. Believed to be taken between 21Nov55 when Tinker Bell was posted home and 8Nov56 when Don Exley left.
L to R: Chad Chadwick No 2, Don Exley No. 3, Des Browne Leader, CJ Clayton-Jones Spare at this time, Sandy Sanderson No 4 in the box.

On the posting home of Tinker Bell, the spare Fg Off Brian (Sandy) Sanderson took over the box position, later Fg Off Richard (Clam) Clayton Jones took over on the posting of Dave Chadwick. This team continued through 1954 and 1955 onto the Hunter 4s and on Don Exley's departure Fg Off Charles (Taff) Taylor joined the team.

The fifth formal display was not until November 1955 when the team performed for HMS Diamond which was steaming off the coast north of Jever. The team gave the ships' crew, sonic booms (allowed over the sea), formation aeros and a flypast in her honour.

The final Sabre aerobatic display was given at Jever on 13th January 1956 - one year after initial authorisation.

An early feature of the teams show was a box take off and a box landing. With the arrival of the Hunters and of Flt Lt Ken Goodwin on 118 Squadron he flew a single Hunter show with a great number of inverted manoeuvres. This was quickly fitted in with the 93 Sqn show, a five aircraft box take off followed by a roll and the departure to height of the solo aircraft. The team completed their programme ending with a box landing. As they were on the landing run Ken Goodwin arrived low level and at very high speed from the opposite direction, accompanied by the arrival of a sonic boom he had placed on the airfield and ridden down. Later when Sqn Ldr Paddy Minnis was the leader and the aircraft used were the Hunter Mk 6 with more power the five ship take off went straight into a half roll off the top, a most impressive start to a show.

No 93 Squadron elected to be the last Sabre squadron to be converted to Hunters, achieved another first. Des encouraged exchanges between the Hunter equipped squadrons and 93. Hunter pilots, keen to get the Sabre in their logbooks, would do the ground exams and be authorised to solo in the Sabre. In return, 93 Squadron pilots taught themselves about the Hunter, passed the necessary ground exams and were converted to the Hunter. So when the Hunters arrived on 93 in December 1955 and January 1956 all the pilots had "operational status" on either aircraft and the Command were saved the cost of a conversion course.

Des received his first AFC at that time. He won a bar to his AFC when, later, he was Wing Commander Flying at Middleton St. George on Hunters and Javelins. The squadron members also received two British Empire Medals - Flight Sergeant O'Neill and Flight Sergeant Hart who were promoted to acting ranks on the recommendations of the squadron. These were awarded to the SNCOs who perfected the co-ordinated servicing of the radar gunsight, (hence the Duncan Trophy win), and for outstanding aircraft serviceability which enabled the squadron to fulfil the target flying hours commitment for 1955.

All pilots played an important part in aircraft turn-rounds between sorties; i.e. refuelling and first line servicing. We were all qualified to sign up aircraft on the Form F700 for turn-rounds, which was overseen by one SNCO in charge of the line. This direct pilot support enabled the Squadron to maintain the flying programme without a break throughout the day. Thus ground crews were relieved for lunch breaks getting first meals not left-overs in their messes. This helped to boost morale and develop closer ties and understanding between air and ground crews. Certainly Squadron pilots were all prepared to get their hands dirty daily to keep the flying programme going unhindered. These practices also helped when the Squadron was short-handed on detachments. While some of these aspects may sound trivial, they did in fact give the Squadron its competitive edge and promote a pride in itself of being second to none.

Des worked closely with Squadron Leader Bill Sykes, the engineering officer, who was so popular he was made an honorary member of 93 Sqn. Together, by working one extra Saturday morning each month, for 12 months, 93 were eventually able to fly 12 aircraft in a formation at once. They achieved this for 10 consecutive months.
[Click here to see 3 Boxes of 4, 4 boxes of 3 and Arrow of 12 aircraft.] [Click here to read F540 references and photograph.]

Obituary for Air Cmdr. Desmond Fitzalan Monteagle Browne CBE AFC* 1924 - 2016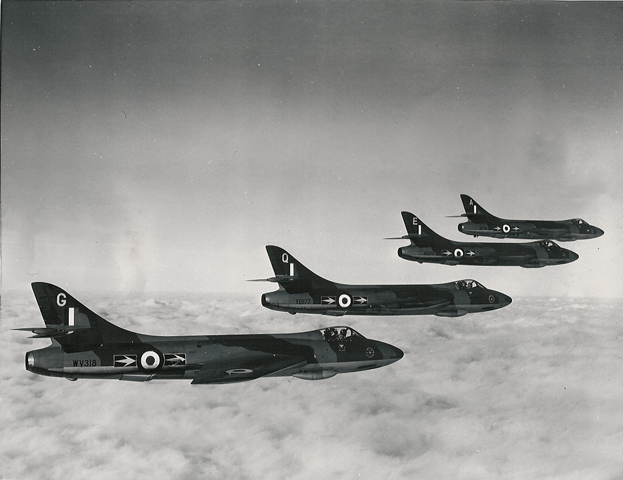 Desmond was born in Maidenhead in July 1924 and came from a long line of military officers. His father served in the British Army and fought
in the Boer Wars and in WW1 on the Somme and Mons.

Desmond was one of seven children, he was educated at St. Paul's School London and then went on to Cambridge University. The war
intervened and he joined the RAF in 1942, and following the footsteps of his oldest bother Antony Browne who was shot down in the Battle of Britain. Desmond trained as a pilot in Canada and was commissioned in January 1944. Flying became a passion and he became an
instructor. Returning to the UK he trained pilots on Tiger Moths at RAF Cambridge. He was posted to Karachi in India and then went on to
Japan to RAF Iwakuni.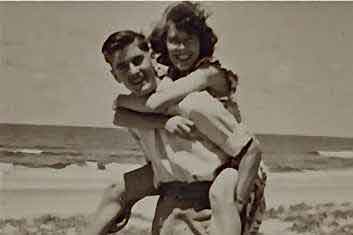 Here he met the love of his life Marian Gardiner, who was serving with the
Australian Auxiliary forces also in Iwakuni. This was the start of a
wonderful marriage that lasted 66 years, until Marian death.

After Japan they returned to the UK to RAF Finningley, flying Bentwaters, Spitfires and Meteors. Desmond and family - by this time their first child had been born - was posted to Germany, first as Flight Commander of No 20 Squadron flying Vampires and Sabres in Oldenburg and then Jever where the family lived in Goering's previous home.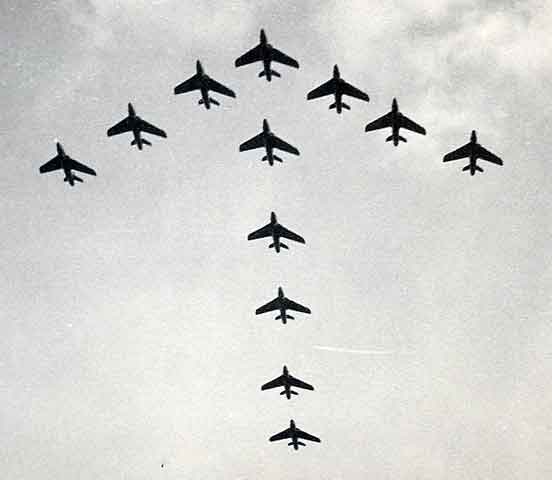 Some of his happiest times were with No 93 squadron flying Sabres and Hunter jets in the fighter, ground attack roles. This successful tour earned him the Air Force Cross in 1957. He also started and led the international aerobatic team called the Fleche d'Or which preceded the Red Arrows.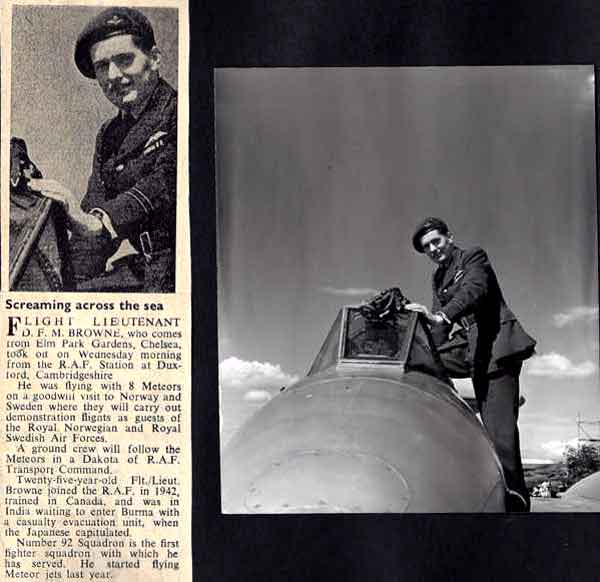 Returning to the UK, first to Bracknell and later to Air Ministry in London he became OC Flying at Middleton St. George, Yorkshire flying Javelins and Hunters, doing a lot of night flying. This successful tour earned Desmond his second AFC and an investiture at Buckingham Palace by the Queen. In 1962 he was posted to SHAPE in France as Air Defence Ops. Div. Back to the UK in 64 for a couple of years and in 1966 was promoted to Group Captain at RAF Khormaksar in Aden.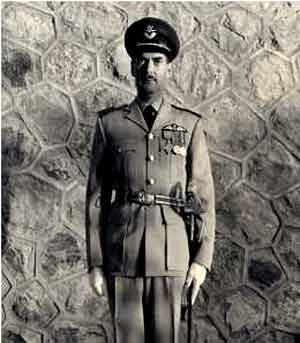 This station, reputedly the largest RAF station, had 7 squadrons, two flight units and maintenance units, all forces totalling some 3,500 personnel. This was a very testing and turbulent time politically in the region. Khormaksar was disbanded in Nov.1967 when Britain withdrew from Aden. He was awarded the CBE for this tour.

Desmond was then posted to FEAF Singapore for 18 months before returning to HQ Strike Command near High Wycombe for 4 years. His next posting was to Cyprus as an Air Commodore. Cyprus was then embroiled in war with Turkey and the posting was cut short and in 1974 returned to his final posting at the Ministry of Defence as Director of Flight Safety for both the RAF and the Army for three years. This ended 35 years of a very active, colourful career with many overseas postings.

After retiring he and Marian moved to Western Australia where he became a very keen sailor so the love of flying transferred into competitive sailing. He also became very involved in the United Services Institute in Perth becoming President for a number of years.

Later they moved to Sydney to be closer to some of the family. The last part of Desmond's rich and full life was devoted to caring for his wife. He was hale, hearty and nothing missed his sharp eyes or mind right up to the very end of his nearly 92 years. Some of his exceptional qualities were that he was always cool calm and collected under pressure. This came from being very disciplined and an excellent planner. One of his guiding principles was to always look for the lowest common denominator in every situation and build from that point. Along the same lines he also would say look for the problems and cross those bridges in your mind because then you would always be prepared.

He is sorely missed by his three children, eight grandchildren and three great grandchildren.