History of Royal Air Force Jever Detachment of 5352 Wing Airfield Construction Branch
You may know that all new work and maintenance on 2 TAF airfields was supervised and controlled by the RAF Airfield Construction Branch until 1957 when the responsibility was transferred to AMWD the civilian organisation.
RAF Jever after the end of the war became a Displaced Persons (DP) camp and was then converted back into an RAF Station with a concrete runway by the Airfield Construction Branch.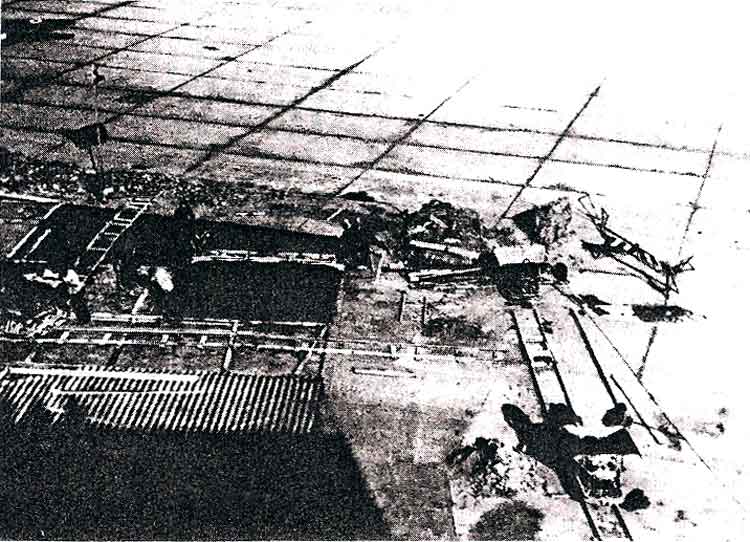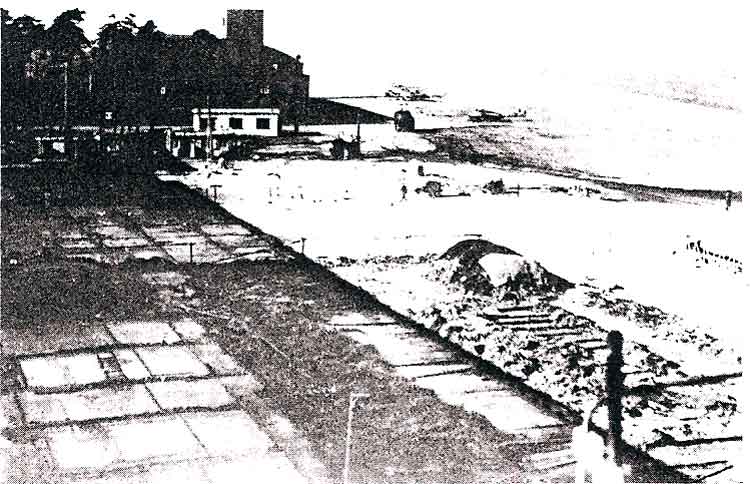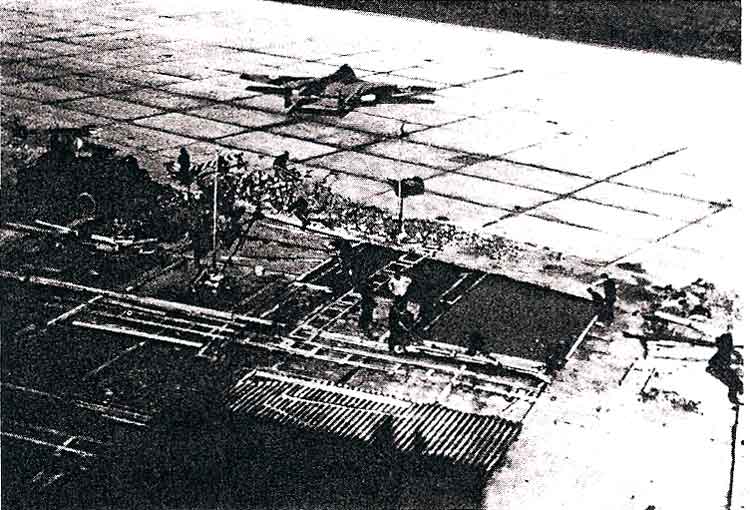 These are shots of Hanger 4 on the south side of the runway being built some time after March 1953 when the first Vampires arrived.


Thereafter the work was carried out 5352 (
AC
) Wing Detachment which also had responsibility for the construction of the nearby
T80
site.
Philip Westwell who was also there from August 53 to July 54, explains the following: "The runway had been constructed to Fighter Command standards, and the arrival of Sabres demonstrated that 2000 yards was insufficient for these heavier machines with higher landing speed. The Air Ministry issued a specification for a non-skid asphalt surface, to be laid with minimal interference to flying. We built a rail spur to bring in the raw materials, and set up an asphalt mixing plant on the hardstanding in front of the maintenance hangars.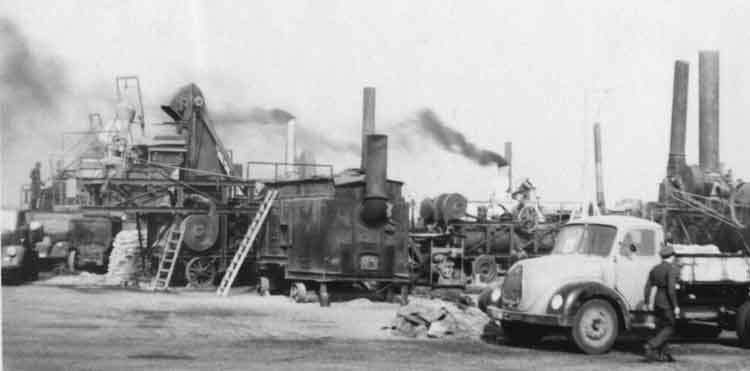 Ashphalt Plant making the new surface for the runway. (Thanks to
Philip Westwell
.)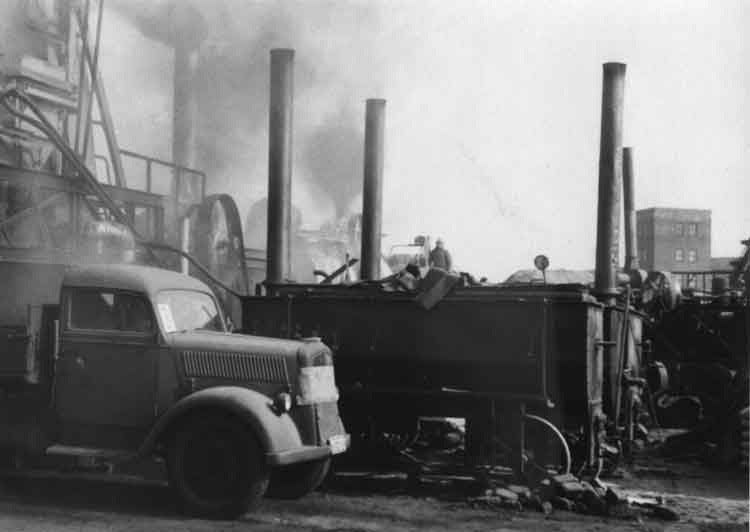 Another shot of the Asphalt Plant in which the East Tower of Hangar 4 can be seen. (Thanks to
Philip Westwell
.)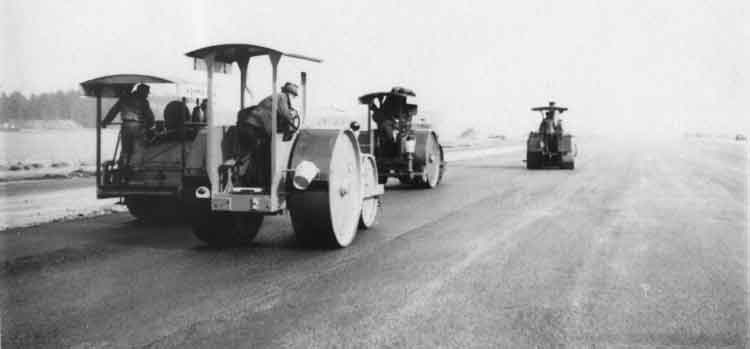 German Contractor's Steeam Rollers laying the new runway surface. (Thanks to
Philip Westwell
.)
The asphalt, laid within a 14 day period, was so successful that the
Sabre
tyres endured no more than 3 or 4 landings, and it was rumoured that 2
TAF
tyre stocks were approaching exhaustion! The decision was then made to prepare plans for a 700 yard extension."
Robbie continues, I commanded the Detachment from September 1954 until January 1957 and my staff were a mixture of RAF and German civilian staff. Among the RAF Staff were Flight Lieutenant Renton, Flying Officer Dick Haynes, WO Bob Styles (later Squadron Leader), Flight Sergeant Ken Dench (later Squadron Leader) and Flight Sergeant Monty Montgomery.
I arrived when 4 and 93 were at Sylt and my brief was to complete the first 300 metres of the runway extension in time for it to act as an overrun for them on their return. 93 Sqn were detached to Wunstorf and returned on 15Nov54 when the work was just being completed. [Click to see 93 Sqn F540 report.]
The complete extension, with its associated perimeter tracks, involved the diversion of a railway line into the Station and the removal of a large number of trees in the approach. (Not popular with the local Forstmeister!)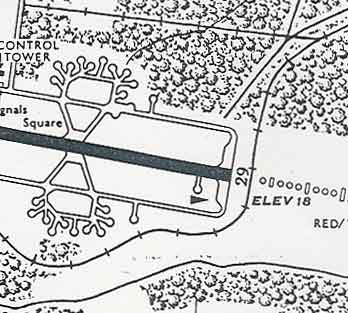 Map showing railway diversion necessary to accommodate the 300m extension of Runway 11 to 8,100 feet. (Thanks Gunter Kipp)

Panorama of Runway Extension Train which was a German Pre-war autobahn construction unit. Note the concrete mixing plant in the background. This extension was built by the Airfield Construction Branch with Rathgens as Contractors. (Thanks to Robbie Roberts).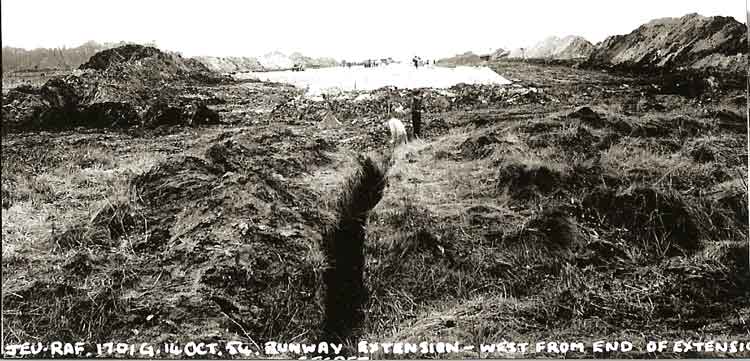 Jever Runway 11 extension looking west from the end - 14Oct54.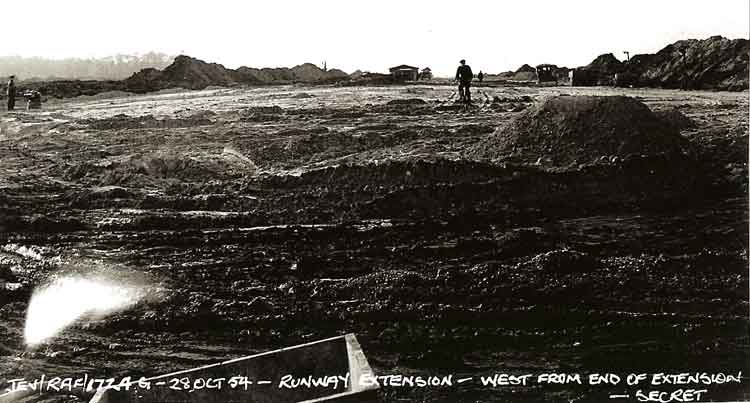 Jever Runway 11 extension looking west from the end a month later - 28Oct54.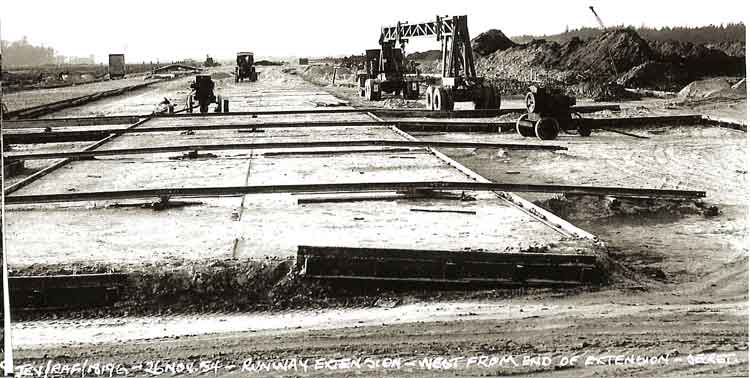 Jever Runway 11 extension looking west from the end and another month - 26Nov54. By this time the Sabres of 4 and 93 Sqns were back in residence having flown in from Wunstorf on 15Nov54 [Click to see F540 Report].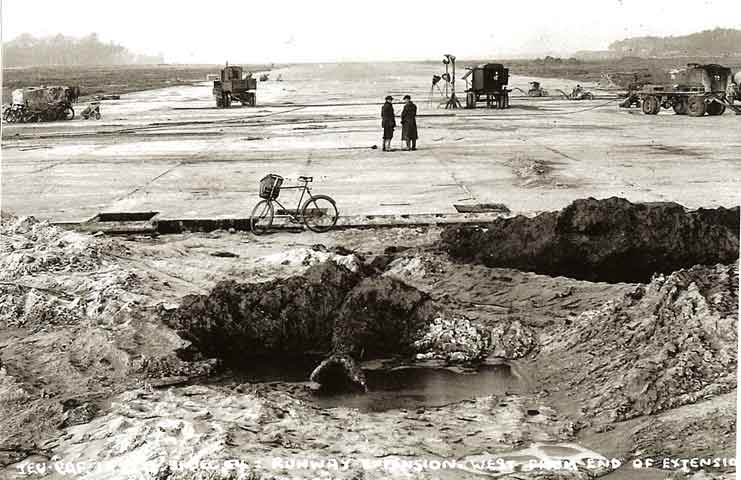 Jever Runway 11 extension looking west from the end New Years Eve - 31Dec54.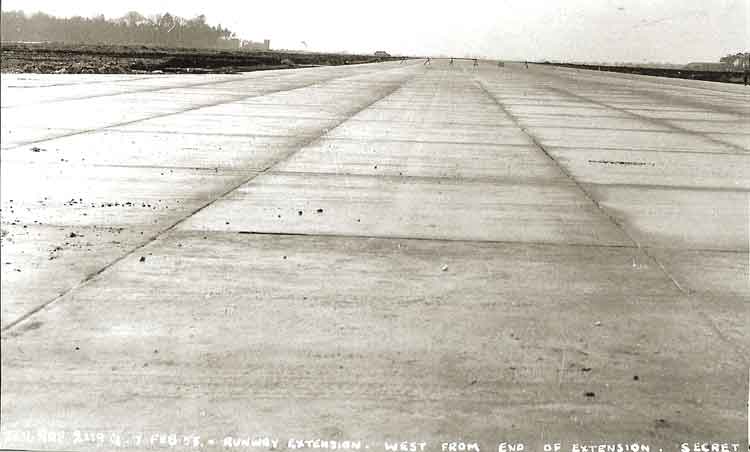 Jever Runway 11 extension looking west from the end Complete 7Feb55.
Although not on the base but some miles away, 5352 were also responsible for building the T-80 Radar site at Brockzetel. The contractors here were Hochtief.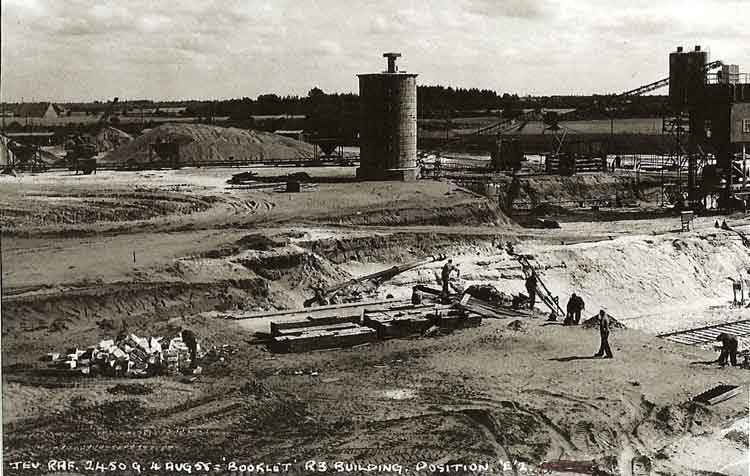 This is a general view of the site with the mounting pedastal for the T-80 radar head in the centre - 4Aug55.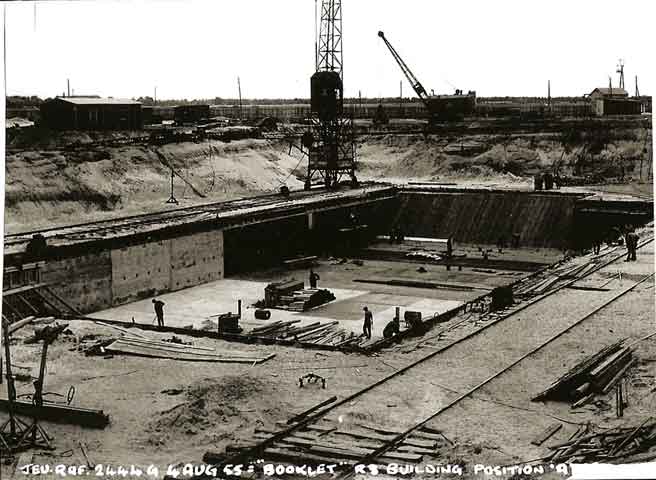 Brockzetel general view with the main bunker in the centre - 4Aug55.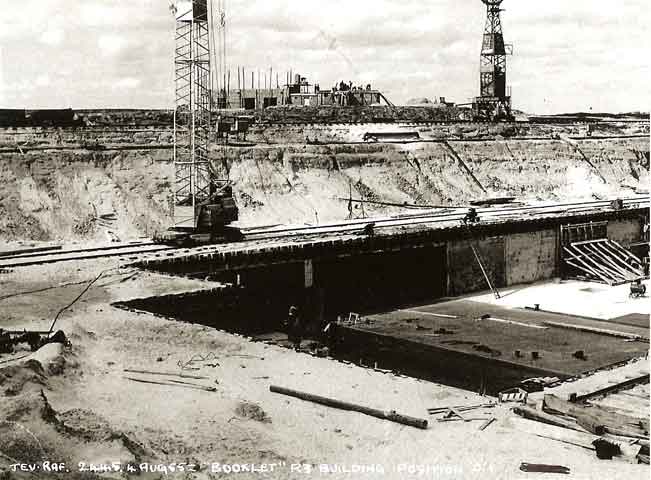 Brockzetel one end of main bunker - 4Aug55.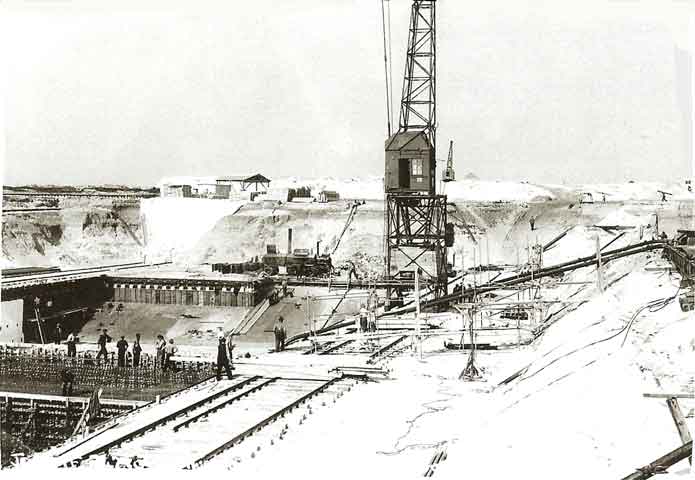 Brockzetel other end of main bunker a few days later - 11Aug55.
During my time we also built a Hunter Armoury, a new BFES School,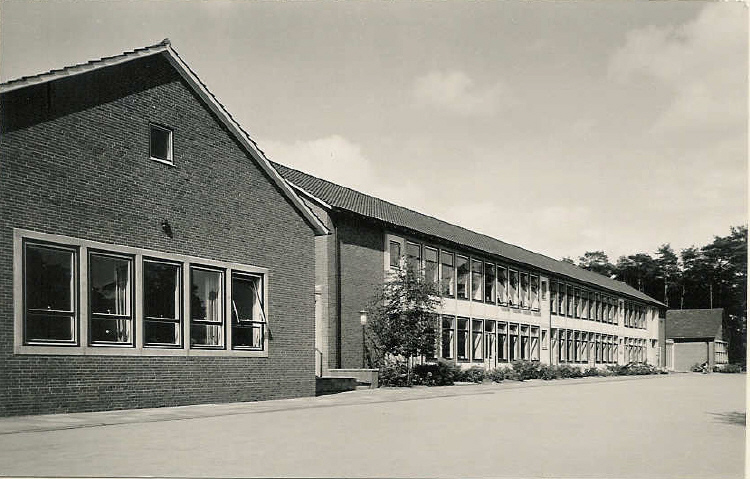 British Forces Education Service Primary School just outside the main gates of RAF Jever.
(Thanks Gladys Watson)
... Married Quarters, [Robbie tells me that he was not only responsible for building the RAF Married Quarters in the
town of Jever but was also responsible for maintaining the quarters such as in the second picture below,
which were just outside the main gates. [Click to see map]. These were built originally for the Luftwaffe.
Robbie cannot remember where the airmen's quarters were in Jever.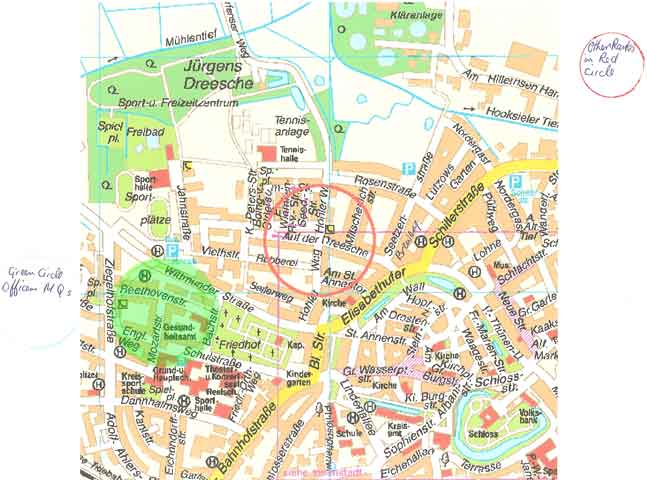 Thanks to Trevor Pailing , who lived in Jever for some years after he left the RAF, he has identified the two areas of quarters.
Officers Married Quarters: Mozart Strasse and Englischerweg in the green circle
Other Ranks Married Quarters: Auf Der Dreeche, Boing von Oldersum, Winkemstrasse and Hohler Weg in the red circle.
Has anyone still got photographs of these quarters?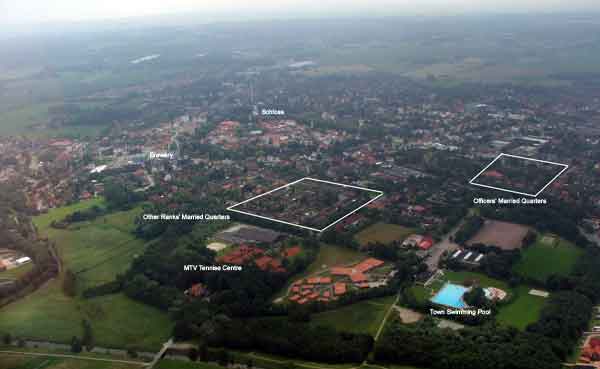 Modern Photograph of Jever town showing two Married Quarter areas taken 2Jul2007. Thanks to Marcus Christ.
Photos of these now Old Officers' Married Quarters today in downtown Jever as at 22Dec05 thanks to Maurice Parker: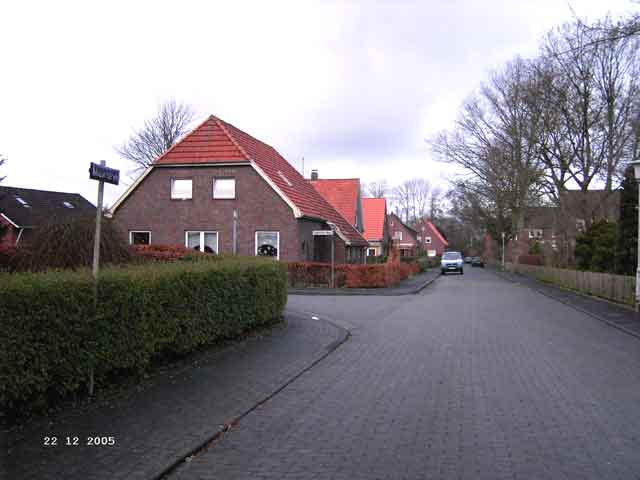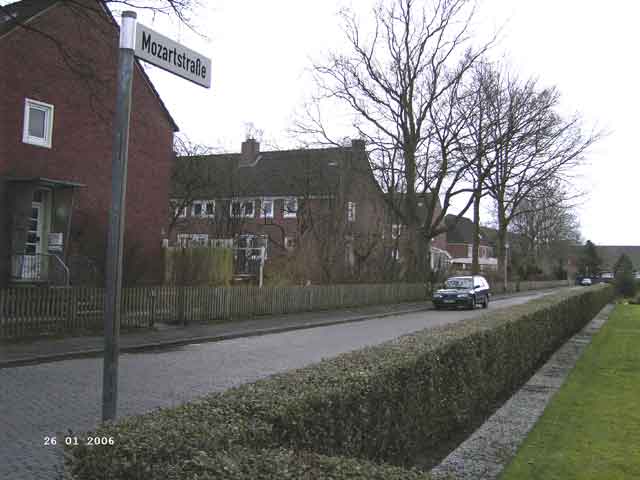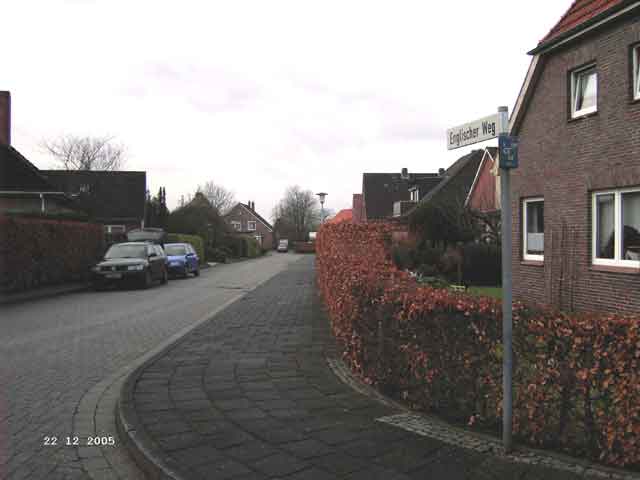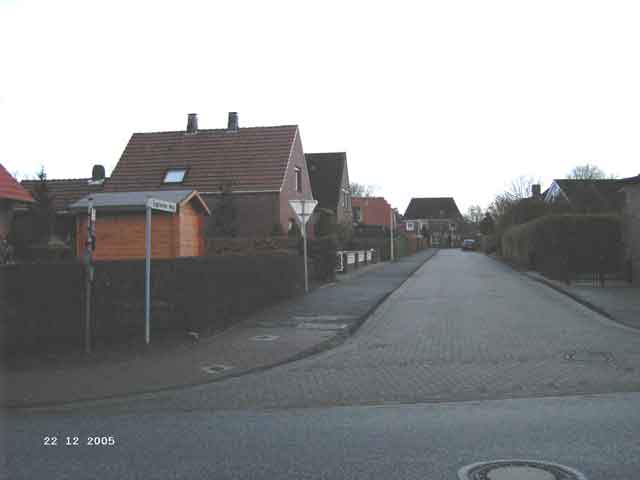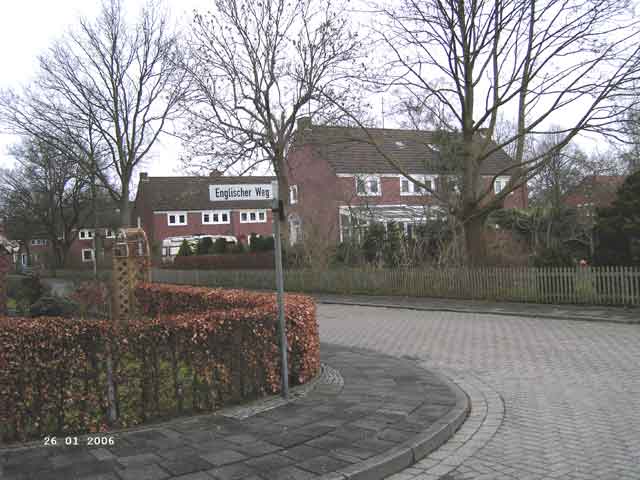 Englischer Weg view 3





Photos of Old Airmen's Married Quarters in downtown Jever as at 22Dec05 thanks to Maurice Parker: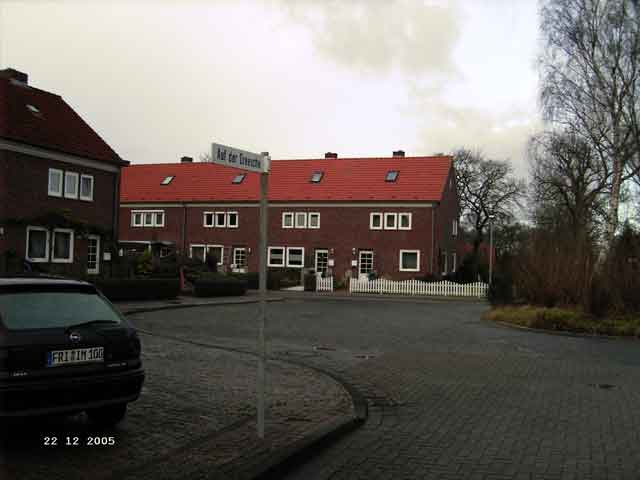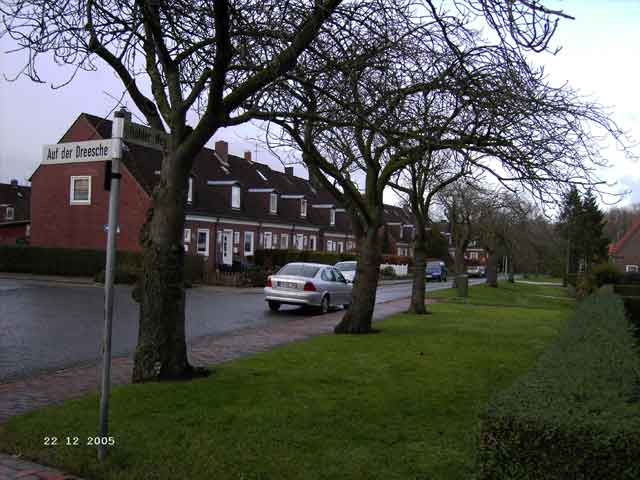 Auf der Dreeche with Hohle Weg - View 2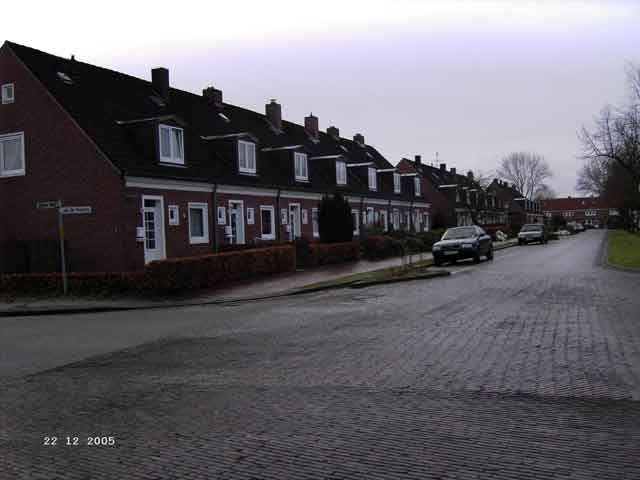 Hohle Weg with Auf der Dreesche - View 3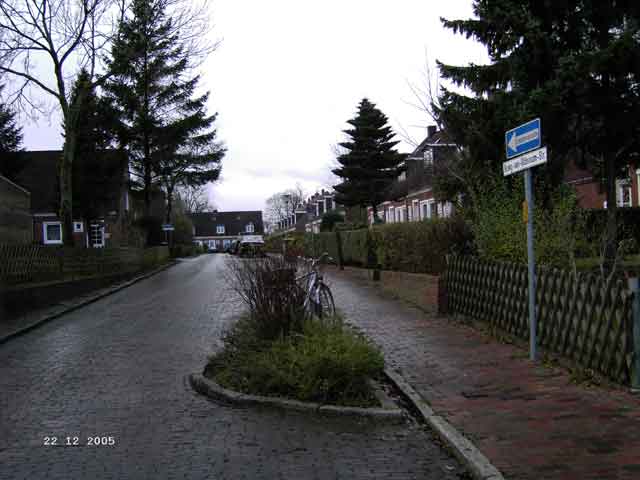 Hohle Weg with Boeing von Oldersum Strasse (with Remmer-von-Seediek and Edo-Wiemken off to the left) - View 1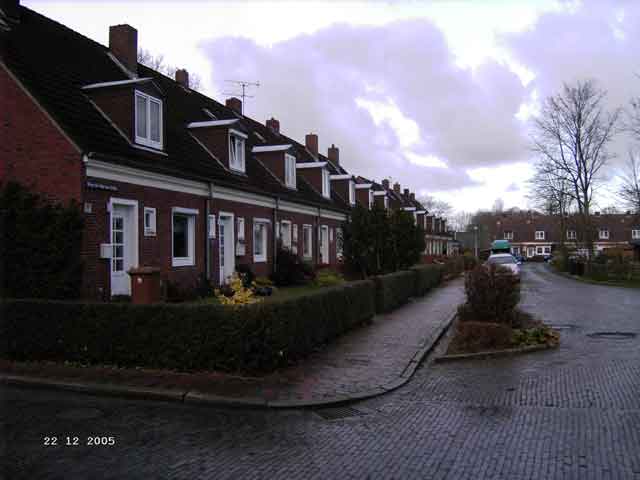 Auf der Dreesche with Boeing von Oldersum Strasse - View 2
If you want to see some of the old "Watering Holes" in and around Jever, as they are today then Click Here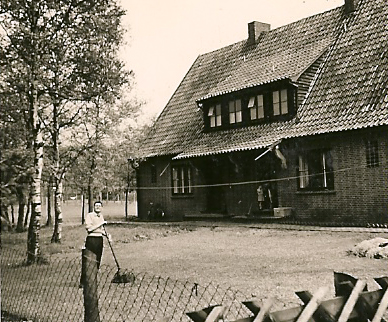 Robbie Lynn, 93 Sqn pilot in the garden of his Quarter just outside the main gates. There were two semi-detached
officers' married quarters in each building. Note the twin front doors. (Thanks Mick Ryan)
...an emergency water facility (i.e. Swimming pool!) [
Robbie
has told me further that when asked to build the "water Facility" and also "Elspeth's pig sty" (see below), he visited OC Eng Wg and scrounged some wood. He was given masses of wooden crates in which spare parts and spare engines were sent over from England. He says this was very good quality wood and he used it to build the fence round the pool as well as Elspeth's sty.]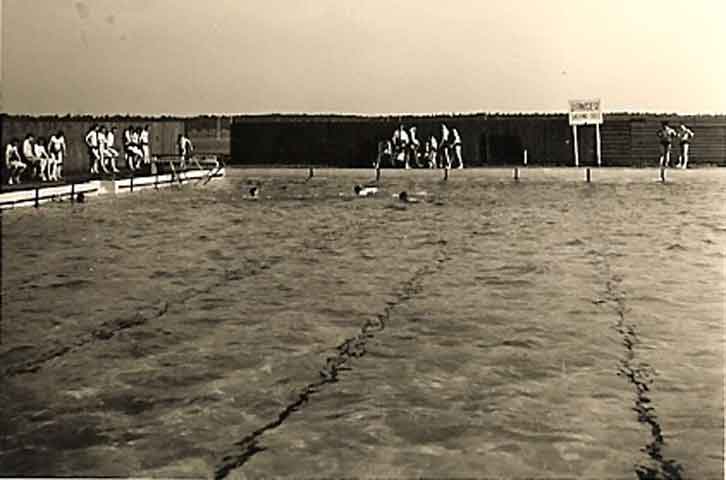 [Click to see in winter] (Thanks Mick Ryan)
...and new Astra cinema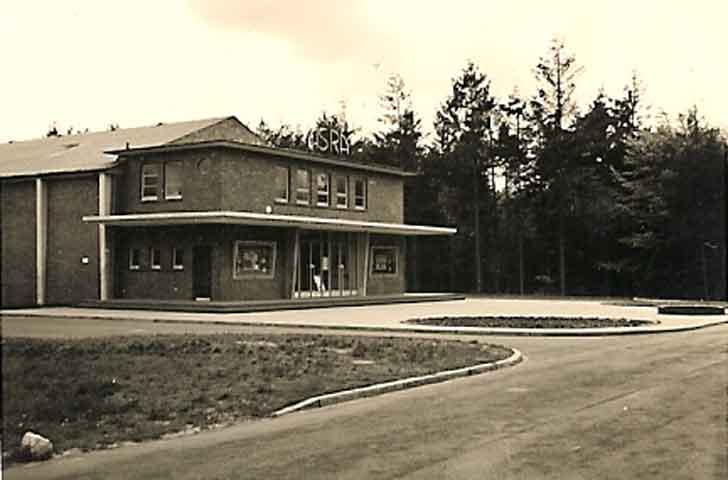 This was the first in the RAF to take a wide screen and was designed at the Detachment.
[Note from Mick: All RAF camp cinemas were known as the Astra, hence the translation of the RAF motto: "Per Ardua ad Astra" as "After work to the cinema"]. (Thanks Mick Ryan)
The Detachment also built an emergency power installation with 3 very large MAN Diesel Generators. (However,
Hammer West
, (
OC
Flying), still insisted on placing out goose neck flares whenever he had Dusk flying - so much for modern technology!!). We also designed and built a large pig sty! (to accommodate
98 Sqn
's very large sow - Elspeth!!)...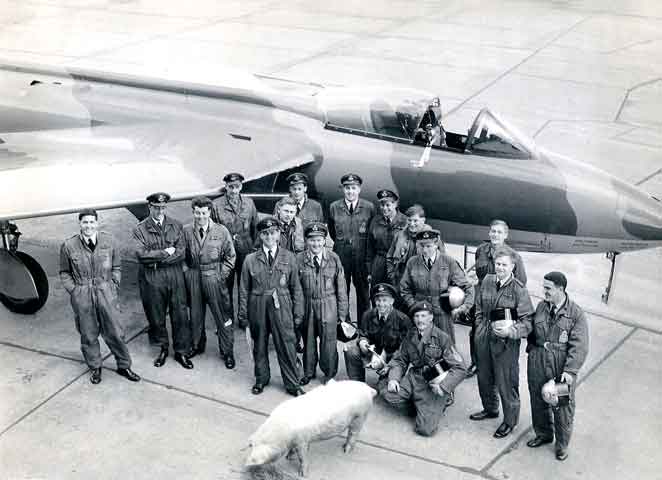 Elspeth in 98 Sqn Photograph (Click to see fully annotated photo.)
The camp had a large farm in the woods near the gun harmonisation butts behind Hangar No 4 on the South side of the airfield. This was run by the
GSO
and reported to the Officer i/c Station Farms and Gardens. They provided fresh vegatables to the three messes as well as the
NAAFI
. They also hosted "Elspeth". I understand that when the supply of fresh vegetables became plentiful the farm was no longer required and it was discontinued. [
Click here to see more about the Farm
]. The Detachment also provided the heavy lifting facility for crash rescue.
We were often informed by local friendly hoteliers of the presence of a Russian army exchange team at various points on the perimeter fence. When the RAF police went to check it always resulted in a rapid departure by the Russians. They were not supposed to be within so many kilometers of military installations. [Note from Mick: This would have been the SOXMIS, Soviet Military Mission. We also had BRIXMIS, the British Military Mission, that operated the same way in East Germany. I understand that it was routine for the first time Hammer West got to know about a supposedly surprise alert and scramble mission of RAF Jever by HQ 2 TAF, was when a SOXMIS vehicle appeared at the far gate on the perimeter fence so that they could time how long it took us to get airborne! This so infuriated Hammer that a leak could reach them before he heard about it himself, that he once took his RAF Landrover round the outside perimeter track through the woods and when he caught them there unawares, he drove it straight into the side of their immaculate ZIL saloon. He explained in no uncertain terms that they were not supposed to be there so what were they going to do about it and to B------ Off! [There appears to be some doubt about this story. As Robbie rightly points out, during the whole of Hammer West's time at Jever the OC Flying vehicle was a service Volkswagon beetle. Hardly a match for a ZIL! Maybe this was a story about a later OC Flying, may be Geoff Atherton, I believe they had Landrovers by that time? Anyone throw any light on this tale?] Ken Senar, who was Flying Wing Adjutant in Hammer West's time, confirms that Hammer did not have a Landrover. He adds to the story with the following:
"I have just been reading Robbie's bit about Hammer west and the SOXMIS. Maybe I can help just a little. Hammer did only have a Volkswagen. I drove it many times when I was his Adj. It was the only one with chrome hub caps, unlike the rest which were painted khaki. He never, in my experience, drove a Land Rover.
As to SOXMIS: There was one occasion during night flying when, at the end of runway 29, (the ring road end, not the new end), car headlights were being shone directly down the runway at aircraft taking off and landing. On investigation (by whom I don't know) it was found that the SOXMIS were to blame. Hastily, a 3 ton truck, with blankets nailed as a curtain all along one side, was driven up on our side of the fence to act as a screen to the headlights. The silly season then started with the Russians backing away and driving up again a few yards further on. Our truck then moved to screen the lights again, and so on for a while. I don't know how it ended or whether someone confronted them on their side of the fence (Hammer West ?). Again, more light needs shedding on the incident."
For some time Brian Renton (a Durham County player) and I ran the station Rugger team and got talked (dared) into joining the aircrew on an Escape and Evasion exercise (anything you can do we can do better!!) We both also volunteered for a parachute drop and were highly relieved when it was cancelled
One of the opposing Rugby teams at the time was Varel who had a side in the German Hanover Rugby league. For a while several of our players played for them until the Hanover league banned ex-pat players - the results however were allowed to stand and the Varel Club gave us a party as a show of appreciation.
The matches at Varel were always a matter of interest to the locals with our supporters turning up with Bowler Hats and rolled umbrellas!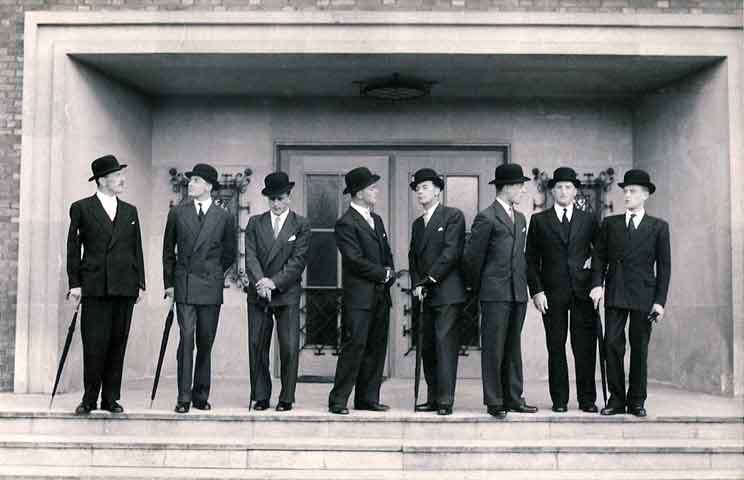 98 Sqn's preferred form of dress. (Thanks BeBe Sharman)
Hammer West told me in no uncertain terms (as he could) that he did not want to be selected to play rugby anymore. He always had his boots in his staff car on match days, however, and wanted to know if we "Had a full team?".