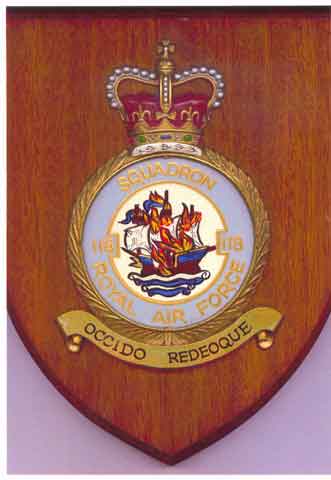 (This article was written by Andrew Thomas and originally appeared in the magazine Air Enthusiast No 73 -
     Jan-Feb 98.  The copyright belongs to Andrew and the History must not be downloaded or used without his
     written permission.  In the original article Andrew included the following:  
     ACKNOWLEDGEMENTS:  The Author, Andrew Thomas, is grateful to the following former members
     of No 118 squadron for their generous help in the research for this feature: G P Aird, B G Faulkes,
     S/L T M Jeffrey, S Kirtley, S/L D P F McCaig MBE AFC, G H Spencer, Mrs M Taylor
     (widow of F/L F M Taylor AFC), G/C D A Toon CBE and R Wigley)



"I KILL AND RETURN"
THE STORY OF No 118 SQUADRON ROYAL AIR FORCE
by
ANDREW THOMAS



		When following the successful conclusion of the Battle of Britain RAF Fighter
	Command switched to the offensive, a substantial number of new fighter squadrons
	were formed to help implement this new policy.  Many of these units flew with
	distinction, but existed only for the period of World War Two.  Some however had a
	significant post war existence following the expansion of the 1950's during the
	Cold War.  No 118 squadron was one such unit which in addition to a notable career in
	air fighting, also displayed considerable prowess in attacking enemy shipping -
	a fact commemorated in its badge.

		No 118 squadron was first formed within the Royal Flying Corps at Catterick on 
	January 1 1918 and was intended for night bombing duties in France.  Like so many 
	other units, it had a difficult gestation due to a shortage of equipment and it's 
	trained personnel regularly being drafted to squadrons in France to replace losses. 
	It used a miscellany of aircraft including a few DH 6s and BE 2s, though it was 
	destined for the large Handley Page 0/400.  In mid April 1918, by which time the RAF had 
	been formed, the embryonic squadron moved to Netheravon where it continued to train 
	before moving to Bicester on August 7 1918 where it was due to mobilise for France.
	However, the policy was revised and it was then scheduled to receive the Vickers 
	Vimy.  However, before any were delivered requirements changed and No 118 was 
	disbanded on September 7 1918 without ever having become a fully formed unit.
	(Click to see the posting notices for the Other Rnks in Daily Routine Orders.)  




FIGHTER COMMAND


		No 118 Sqn was reformed at Filton on February 20 1941 within 10 Group Fighter 
	Command as part of a substantial expansion of the RAF's day fighter force.  It was 
	commanded by S/L F J Howell DFC, an experienced fighter pilot who had gained a 
	number of victories with 609 Sqn during the Battle of Britain.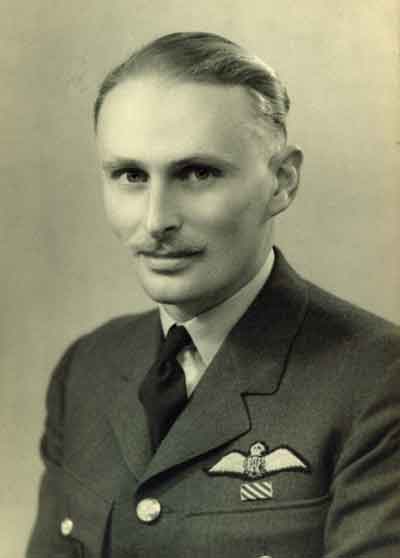 Squadron Leader Frank J Howell, DFC and Bar, 1st   CO in WWII
                              (Click to see a full history of Frank Howell.)
			
	No 118 was equipped with the Spitfire I and began a period of working up before
	becoming operational in March, by which time it had a detachment at Pembrey.
	Its first operational sortie was a convoy patrol on March 28 1941, and sadly on 
	April 6 1941 it suffered its first casualties when X4822 and X4826 collided near Chippenham
	killing F/O Brewster and P/O Williams.

	[See information about a memorial that is being built at Seagry to remember this sad accident.]

	No 118 then moved via Colerne and Warmwell before becoming established with Spitfire IIs at
	Ibsley, between Bournemouth and Southampton, on the 18th.  From there it began defensive
	patrols over the south coast and shot down its first aircraft on May 4 41 - a damaged Bomber
	Command Whitley whose crew had baled out!  A few days later it had its first, inconclusive,
	contact with the enemy and later in the month began a routine of more offensive sorties in
	concert with other squadrons. These included escort to anti-shipping strikes whilst defensive
	patrols also included some by night.  No 118 launched a number of sorties during a raid on
	Southampton on the night of July 7/8 1941 during which the CO gained the squadron's first
	kill when he shot down an He 111 - a great moment!   The squadron's first successful fighter
	engagement came a few days later when F/O Fulford probably destroyed a Bf 109 south of Swanage.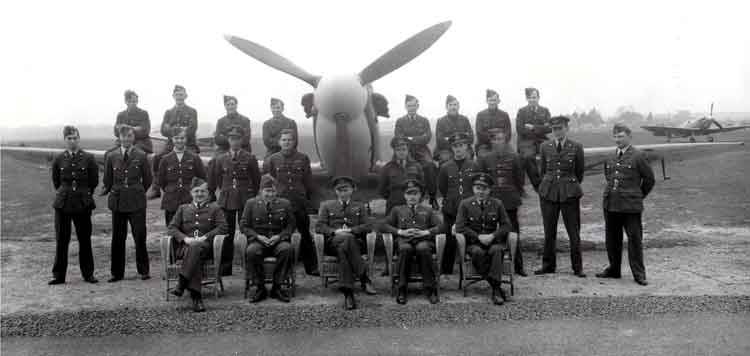 118 Sqn Pilots at an unknown time and place.   Ron Birtles is third from right sitting on the wing.

		July 1941 also saw 118 receiving some Spitfire IIbs which could carry a slipper 
	fuel tank under the port wing, thus increasing the range and suitability for longer 
	range escort work.  These were used on August 2 1941 to give withdrawal cover to 
	Whirlwinds of 263 Sqn after a successful attack on an E-boat leaving Cherbourg. 
	No 263's Whirlwinds were covered four days later when they attacked some tankers 
	near the French port.  In the fight with the escorting Bf 109s off Cap de la Hague 
	Fulford and F/O Howard-Williams (in Mk IIb P8535) each destroyed one.  By now 118
	was fully into the swing of operations, mainly over the Channel.  It's first loss in 
	combat came during a convoy attack off Cherbourg on September 1 1941 when P8511 flown by 
	P/O Anderson was hit by flak and exploded.
	
    Wally Milne, who was on that sortie writes about it in his letter to Wilf Crutchley on 30May2010: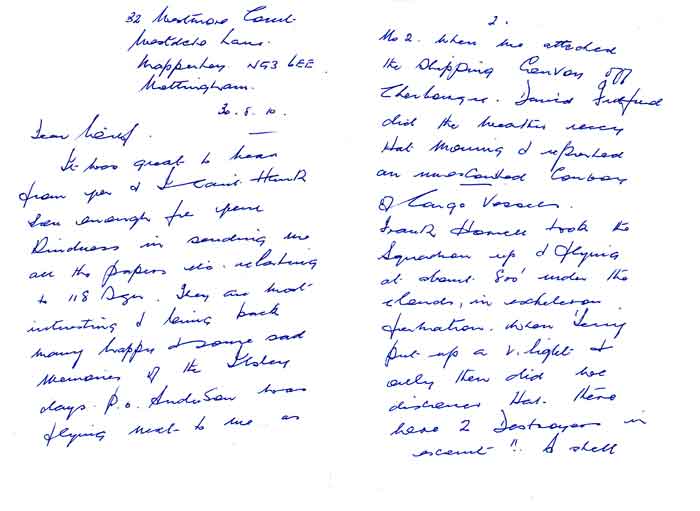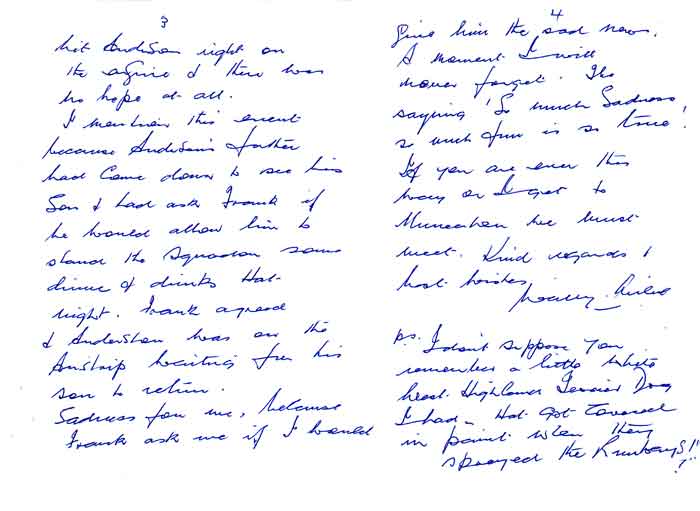 It says of this incident "It was great to hear from you and I can't thank you enough for your kindness
    in sending me all the papers as relating to 118 Sqn.   They are most interesting and bring back many happy
    memories of the Ibsley days. P.O. Anderson was flying next to me as No. 2 when we attacked the Shipping
    Convoy off Cherbourg.  David Fulford did the weather recce that morning and reported an unescorted convoy
    of Cargo Vessels.  Frank Howell took the Squadron up and flying at about 800' under the clouds, in echelon
    formation, when Jerry put up a v. light and only then did we discover that there were 2 Destroyers in escort!!
    A shell hit Anderson right on the engine and there was no hope at all.  I mention this event because
    Anderson's father had come down to see his son and had asked Frank if he would allow him to stand the
    Squadron some dinner and drinks that night.  Frank agreed and Anderson was on the airstrip waiting for his
    son to return.  Sadness for me, because Frank asked me if I would give him the sad news.  A moment I will
    never forget.  The saying 'So much sadness, so much fun' is so true!! ... Wally Milne.

	
	Though 'Circuses', 'Ramrods' and 'Rhubarbs' featured, escorting anti shipping 'Roadsteads',
    often in concert with 501 squadron, remained of prime importance to the squadron.  One notable 
    one was on September 8 1941 when 118's Spitfires provided flak suppression for an attack by 263's 
    bomb-armed Whirlwinds against four armed trawlers off Alderney which left two sinking.  September 1941
    also saw 118 re-equip with the cannon-armed Spitfire VB (see below), though one of these was lost with
    Sgt Painting during an anti-shipping attack on the 30Sep41.   Action across the Channel coast of France
    continued into October 1941 - 118 and 501 escorting Whirlwinds against a 3000 ton vessel in Alderney
    harbour on the 3Oct41 for example.



---



The Spitfire Story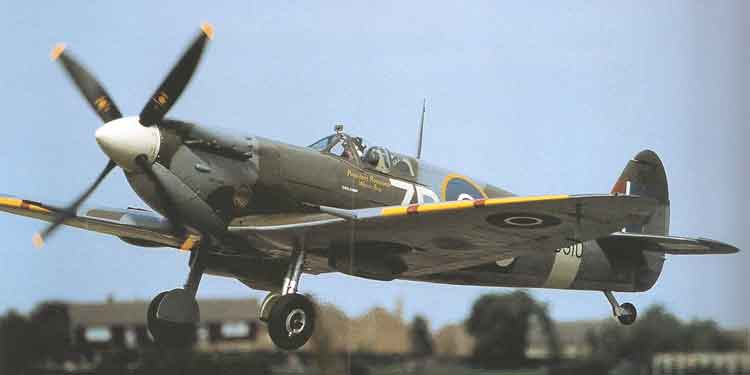 This Spitfire VB AB910 as built in August 1941 in Supermarine's Castle Bromwich plant. In 1947 it was used as a privately owned racing plane. After a crash landing in 1953, Vickers bought the aircraft and repaired it. In 1965, Vickers, which had been taken over by the British Aircraft Corporation, donated the "oldie" to the Battle of Britain Memorial Flight. (Thanks to Patrick Hoeveler for the photograph from his excellent book "Classic Warplanes in Colour".)

Supermarine Spitfire

The prototype Spitfire K5054 first flew on 5 March 1936 and, like the Hawker Hurricane with which it was to share so much fame, it was powered by a Rolls-Royce Merlin C engine. The first Spitfire Mk.Is were delivered to No 19 Squadron at Duxford in August 1938. Eight other squadrons had equipped with Spitfires by September 1939, and two Auxiliary Air Force units, Nos. 603 and 609, were undergoing additional operational training. Production of the Mk.I eventually reached 1,566 aircraft. It was this variant that saw the most combat in the Battle of Brtian, the Mk.II with the 877 Kw (1,175 hp) Merlin XII engine being issued to the squadrons of Fighter Command in September 1940.

The Spitfire Mk.III was an experimental one-off aircraft, while the Mk.IV (229 built) was a photo-reconnaissance version. It was actually produced after the next variant, the Mk.V, which began to reach the squadrons in March 1941. Converted from the Mk.I and II airframes, the Mk.V was to be the major Spitfire production version, with 6,479 examples built. The Spitfire V's debut came just in time, for in May 941 Luftwaffe fighter units began to receive the improved Messerschmitt Bf 109F, its service debut having been delayed due to technical problems.

To counter the activities of high-flying German reconnaissance aircraft, the Spitfire Mk.VI was produced, with a long, tapered wing and a pressurised cockpit; the aircraft was assigned to one flight of the RAF's home defence squadrons. Mk.VII was powered by a Rolls-Royce Merlin 60 engine, a two-stage, two-speed, inter-cooled powerplant which was to take development of the Merlin to its ultimate. Early in 1942, the Air Staff envisaged production of both the Spitfire VII and, in much larger numbers, the Spitfire VIII, basically an un pressurised version of the Mk.VII intended for low-level air superiority operations. But the Mk.VIII design needed a lot of refinement, meaning that production would be delayed for an unacceptably long time. Air Staff thoughts subsequently turned to an interim aircraft; a Mk.V Spitfire airframe combined with a Merlin 61 engine. The resulting combination was the Spitfire Mk.IX, which for a stop-gap aircraft was to be a resounding success. Deliveries to the RAF began in June 1942, and 5,665 were built.

The Spitfire Mk.X and XII were unarmed photo-reconnaissance variants, while the Mk.XII, powered by a 1,294 Kw (1,735 hp) Rolls-Royce Griffon engine, was developed specifically to counter low-level attacks by Focke-Wulf 190s. Only 100 Mk.XII Spitfires were built. They were followed by the more numerous Mk.XIV, based on the Mk.VIII, with an airframe strengthened to take a 1,529 Kw (2,056 hp) Griffon 65 engine. The Spitfire XVI, a ground-attack version with a Packard-built Merlin 266 engine, entered service in 1944. The Spitfire XVIII was a fighter reconnaissance variant, just starting to enter service at World War II's end, as was the PR.Mk.XIX. The last variants, produced until 1947, were the Mks.21, 22 and 24. Total Spitfire production was 20,351. Specifications apply to the Spitfire Mk.VB:

Crew: 1; Powerplant: one 1,074 Kw (1,440 hp) Rolls-Royce Merlin 45/46/50 V-12 engine; Performance max speed 602 Km/hr (374 mph); range 756 Km (470 miles); service ceiling: 11,280 m (37,000 ft); Dimensions: wingspan 11.23 m (36 ft 10 ins); length 9.11 m (29 ft 11 in); height: 3.48 m (11 ft 5 in). Weight: 3,078 Kg (6,785 lbs) loaded; Armament: two 20 mm (0.79 in) cannon and four 7.7 mm (0.303 in) machine guns.
(Thanks to "The Encyclopedia of Aircraft" by Robert Jackson).

---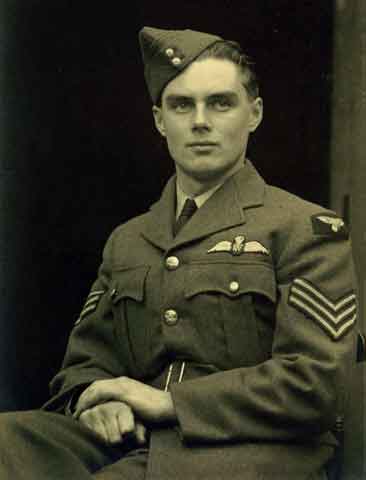 Sergeant Graham Lloyd

Enemy fighters were increasingly encountered with 118 having a particularly successful time during mid-October 1941. Off Cherbourg on the 12Oct41, Howard-Williams in Ad127 shot down a Bf 109 and claimed another probable whilst P/O Mc Kenzie and Sgt Lloyd also claimed 109s destroyed. The following day F/O Fulford shot down a 109 during a 'Circus', whilst on the 15Oct41 Sgt Claxton destroyed a Bf 109 off Le Havre with the CO. Another was shared by the CO and Howard-Williams.
CHANNEL DASH


		By now the squadron's pilots were a cosmopolitan bunch drawn from occupied 
	Europe and the Dominions as well as the UK; one who joined at this time was 
	Sgt C L F "Jimmy" Talalla who hailed from Ceylon.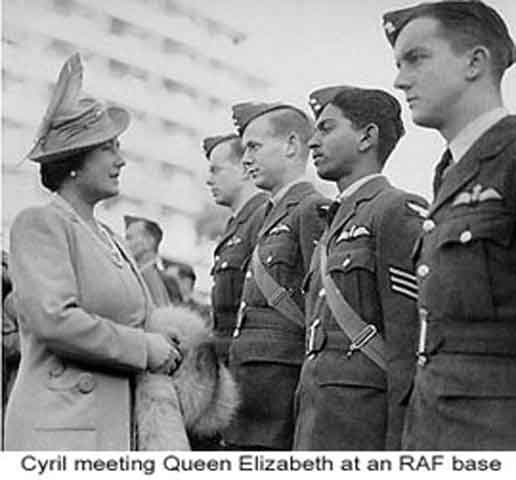 Sgt. "Jimmy" Cyril L F Talalla meets the Queen.



	Late in the month the CO was posted to Singapore to command No 243 sqn and was replaced
         by S/L H A B Russell. In early November 1941 a bar to the DFC for Howell was announced, with
         DFCs for Fulford and Howard-Williams, soon followed by a DFM for Sgt Bertles -
         No 118's first decorations.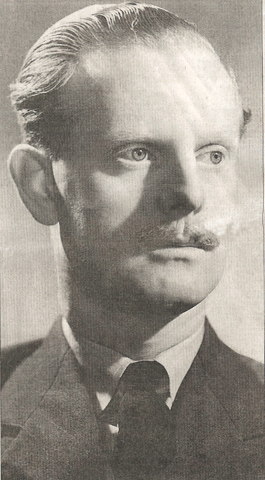 Wing Commander "Bunny" Currant - founder of 122 Wing at Zeals, Wiltshire.
	         He was one of the pilots in the "First of the Few" film while on 501 Sqn.	

                   Even during wartime the movie industry was busy with morale boosting films
         such as the one about the Spitfire (UK "First of the Few") a movie brought out in 1942.
         Leslie Howard played the part of the Spitfire designer R.J Mitchell. 
         So far unique, it's the only true movie about aircraft design.  Shot with models,
         mock-ups?, newsreel footage of the pre-war Schneider race (Supermarine Sea Lion),
         pre-war German gliders and film of the prototype Spitfire.  It featured lots of film
         of a Spitfire squadron versus a Luftwaffe He 111 raid. This footage was shot at RAF
         Ibsley with 118 Squadron and 501 Squadron between operational sorties in late 1941. 
         They were flying Spitfire Mk.V's. Most of the aircrew were real, many didn't make it
         far past filming.  The He 111 was a captured example (Aw177) and the camera plane was
         a Bristol Blenheim IV. Actor Leslie Howard was killed 1 June 1943 when his KLM DC-3
         was shot down by Ju 88C-6's of V/Jg40 over the Bay of Biscay. P/O  Donald Claxton
         118 Squadron had a line or two to say in this movie and was on the screen for a few
         seconds according to a letter he wrote to his mother on October 8 ,1941.  "Well I
         got a surprise for you Mother. I'm in the movies. They are making a picture at our
         drome called "The First Of A Few". Leslie Howard and David Niven are the stars.
         Several of our chaps are in it and, as they had to have a Canadian, I'm in it too.
         I only say one line and will be on the screen about two seconds I suppose."
         [Excerpt contributed by Ed Tainton who has been researching P/O Claxton].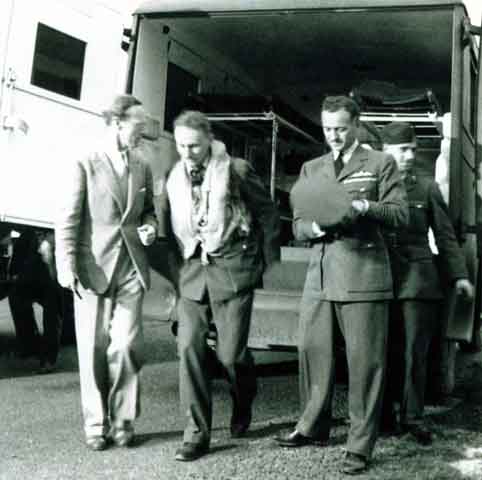 CO of 118 Sqn Squadron Leader Frank Howell and David Niven  when filming First of the Few in late 1941.


(Thanks to Chris Howell.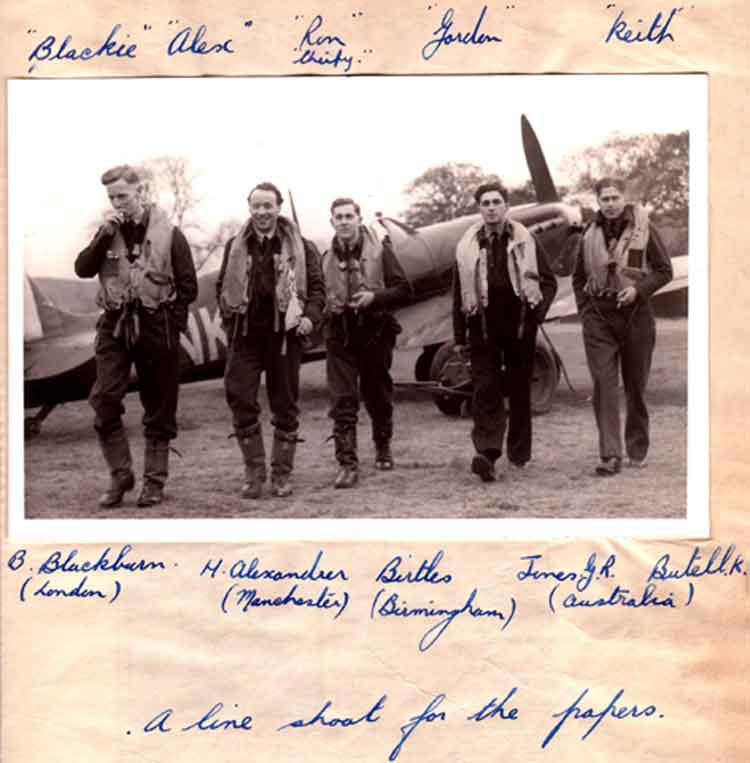 Ibsley 1941 and some of the Sergeant pilots of No. 118 Squadron one of several that flew
          Spitfires from the Hampshire airfield during the Second World War.   Ibsley
          was originally constructed as a satellite airfield for Middle Wallop.
          It was also used to provide the flying sequences in the wartime film First of the Few that
          featured Leslie Howard.   (Thanks to James Robinson and author of the book "In Hampshire's
          Skies" , Colin Crudass.   The picture is credited to the Southampton Hall of
          Aviation, and the book is published by Tempus Publishing Ltd., The Mill, Brimscombe Port,
          Stroud Glous. Gl5 2QG.)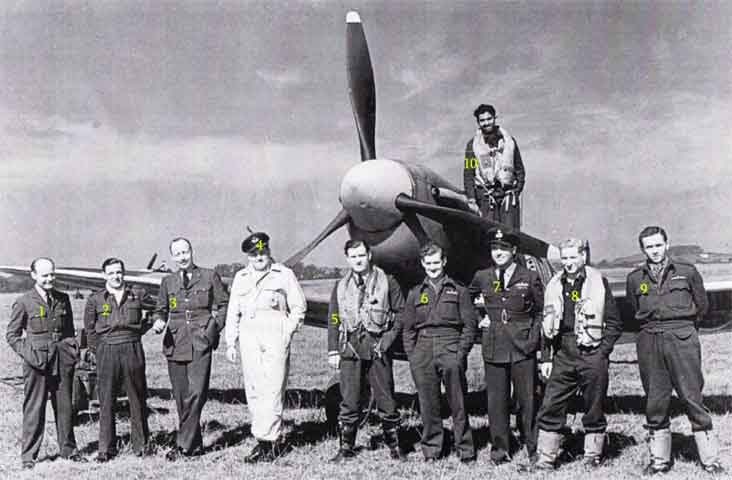 Spitfire IIB at Ibsley Late June 1942. L to R: Fg. Off. H J Roberts, Fg. Off. I G Stewart, Fg. Off. Henry Mallory Sqn Adj, CO S/L E W Bertie Wooten DFC, Flt. Lt. R A Dickie Newbury DFC, A Flt Cdr, Plt. Off. F T Frankie Brown, Fg. Off. R L A Claude, Croix de Guerre Free French Air Force, Flt. Sgt. S A Jones DFM, Plt. Off. Linder, On the wing Sgt. Jimmy Talalla


    [Anthony Hodge says: "I have been trying to pin down the likely time that this photo was taken,
    and think it might be late June 41, for the following reasons - 1 - the summer landscape in the background.
    2 - the identification of a Spitfire Mk11A, by the exhaust port design, spinner and props, and no cannon
    judging by how close the pilots are to the wings, especially Mallory who looks as if he is leaning just
    where the canon would be.   3 - RAF records state that 118 did not receive IIB's until July 1941
    and VB's in September 1941.   It is only a guess, but it would be good to find a definite date,
    if you have it?"   Anyone able to help?   We have subsequently established that Jimmy Talalla did not arrive
    on the Squadron until October 1941 and Ian Stewart until 14May42 from his logbook entry.  Therefore we now
    favour the year as 1942.  [Web Master]]
 
         Action, and occasional losses continued into for the rest of the year, with the Ibsley Wing 
    often being led by its dynamic leader - W/C "Widge" Gleed.  During December 1941 No 118
    maintained a detachment in the far west at Predannack and in early January 1942 S/L J C Carver
    arrived as CO.  The poor weather reduced the number of larger scale operations, and thus more 'Rhubarbs'
    were flown.  One on the 29Jan42 destroyed a distillation plant, though Sgt Kerr had to bale out of
    AA863 and four days later during another off Pointe de Barfleur, P/O Ames (a Canadian) was lost in combat
    with 3/JG 2's Bf 109s.  F/O Howard-Williams in Aa964/NK-D managed to shoot one down and damage two others,
    though his Spitfire was damaged in the combat.  The RAF faced a much sterner test on February 12 1942
    however when a German Navy squadron consisting Scharnhorst, Gneisenau and Prinz Eugen under heavy escort
    made their audacious voyage back to Germany through the English Channel.  No 118 mounted a number of
    sorties in poor weather to cover the few strike aircraft available, but to no avail and lost P/O Stone to
    marauding Bf 109s off Ostend. 


BAD PERIOD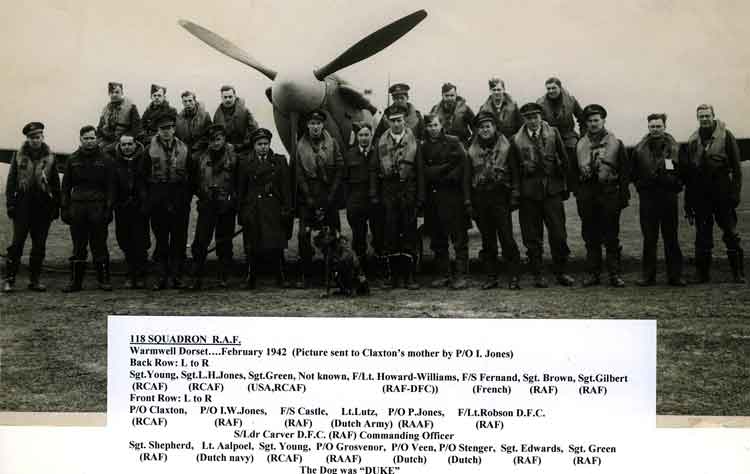 Later in the month the squadron spent a brief period at Warmwell but returned 
	to Ibsley in early March 1942.


	
	


                                 RAF Ibsley Control Tower as it probably looked in 1942.
                         (Thanks to the artist J Chandler and RAF Ibsley AIRFIELD HERITAGE TRUST.)
	
	From there on the 8th in company with 234 and 501 squadrons, No 118 flew a fighter sweep to the Cherbourg
	area as a diversion to a 	'Circus'.  Participating directly in another 'Circus' the following day the
	squadron lost F/O MacKenzie and another Spitfire was damaged by enemy fighters and crash-landed on the
	Dover-Canterbury road on return.  Worse followed during an anti-shipping 'Roadstead' on the 13Mar42
	when the CO flying W3943 went missing; he was picked up on the 16th after three days in a dinghy. 

		The longer days meant an increased pace to operations - both offensive and 
	defensive - and 118's score continued to mount - as did losses.  During a defensive 
	scramble led by W/C Gleed (flying AA742/IR-G) off Portland on the 23Mar42, he 
	destroyed a Ju 88 whilst 118's Sgt Jones and F/Sgt Moody damaged two more.  Following 
	his traumatic experience, the CO was soon back in the swing and was awarded a DFC 
	in April 1942.  However the squadron's Spitfire Vs were at a severe disadvantage when 
	faced with the Luftwaffe's Focke Wulf Fw 190 which was increasingly encountered.
	F/Sgt Moody was lost to them on April 25 1942, on the same day as P/O Claxton was killed 
	by flak near Cherbourg.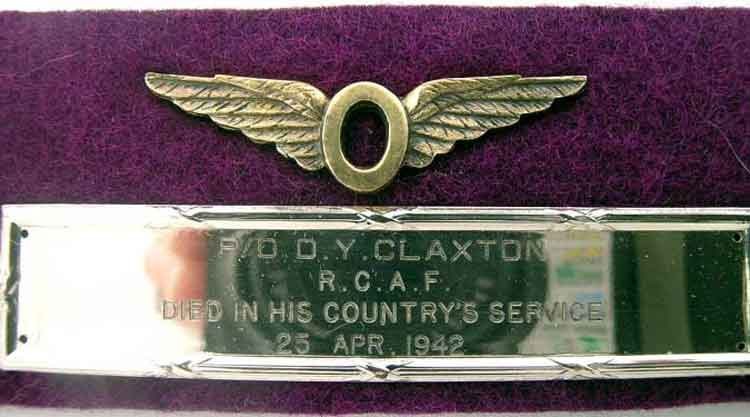 Ed Tainton from Canada sent me this picture of the Silver Memorial to Pilot Officer Donald Young Claxton
	
		
	No 118 suffered another loss on the 30Apr42, though this was in part balanced on May 7 1942 when
	P/O Veen, a Dutchman, destroyed a Ju 88.

		No 118 was flying daily and suffered a severe blow on May 9 1942.  During a mission 
	the squadron formation near St Omer was bounced by Fw 190s and four pilots - S/L 
	Walker with Sgts Green and Shepherd and F/Sgt Rough - were lost.  Another Spitfire
	was damaged and a sixth (BL580) ran out of fuel and crash landed near Tangmere; 
	only one Focke Wulf was claimed in return.  Anti-shipping escort work still figured 
	regularly for the squadron and on May 15 1942 in company with 66 and 501 it escorted 
	eight Hurricanes of No 175 against three minesweepers off Cherbourg.  One ship blew
	up and another left on fire whilst the third was left listing; only two Spitfires 
	were damaged in this very successful operation.  However 118 had another bad day on 
	June 9 1942 during a 'Ramrod' near Cherbourg when Sgt Jones (a Canadian) and the CO were 
	lost in Spitfire Vs BL984 and EN975. They are believed to have fallen victim to Fw 
	190s.  Following the loss of the CO, S/L E W "Bertie" Wooten, another successful 
	pilot, was posted in.  On June 20 1942 however, No 118 suffered another severe loss it 
	lost four more pilots over France - P/O Veen, P/O Stenger [See below] and Sgt van Houten (all
	Dutchmen) were killed whilst the Free French W/O Noel became a PoW.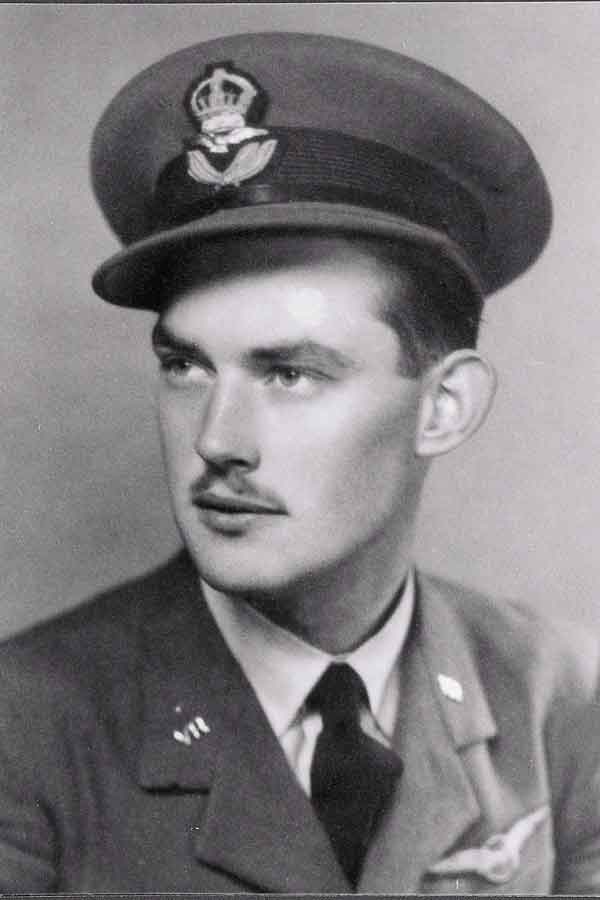 DIEPPE RAID


		In spite of a period of heavy losses, under its new CO, 118 continued into the 
	summer 1942, flying on the full range of Fighter Command offensive operations as part 
	of the successful Ibsley Wing which came under W/C Pat Gibbs at this time.  On 
	August 16 1942 the Wing (66, 118 & 501 Sqns) moved across to Tangmere prior to
	Operation Jubilee - the large amphibious raid on Dieppe.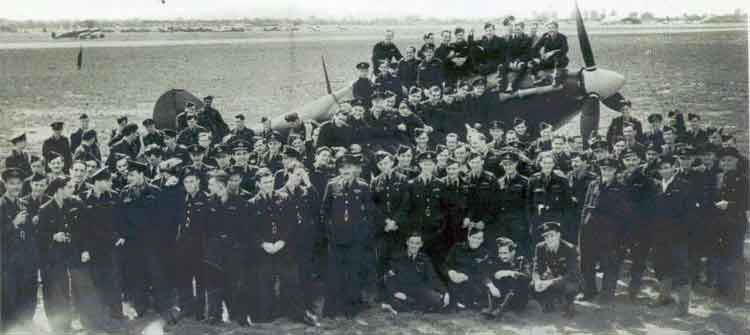 118 Sqn while deployed to Tangmere for the Dieppe Raid - Aug 1942
		
	     Defensive patrols to counter any enemy reconnaissance were flown over the next couple
	of days.  The Operation was launched on the 19Aug42 and 118's first task was to escort
	Blenheims of 614 Squadron on a smoke laying mission.  They were led by S/L Wooten in
	AR447 but were recalled; on return they spotted a dinghy and orbited to gain a 'fix'
	before landing.  Later 118 with No 66 were called to escort Hurricanes of 32 and 174 
	squadrons to cover the withdrawal of the assault force, and much to their chagrin, 
	118 did not engage any enemy aircraft.  By mid afternoon the withdrawal was well 
	under way and the Luftwaffe made desperate attempts to penetrate the fighter screen 
	to attack the shipping.  Led by the Wing Leader 118 with 41, 501 and the 308th US 
	Squadrons flew out to cover and were immediately in combat with 10 Fw 190s and some 
	Do 217s.  W/C Gibbs damaged one Dornier which was finished off by Sgt de Courcey of
	118.  In further combats F/L Shepherd with F/O Stewart and F/Sgt Watson shared 
	another Do 217.  Through the evening the squadron flew several uneventful patrols 
	to try and find enemy hit and run raiders.  During the day 118 flew three missions, 
	plus the evening defensive patrol.  For their skill and determination during the 
	day, Shepherd (a Flight Commander) and P/O Brown received DFCs.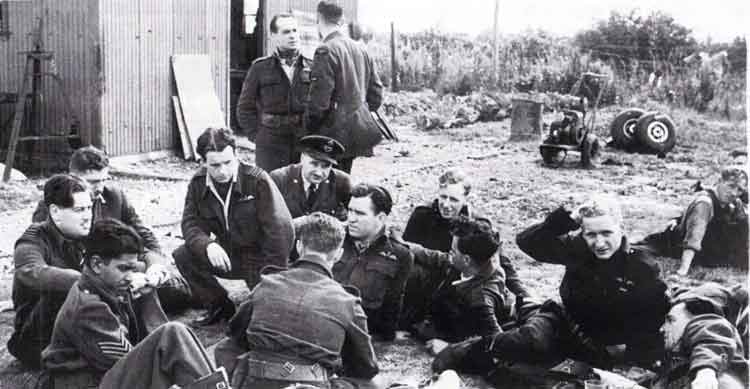 118 Sqn in Dispersal at Tangmere.   Notice the sidearms of some of the pilots,
     we believe this was taken between sorties over the Dieppe Raid withdrawal 19/20th August 1942.
     The CO Sqn Ldr Bertie Wootton is sitting on the extreme left and Jimmy Talalla in front of him.
     [Click to see a decode of more of the pilots names.]

		Jubilee was almost 118's swan song at Ibsley as by the end of August 1942 it had
	moved to Zeals, some 15 miles west of Salisbury, and the successful Ibsley Wing 
	dispersed.
    	
                 The squadron continued its busy round of sweeps, escorts and Rhubarbs -
	its first operation from Zeals being the escort of 13 Bostons to Cherbourg docks. 
	The squadron remained busy supporting the full range of operations through the 
	autumn 1942, though it made no claims and losses were much less than through
	the summer 1942.




NORTH SEA ACTION


	 	The wet autumnal weather affected Zeals such that by Christmas 1942 the
	 airfield was unusable so it returned to Ibsley for a short period before moving on
	 3Jan43 north to Wittering.  Its stay there was brief however as two weeks later 118 
	 moved across to Coltishall for work over Belgium, Holland and the North Sea. 
	 January 28 1943 was an auspicious day for the squadron when it was visited by the King 
	 during his tour of Coltishall.  The following day it was back to business when the 
	 Spitfires of 118 (led by the CO in AR447) joined those of 167 in escorting No 21 
	 squadron's Venturas in a raid on coking ovens at Zeebrugge.  A horde of Fw 190s 
	 intercepted the raid and hit 118 before they could counter.  In a short but fierce 
	 battle off Ijmuiden, Sgt Cross was shot down into the sea and two more Spitfires
	 were damaged.  In return Sgt Lack destroyed a Focke Wulf whilst the CO and Sgt 
	 Hollingworth damaged one each.  Back at Coltishall a Martinet target tug held on
	 squadron strength crashed on takeoff for a towing sortie badly injuring the pilot 
	 and killing the winch operator.  Offensive sorties across the North Sea, including 
	 some 'Lagoon' shipping recces and occasional ASR searches now predominated.  When 
	 larger missions were precluded by weather, small scale 'Rhubarbs' were often 
	 flown.  These could however be costly as on 24Feb43 when F/Sgt Croall was lost
	 off the Dutch coast and F/Sgt Buglass ditched his Spitfire (EN969) off Norfolk;
	 fortunately, he was picked up.
	 
               Alex Davidson, George Croall's Nephew-in-law writes in 2008: "I am researching my
          own and my wife's family history and her uncle George Alexander Croall was the pilot
          that was lost on 24Feb43 off the Dutch coast.   We have the letters that were
          sent to his parents etc and a photograph of George with his plane as just before he
          was killed he was given authority to display the crest of his home town,
          Barrow in Furness on the side of his Spitfire.   It consists of a
          photograph of him on the wing of his aircraft, plus a copy of the telegram to his
          parents informing them that he is missing, a letter dated 25 February 1943 from
          Flight Lieutenant Commanding No 118 Squadron, (looks like L Vewhery ) at
          15 April 1943 signed  R Williamson Air Commodore Air Officer ic Records.
          Both these letters explain that George was sent with another pilot to attack an
          objective in enemy territory Manniston Burt/Zond Canal and the other aircraft
          was damaged by anti aircraft fire.   On returning home George was
          concerned about his leader's plight so he flew underneath the other aircraft to
          observe the damage and at around 200 feet in bad weather his starboard wing hit
          the sea causing the aircraft to dis-integrate and plunge into the sea.
          My mother in law (George's sister ) has always told us that George should have
          been on leave at the time of his death but he had requested a later date so that
          he could be off at the same time as his step-brother Robert.
          We also have details of the Minute Book of the Council at Barrow in Furness
          Lancashire, George's home town granting permission for him to put the towns
          Coat of Arms on his aircraft, I wonder if this was requested by George as Barrow
          had recently had a number of bombing raids due to the Submarine and Ship building
          yards at Vickers.   (Click to see full story.)

		The squadron resumed scoring again in March 43 when the now P/O Talalla claimed 
	his first kill, shooting down an Fw 190 off Ijmuiden during a 'Lagoon'.  As the 
	weather improved however, larger 'Circus'  type missions increased.  One was on 
	18Mar43 led by the Wing Leader, W/C "Cowboy" Blatchford when in a stiff fight with
	the Luftwaffe, he and 118's F/L Newbery each claimed a 190.  Sadly on the return Sgt
	Lack fell victim to "friendly fire" when his aircraft, EP228, was shot down by 
	anti-aircraft fire from a sea fort off Harwich.

		Escorts to 2 Group's bomber attacks were a regular feature.  No 118 covered a 
	Ventura raid on the Rotterdam shipyards at the end of the month, but unusually the 
	attacking Fw 190s broke off when the squadron intervened.  On 4Apr43 118 was one 
	of six fighter squadrons escorting 24 Venturas of 464 and 487 squadron's in a 
	'Circus'  to Rotterdam.  In a combat off the Hook of Holland, Sgts Hollingworth and
	Anderton each claimed Fw 190s destroyed whilst other pilots damaged five more
	against the loss of F/O Levinson.  The squadron also remained active on the
	anti-shipping escort work on which it had been so successful at Ibsley.  On 18Apr43 
	a couple of Mustangs of 613 located an eight ship convoy leaving the Hook of 
	Holland.  The North Coates Strike Wing Beaufighters set out and met the escort of 
	22 long-range Spitfires of 118 and 167 over Coltishall.  In the event there was no 
	enemy air activity on this highly successful strike.



HECTIC SUMMER


	 	Early in the May 2 1943 118 provided part of the escort to an attack by 464's 
	 Venturas on the steelworks at Ijmuiden, a valuable target which failed to draw a 
	 Luftwaffe response.  The coking plant and some ships in the harbour were hit, but 
	 the steel works itself was untouched, so another raid was planned for the next day 
	 and for which No 487 squadron's Venturas were to mount a diversionary 'Circus'.
	 The Venturas were to hit targets in Amsterdam on the late afternoon of 3May43, but 
	 unbeknown to RAF planners the German Governor of Holland was visiting Haarlem,
	 close to the route, that day.  Also, at Schipol there was a Luftwaffe fighter
	 convention which meant that there were more fighters in the area than usual.  No 
	 487 squadron departed under its close escort of the Coltishall Wing of 118, 167 
	 and 504 squadrons led by Blatchford.  The force rendezvoused over Coltishall at 
	 1700 and set out for the target.  Unfortunately, a co-ordinated fighter 'Rodeo' to 
	 the Flushing area had already alerted the Germans and as the force hit the Dutch 
	 coast over 70 German fighters engaged the escort.  Others went for the bombers 
	 which quickly became separated as the Spitfires became involved in a tremendous 
	 battle.  No 118 gallantly attempted to stay with the bombers as with great courage 
	 the New Zealanders of 487 pressed on to the outskirts of Amsterdam, but one after 
	 another their Venturas fell.  In the hectic fighting F/Sgt R J Flight destroyed 
	 two Fw 190s, but only one badly damaged Ventura returned.  Later, their leader, S/L 
	 L H Trent, who became a PoW received the VC.  On the egress 118 joined a homeward
	 formation of Bostons which had hit the Ijmuiden target.  Blashford's Spitfire,
	 EP126/HP-B, had been badly damaged in the fighting and crashed into the sea during 
	 the return flight; sadly he was lost.  S/L Wooten (soon afterwards awarded a bar to 
	 his DFC) was promoted to replace him, though he too was soon replaced by W/C Sandy 
	 Rabagliati.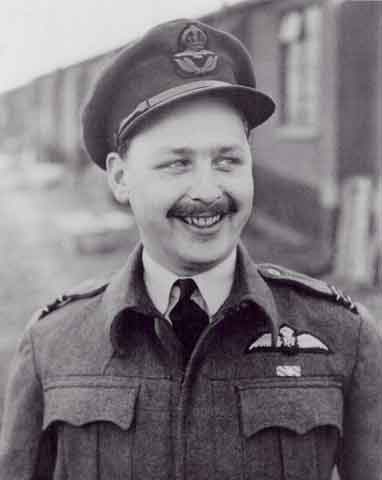 Squadron Leader J C Freeborn DFC just before he took over 118 Sqn.



	 	Another successful fighter pilot, S/L J C Freeborn DFC, took over 118 in mid 
	 June 43 and he led the squadron through another busy summer of action taking the 
	 fight to the enemy.  One of his first missions was on the 20Jun43 when 118 joined with 
	 402 and 416 squadrons to provide withdrawal cover for a USAAF B-17 raid on the 
	 Huls synthetic rubber plant.  The following day 118 flew on a 'Roadstead' against
	 a convoy off Texel and lost F/O Handley and F/Sgt Croxton-Davies in W3901 and
	 AR325 to the intensive fire from the ships.  Two days later the squadron 
	 participated in a diversionary attack for another B-17 raid.  Near Abbeville six
	 enemy fighters attempted to get at the Boston bombers, but were fought off, though 
	 118 made no claims.  They were successful again on 27Jun43 during a mission over 
	 Holland when F/L Newbery destroyed a 190 near the Hague with two others being 
	 damaged by F/L Ackworth and F/Sgt Hollingworth. 

		July 43 too was a busy and generally successful month for the squadron. During a 
	Wing sweep on the 5th 118 attacked and blew up an armed ship off the Dutch coast; 
	sadly the Wing Leader's damaged Typhoon came down and Rabagliati was lost.  During 
	another shipping attack off Ijmuiden four days later, No 118 squadron's EN966 was 
	hit by flak and abandoned.  Large and small scale missions over the North Sea  
	continued through the month and during a combat off the port of Den Helder on the
	18th F/L Newbery and F/L Shepherd each destroyed Bf 109s, the latter sharing a 
	third with F/Sgt Anderton.  The following day 118 mounted a very successful attack 
	on shipping off Ijmuiden when, for the loss of F/O Brown, it left an 800 ton motor 
	vessel burning and a 1000 tonner damaged.  The following week Shepherd damaged a
	Bf 109 near Schipol whilst in the same area on 27Jul43 F/O Talalla  and P/O Flight 
	shared a Bf 109 with another falling to a Norwegian, 2/Lt Libby.  Sadly, the month
	ended on a sour note with the loss of Hollingworth and P/O Buglass in a collision 
	near Coltishall.


---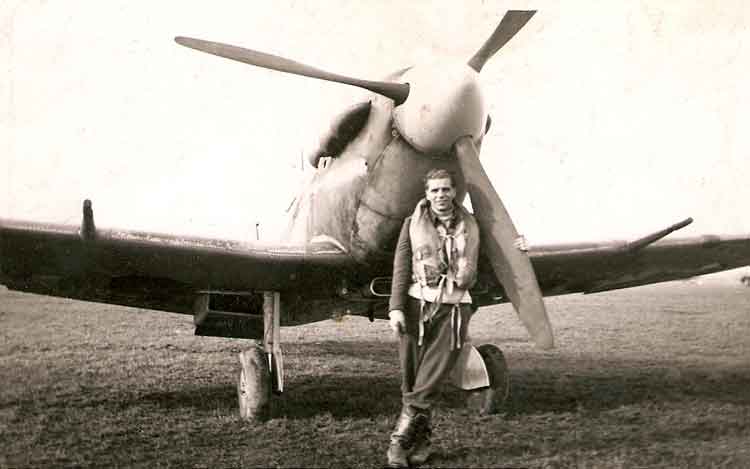 Sergeant Joseph Hollingworth with his 118 Sqn Spitfire - About 1943.



     The following is a fuller description of the accident from a Norfolk Newspaper dated SUNDAY/Saturday,
August 16, 2008:

     "The story of the deaths of pilots Joe Hollingworth and Alex Buglass is one which is typically told in 
a single line in reference books and on history websites.   One such version of their demise reads:
"Sadly, the month ended on a sour note with the loss of Hollingworth and Buglass in a collision near Coltishall."




---



		August 1943 opened with a large anti-shipping attack by the North Coates Wing's 
	Beaufighters against a large convoy off Terschelling in the Frisians.  They were
	escorted by 51 Spitfires drawn from 118, 402, 416 and 611 squadrons.  In a highly 
	accomplished attack five escorts and two merchant ships were hit whilst the escort 
	destroyed four of the top cover Bf 109s of III/JG 1; others were damaged, including 
	one by F/L Shepherd.  During the early part of August 1943 118 also flew a number of ASR 
	searches or escorts, but on the 15Aug43, after a very productive period at Coltishall, 
	it returned south and set up home at Westhampnet (Today Goodwood).  It mounted its
	first sweep from there the next day but lost Libby the Norwegian who was forced to bale
	out of EP126 near Falaise.  The following week No 118 moved to Merston near Chichester from
	where it continued on operations over the Channel.  It escorted not only RAF bombers but 
	also US 9th AF mediums, such as on 2Sep43 when 118 covered a Marauder raid
	against a power plant at Mazinjake which was well hit.  The Luftwaffe attempted to
	intercept but were successfully kept at bay.  Other escorts were made to attacks on 
	marshalling yards at Rouen, St Pol and Serquous, but during one 'Ramrod' on the
	15th the successful F/O Flight was seen to bale out of his burning Spitfire (AR433) 
	near Lille.  Three days later 118 flew its final mission in the south, helping
	escort a raid to Beaumont le Roget.




NORTHERN SOJOURN


	     On September 20 1943, after a lengthy period of sustained offensive action, No 118 
	moved north to Peterhead for defensive duties in northern Scotland.  It also had a 
	detachment at Skeabrae in Orkney and for a short time had one or two high altitude 
	Spitfire Vis on strength.   Dawn and dusk patrols, mainly against Luftwaffe
	reconnaissance aircraft, were flown but with few opportunities for action.  This 
	situation continued for the remainder of 1943 following a move further north to 
	Castletown in mid-October, though a detachment was retained at Peterhead.  In 
	mid-January 1944 S/L P W E Heppell DFC, who had scored a number of victories
	flying from both the UK and Malta, assumed command of the squadron which during the 
	latter part of the month underwent an air to air firing course and received the 
	much more capable Spitfire IX.  At the beginning of February 1944 118 moved back south to 
	Detling from where it returned to offensive operations on the 14Feb44 when it escorted 
	USAAF Liberators attacking V-1 flying bomb sites in France.  This was just a brief 
	respite from its Scottish sojourn as on 10Mar44 it returned to Skeabrae for the 
	defence of Scapa Flow, replacing 602 squadron.  There it received well worn Spitfire 
	Vs once more, but also used a few high altitude Mk VIIs with extended wingtips. 
	There it resumed the unglamorous grind of dawn and dusk patrols and standby to 
	counter enemy reconnaissance aircraft.  No 118 also flew occasional ASR searches off 
	the islands, losing an aircraft during one such sortie on 1May44.  Later, on the 
	30May44, it had a rare combat when F/O Parker and W/O Taylor destroyed a recce Ju 88 
	off the Scottish coast.  Whilst great events occurred in the south, little changed 
	for 118 which on D-Day for example just flew two aircraft on a dusk patrol east of 
	Shetland.  Things soon changed however for on 12Jul44 the squadron returned to 
	Detling with Spitfire IXs where it formed a Wing with 124 and 504 squadrons.  Bomber 
	escorts over the Normandy battlefield and its approaches predominated and kept the 
	squadron very busy until it returned to Peterhead on 9Aug44.




LONG RANGE ESCORT


		This time the break was short for at the end of August 1944 118 moved south to 
	Westhampnet for bomber escort duties.  Increasing the Bomber Command "heavies" were 
	flying on heavily escorted daylight raids and 118 was one of the units tasked with 
	their protection.  Fighter sweeps and more tactical work also came the squadron's 
	way.  During one sortie in support of the beleaguered 1st Airborne Division battling 
	around Arnhem on 25Sep44, F/L Giddings destroyed a Bf 109 in concert with W/C 
	Checketts, OC 142 Wing.  On the same day the squadron HQ moved into Manston where
	118 joined with 124 and 229 squadrons on the regular Bomber Command daylight raids 
	to German industrial centres.  Weather and shipping recces were also flown, however 
	as the "heavies" penetrated deeper into Germany, it was decided to convert further 
	fighter squadron to the longer range Mustang, No 118 being one.  Therefore, after a 
	couple of months flying escorts from Manston, in mid-December 1944 it moved into the new 
	base at Bentwaters in Suffolk where a large "super Wing" of six Mustang squadrons 
	was forming.  There 118 joined with 64, 126, 129, 165 and 234 squadrons for long 
	range daylight bomber escort duties as part of  No 11 Group.  Conditions at 
	Bentwaters in mid-winter were bleak, but nonetheless the Wing flew its first 
	operation on 23Dec44 when four squadrons escorted 150 Lancasters to Trier.  The 
	Wing Leader was a Dane, W/C Kai Birksted, but due to a lack of range long range
	missions with the Spitfires were abandoned; in any event, in early January 1945 
	snow interfered with flying.

	No 118's first two Mustangs arrived on the 18Jan45 and by the 21Jan45 it had six
	as the conversion of the pilots went into full swing.  By the beginning of February 1945  
	it had its full quota of 18 aircraft and was declared operational on its potent new 
	mounts on the 11Feb45.  The squadron's first Mustang operation was three days later 
	when S/L Heppell led 12 Mustangs as part of the escort to an abortive Lancaster 
	attack on a viaduct near Paderborn.  Its next escort on the 19feb45 was to 700 
	Lancasters against Wesel followed by a fighter sweep to Hanover on 21Feb45; six 
	more escorts to "heavies" were flown before the end of the month.  March 1945 began with 
	a 12 aircraft escort to a Mosquito raid, though these proved difficult to cover 
	because of their speed.  On 2Mar45 F/L Tony Drew, the 'A' Flight commander was 
	promoted to become CO as escorts continued almost daily through the month - often 
	to Ruhr targets, but usually with little action for the fighters.  There was 
	consequently little opportunity to engage enemy interceptors, unlike their deeper 
	penetrating USAAF counterparts.  Flak and the possibility of engine failure on the 
	lengthy missions were a constant hazard, adding to the stress of any combat. 
	Things changed on 23Mar45 however when F/L Paddy Harbison in KH473/NK-I led 118 on 
	an early escort to over 100 Lancasters to Bremen.  Just off the target the bomber 
	stream came under concerted attack by some 15-20 Me 262 jets.  One section engaged 
	and F/L Giddings in 'NK-Z' saw strikes and structural damage on the starboard wing 
	of one.  Harbison managed to damage the starboard engine of another with a 4-second 
	burst, whilst F/O Evans in 'NK-R' damaged a third jet.  Each however found it 
	impossible to close due to the speed of the jets.  These were the squadron's final 
	air combat claims of the war.                    

		The following day in fair weather 12 of the squadron's Mustangs led by the CO 
	in 'NK-J' took part in escorting the transport and glider 'train' during Operation 
	'Varsity' - the airborne crossing of the Rhine near Wesel.  Although some gliders 
	were seen to be shot down by ground fire, 118 found little to report during a five 
	hour mission.  Next day, 25Mar45, 118 returned to bomber escort covering a 
	Lancaster raid on rail yards at Bremen, whilst during another raid on Hamburg on 
	the 31Mar45 more jets were encountered, but this time could not be caught.  April 1945 
	continued in a similar vein with missions as far away as Leipzig, Nuremberg, Munich
	and Regensburg.  Although 118 had no combats, during the Leipzig raid on 10Apr45,
	the formation came under attack by Me 163 rocket fighters, one of which fell to 165 
	squadron.  The squadron's final heavy bomber escort on 25Apr45 was also its longest 
	- a 5 1/4 hour trip to Berchtesgaden, where the flak was intense though, to 118's 
	great disappointment, no enemy fighters were seen.  Its final operational mission of 
	the war came on 3May45 when led by the CO in 'NK-F' it escorted Beaufighters on a 
	shipping strike off Denmark - a return to its old tasks!  Although the strike 
	aircraft had a busy day, there was no action for 118 on this five hour mission.  The 
	Germans surrendered a few days later. 
	     



PEACETIME ACTIVITIES


		No 118 squadron had a busy and successful war supporting the RAF's policy
	of taking the war to the enemy and, as a consequence, losses at times had been 
	heavy. However on the credit side it had a creditable air combat score of 29 enemy 
	aircraft destroyed, nine probables and 27 damaged. Members of the squadron had been 
	awarded 11 DFCs and five bars and two DFMs.
	
		Following the end of hostilities and the inevitable parties, the squadron 
	embarked on a less demanding routine of practice flying and exercises.  On 2Jun45
	four of the squadron's Mustangs led by F/L Harbison provided an escort to the visit 
	of Viscount Trenchard to Luneburg.  A similar task was undertaken in July 1945 when led 
	by the Wing Leader - W/C Max Sutherland - 11 escorted Churchill's York during his 
	visit to Berlin.  Shortly afterwards, on the 30Jul45, the engine of KH491/NK-O caught 
	fire near Felixstowe forcing Sgt Bowden to bale out.  August 1945 saw the squadron
	attending an air firing course at Fairwood Common following which it moved to 
	Horsham St Faith.  From there it took part in the large flypast over London on 
	15Sep45 and then entered a routine of training and exercises into 1946.  No 118 
	was scheduled to receive the twin-engined Hornet, but the severe post war cutbacks 
	in Fighter Command caught up with it before any could be delivered.  No 118 flew its 
	final Mustang sorties on March 9 1946 and was disbanded the next day, the CO 
	receiving a generous testimonial letter from the CinC.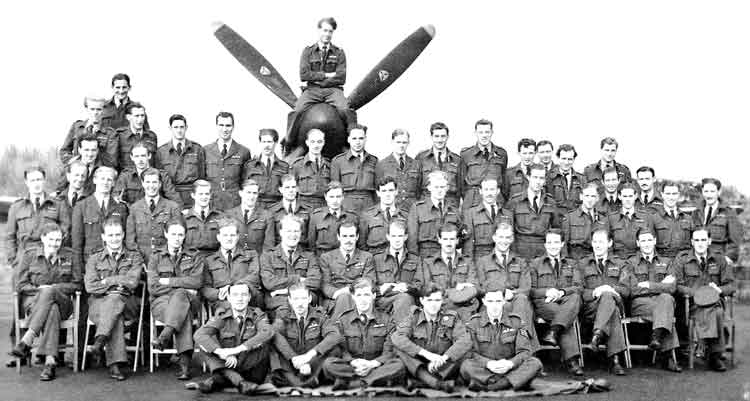 118 Sqn Horsham St. Faith - Sep45.


COLD WAR TASKS


		The increasing East-West tensions of the early 1950's with the onset of the 
	'Cold War' led to a rapid expansion of the RAF, particularly its 2nd Tactical Air 
	Force based in Germany.  Thus on May 10 1951 No 118 squadron was reformed at 
	Fassberg, some 20 miles from the East German border, as part of  No 121 Wing which 
	was led by the legendary W/C J E Johnson.  Although it was equipped with eight new 
	Vampire FB 5s and a two-seat Meteor T 7 trainer, initially it only had three pilots 
	- F/Os Cruickshanks, Hoogland and Lockspieser.  They were administered for a
	short time by 112 squadron until 118's CO, S/L H A Asker DFC, DFM, and his Flight
	Commander (F/L Thorogood) arrived.  The embryonic squadron immediately began workup
	training in its fighter/ground attack role and gradually expanded.  Two more pilots 
	- P/O Aird and Sgt Simpson - arrived in July 1951 following which 118 went to Sylt for a 
	period of intensive armament training.  No 118 soon reached full strength and was 
	declared operational in its NATO role to defend Germany against any possible Soviet 
	expansion.  The squadron role included both high and low level flying, and was 
	involved in many NATO and national exercises, often providing air support to Army 
	units.  Many sorties ended with a period on a firing range for the pilots to hone 
	their skills in dropping bombs or firing rockets and cannon.  No 118 also took part 
	in UK air defence exercises, usually acting as high level intruders.  There were 
	also regular "wing dings" against Celle or Gutersloh plus, later, occasional
	exchange visits to another NATO base. 

		No 118 maintained a very busy schedule of activity, though the Vampire was 
	really quite outmoded and in 1952 the squadron found considerable frustration in 
	being unable to intercept high flying USAF B-45 Tornados during exercises.  However 
	in mid-1953 121 became the second 2 TAF Wing to re-equip with the Vampire's lineal 
	successor, the Venom FB 1.  No 118 began re-equipping in September 1953, though it was 
	June 1954 before the last Vampires left.  The Venom gave a quantum leap in 
	performance and were fitted with ejection seats, though some of the old hands 
	preferred to fly with the safety pins in for a time!  The type was however very 
	suitable for the FGA role, being a stable weapons platform - and was no mean 
	performer as a high altitude interceptor.  Typical practice missions were attacks on 
	small targets like radar sites and bridges as well as close support and visual 
	recce and as 2TAF expanded there was a commensurate increase in the number of 
	exercises, so 118 was kept very busy.  2 TAF laid great emphasis on the mobility of 
	its squadrons and rapid deployment to other NATO airfields, often incomplete, was a 
	regular feature.  On occasions the aircraft were flown from a suitable stretch of 
	autobahn with those being serviced being dispersed under the trees and with 
	personnel living under canvas.  For these deployed operations the squadron HQ was 
	usually located in a mobile caravan or trailer.  It was however on more routine 
	flying that 118 suffered its first fatality since reforming when on 21Dec53 
	P/O Smith crashed in Vampire WA380 near Soltau during some practice cine-gun 
	attacks. 




SWEPT WINGS


		The squadron continued its busy schedule into 1954 and in February 1954 came under 
	command of S/L C M Gibbs DFC.  One of the highlights of the year was Exercise 
	'Battle Royal' when the entire Wing deployed as part of the 'Northland' force with 
	123 Wing.  The Venoms occasionally travelled further afield, to Cyprus or Libya for
	live firing practice in better weather, though Sylt was the more usual venue 
	however.  By 1955 the Venom too had become outmoded and it was decided that 121 Wing 
	would be re-equipped with Hunters.  Thus in May 1955 118 left its Venoms at Fassberg and 
	on the 6May55 moved to Jever which had longer runways and began to re-equip with the 
	elegant and potent swept wing Hunter F 4.  No 118's partners in the Wing at Jever 
	were Nos 4, 93 and 98 squadrons and a healthy rivalry soon built up.  The squadron's 
	role was now purely day fighter and so the emphasis on training changed to more air 
	combat and sessions of practice intercepts, sometimes under GCI control.  Air to air
	firing of the Hunter's formidable battery of four 30mm cannon was usually done at 
	the Sylt APC.  No 118 quickly worked up on its new mounts, but suffered a severe 
	loss on 20Oct55 when FO Rogers in Wt738 and FO McLennan in Wt537 collided and
	crashed near Hamburg and both were killed. 
	
		During December 1955 the CO left and was replaced in January 1956 by S/L N C P 
	Buddin under whose leadership the squadron continued to provide for the defence of 
	the West.  He took the squadron to Sylt in March 1956 for three weeks of air to air 
	firing following which the squadron returned to Jever and continued on its routine 
	activities.  Later in the year rumours of possible cuts in the RAF's fighter force
	began to circulate and came to fruition in the now infamous 1957 Sandys Defence
	review.  This called for savage cuts in the RAF's manned fighter force, one of whose 
	victims was No 118 squadron which was disbanded at Jever on 22Aug57 after six 
	very successful years in Germany.




IRISH TROUBLES


		The late 1950's saw an upsurge of IRA bombing and shooting incidents along the 
	border of Northern Ireland and the Irish Republic.  On September 1 1959, after a 
	spate of bombings, No 118 squadron was reformed at short notice at Aldergrove in 
	Northern Ireland from a detached Flight of No 228 squadron - an SAR unit.  Under the
	temporary command of F/L F M Taylor AFC the squadron now flew on rotary wings, 
	initially  with three Sycamore HR 14 helicopters - XE317, XG506, and XG521 - though 
	a fourth later arrived.  It formed part of No 38 Group, Transport Command for short 
	range transport duties in support of the Royal Ulster Constabulary for patrols 
	along the border.  Training and standardisation support was provided by No 225
	Squadron at Odiham.  The squadron flew its first internal security sortie on 
	11Sep59 when Taylor and navigator F/O Lear in XG506 flew a recce in the 
	Limavady area.  Later in the month 118 took part in a security exercise, 
	'Hot Rocks', and in a Battle of Britain display.  At the beginning of October 1959 S/L D 
	A Toon arrived as CO to give the squadron five two-man crews.

		Security patrols were the main task, either carrying out reconnaissance or 
	transporting and supporting RUC foot patrols.  Regular sorties were flown over the
	remote islands and shores of Lough Neagh looking for gun runners, the first of 
	these being on 8Oct59 whilst later in the month the Lisnaskea area featured.
	Other tasks came the squadron's was too - on 21Dec59 for example a 118 
	Sycamore delivered Father Christmas 1959 to the Station Children's party!  There were 
	sterner things in early 1960 however.  Whilst landing on a pre-planned operation 
	near Magherafelt the Sycamore flown by the CO was shot up by IRA snipers, 
	fortunately without injury.  Operations continued on an almost daily basis, 
	interspersed with mandatory training flying and other tasks such as flying VIPs. 
	One such sortie came on 29Jul60 when Taylor and Lear flew Earl Mountbatten from 
	Sydenham to various locations in the Province.  No 118 gave the RUC a great deal of 
	flexibility and a considerable increase in operational capability, although the 
	Sycamore's capacity was usually only three passengers. 

		By early 1961 the upsurge in violence had subsided and so it was decided to 
	withdraw the squadron, one of its last tasks being the transport by the CO of Lord 
	Brookborough, the Prime Minister of Northern Ireland, and Lady Brookborough from 
	Colebrooke to Stormont on 26Mar61.  Soon afterwards, on 14Apr61 the squadron was 
	disbanded.  However, it's demise was seen as premature and the following day it was 
	reformed with the same aircraft and tasks.  S/L P H Hart was appointed to command as 
	No 118's activities continued much as before.  On 13Oct61 it suffered the loss of 
	XG521 when the rotor hit the ground whilst landing at Aldergrove and it rolled 
	over, fortunately without any injuries.  Sycamore XG544 was delivered from 71 MU 
	Bicester later in the month as a replacement.  In February 1962 the following year the 
	IRA finally announced the cessation of its violent border campaign and with it the 
	squadron's raison d'etre.  Thus No 118, which had served with considerable
	distinction in its various existence's, was finally disbanded at Aldergrove on 
	August 31 1962.




ACKNOWLEDGEMENTS:


		The Author is grateful to the following former members of No 118 squadron for 
	their generous help in the research for this feature: G P Aird, B G Faulkes, 
	S/L T M Jeffery, S Kirtley, S/L D P F McCaig MBE AFC, G H Spencer, Mrs M Taylor
	(widow of F/L F M Taylor AFC), G/C D A Toon CBE and R Wigley 




SERIALS OF AIRCRAFT KNOWN TO HAVE SERVED WITH No 118 SQUADRON:


		SPITFIRE I: N3044,N3127, N3284, N3288, R6837, R6910, X4232, X4257, X4337, 
	X4353, X4412, X4478, X4556, X4606, X4645, X4675, X4850, X4822, X4823, X4826, X4896, 
	X4940.

		SPITFIRE IIA: P7440, P7447, P7505/NK-T, P9622, P7743/NK-G, P7744/NK-J, P7745,
	P7787/NK-X, P7835, P7842, P7843/NK-G, P7887, P7911, P7913/NK-H, P7991, P7998, 
	P8024/NK-S, P8084/NK-W, P8086, P8088/NK-K, P8089, P8090, P8182, P8184, P8204, 
	P8233, P8237, P8368/NK-L, P8376, P8377, P8467, P8511, P8529, P8535, P8565, P8568, 
	P8569, P8580, P8582, P8586, P8588, P8589, P8602, P8650, P8660, P8673, P8677, P8693, 
	P8705.

		SPITFIRE IIb:	P8516, P8584, P8662, P8671, P8675, P8697.

		SPITFIRE Va:	R6809, R7334

		SPITFIRE Vb:	P8585, P8753, P8782, P8789, P8799, W3309, W3320, W3375, W3428, 
	W3429, W3518, W3528, W3605, W3624, W3652, W3656, W3706, W3722, W3756, W3766, W3832, 
	W3849, W3901, W3943, W3954, W3957, Aa724, Aa725, Aa729, Aa730, Aa740, Aa741, Aa742, 
	Aa743, Aa744/NK-N, Aa752, Aa863, Aa879, Aa922, Aa964, Aa972, Aa979, Ab173, Ab260, 
	Ab265, Ab403, Ab791, Ab828, Ab846, Ab916, Ab967, Ab972, Ab977, Ad120, Ad127, Ad187, 
	Ad194, Ad204, Ad209, Ad210, Ad235, Ad239, Ad266, Ad294, Ad309, Ad374, Ad469, Ad513, 
	Ad542, Ad581, Ar293, Ar296, Ar318, Ar323, Ar325, Ar339, Ar365, Ar376, Ar377, Ar387, 
	Ar393, Ar423, Ar424, Ar433, Ar437, Ar447, Ar448, Ar449, Ar450, Ar451, Ar452, Ar453, 
	Ar455, Ar456, Bl255, Bl264, Bl292, Bl294, Bl297, Bl303, Bl304, Bl329, Bl332, Bl335, 
	Bl370, BL 374, Bl416, Bl445, Bl464, Bl481, Bl525, Bl580, Bl581, Bl600, Bl614,
	Bl641, Bl663, Bl696, Bl718, Bl734, Bl755, Bl757, Bl763, Bl783, Bl787, Bl809, Bl829, 
	Bl850, Bl890, Bl975, Bl984, Bm132, Bm147, Bm256, Bm257, Bm271, Bm272, Bm295, Bm414, 
	Bm423, Bm464, Bm481, Bm493, Bm509, Bm510, Bm514, Bm522, Bm532, Bm538, Bm574, Bm578, 
	Bm628, Bm649, Bm651, En765/NK-D, En789, En826, En926, En932, En953, En959, En964, 
	En966/NK-D, En969, En975, Ep109, Ep119, Ep123, Ep124, Ep126, Ep129, Ep130, Ep133, 
	Ep134, Ep191, Ep202, Ep206, Ep226, Ep227, Ep228, Ep234, Ep240, Ep289, Ep300, Ep328, 
	Ep380, Ep413, Ep485, Ep515, Ep549, Ep646.

		SPITFIRE Vc:	Br160, Ee742.

		SPITFIRE VI:	Bs141

		SPITFIRE VII:	Mb763, Mb765, Mb828, Md118, Md122

		SPITFIRE IX:	Mh508, Mj271, Mj302, Mj424, Mj905, Mk675, Mk680, Mk683, Ml145, 
	Ml182, Ml185, Ml196, Ml209/NK-K, Ml210, Ml211, Ml216, Ml232, Ml235, Ml238, Ml243, 
	Ml247, Ml249/NK-N, Ml251, Ml253, Ml255, Ml343, Ml348/NK-L, Ml399, Ml406, Nh153, 
	Nh190, Nh194, Nh313.

		MAGISTER I:	L5939.

		MARTINET TT I:	Hp138.

		MUSTANG III:	Fb231, Fz139, Fz151/NK-B, Fz194, Hb823, Hb873, Kh430, Kh431, 
	Kh433, Kh442, Kh448, Kh449, Kh462/NK-R, Kh464, Kh466, Kh473, Kh479, Kh480, Kh483, 
	Kh490/NK-U, Kh491/NK-O, Kh497, Kh499, Kh503, Kh504, Kh509, Kh514, Kh515/NK-X, 
	Kh517, Kh519/NK-F, Kh527, Kh529, Kh537, Kh547, Kh557, Kh559/NK-T, Kh569, Kh578, 
	Kh584, Kh585, Kh588, Kh599, Kh602, Sr410.

		MUSTANG IV:	Km136

		VAMPIRE FB 5:	Vv486, Vv639, Vx474/A-K, Vz317, Wa117, Wa185, Wa234, Wa293/A-L, 
	Wa306, Wa335, Wa340, Wa341, Wa348, Wa357, WA374A-M, Wa380, Wa382, Wa390, Wa392, 
	Wa396, Wa443, Wg832, Wg847.

		METEOR T 7:	Wf779, Wf813, Wf836, Wf962, Wh181 

		VENOM FB 1:	We273, We278, We281, We290, We376, We384/A-B, We387, We388/A-M, We400, 
	We401, We403, We407, We408, We409, We411, We413, We415, We436, We445/A-T, We446, 
	Wk397, Wk846, Wr281, Wr312.

		VAMPIRE T 11:	Wz513, Wz517, Xd622, Xh361.

		HUNTER F 4:	Wt719, Wt737/N, Wt738, Wt741, Wt743/R, Wt748/S, Wt751/T, Wt752, 
	Wt753/E, Wt754, Wt757, Wt760, Wv263, Wv274, Wv364, Wv368, Wv373, Ww653, Ww657/G, 
	Ww660/B, Xe665/A, Xe677, Xe682, Xe684, Xe687, Xe703, Xe707, Xf315, Xf370, Xf977/A, 
	Xf987.

		SYCAMORE HR 14:	Xe317, Xg502, Xg506, Xg521, Xg544.