Mick Ryan asked Ted Childs to tell us some of his stories of life in the Education Section as a National Service Education Officer. He shared the role with Flying Officer Bryn John, who, after his National Service career, became a Member of Parliament and eventually the Minister of State for the RAF. Ted has had a distinguished career in television production, his titles include This Week, World at War, The Sweeney (he was recently interviewed on television for this work), Special Branch, Quatermass, Oliver Twist, Inspector Morse, Soldier Soldier, Peak Practice, Sharpe, Cadfael, Chancer, Gone to the Dogs, Kavanagh QC, Thieftakers, Heat of the Sun, Goodnight Mr Tom and The Waiting Time. Ted's account follows:

Where Bryn John and I were concerned, frankly I believed there was a feeling in some quarters, in SHQ and elsewhere, that we were a bit of a joke. With hindsight, there was justification for this. Despite the fact, as graduate NS officers, we were automatically promoted to Flying Officer, one year after being commissioned, we had absolutely nothing to do in our role as education officers, since nobody on the station wanted educating, at least this was their considered view. The one exception was Henry Tregear, RHA, the GLO, who we coached in current affairs for his staff college entrance exams. Bear in mind that we also had a boss, the Senior Educ Officer, Sqn Ldr Balcombe, a nice, gentle man nearing retirement who rarely exited his office. The day-to-day running of the centre, the admin, library, etc was supervised, in true teutonic manner, by Ursula von Randow who clearly had been undertaking the task quite successfully for many years without help from any RAF personnel. One might seriously question what the then Air Ministry had in mind in appointing people to an essentially non-existent role.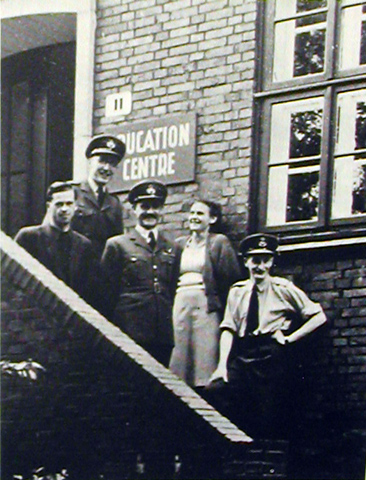 This is a photograph is taken from page 237 in Sybille Schneider's book on Jever. The caption says:
"Education has a long tradition at Jever: Block 11 was already in 1954 the "Education Centre". The picture shows
some of the English Educators: left at the back: Flt McLellan, third from right: Sqn Ldr Philipps, second from right:
Frau Ursula von Randow, Secretary". (Thanks Sybille Schneider). (See below for further information about Ursula von Randow.)

Although very bright and sensible and already qualified as a solicitor, Bryn was a reluctant airman. He had been back squadded at the Jurby OCTU and this had left its mark. From Pontypridd, he was engaged to a girl in Cardiff who eventually became his wife. As a consequence, he was one of the few members of the RAF who would have willingly been posted to St. Athan. Sod's Law decreed that he be sent to Germany, regarded by many National Servicemen as a plum posting at that time. To be honest, he did not enjoy his time at Jever as much as he might of done and participated little in the life of the mess or the station.

Attempts were made to keep us amused. We both were drafted as defending officers at courts martial from time to time. With his legal background, Bryn tended to be more successful in the role than I was. We were rarely required to serve as orderly officer and that further removed us from day-to-day aspects of station life. Our only military function was to be on the rota of officers and NCO's who acted as de-coders. This came round, as I recall, as an out-of-hours "on call" duty every six weeks or so.

I endeavoured to keep as active as I could. I went on as many courses as the system would let me. I resurrected the then moribund station sailing club and was involved in the jazz club.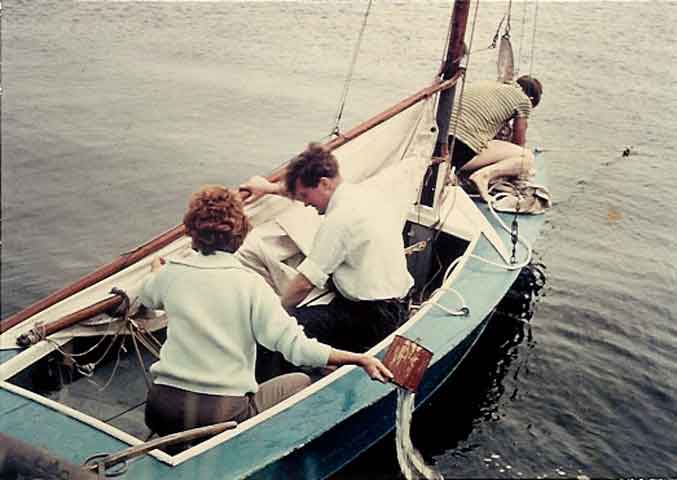 Sailing at Wilhelmshaven About 1959. Unknown Lady from WVS baling, Ted Childs and Mike ? (Thanks Pamela Garrity)

I had a couple of German girl friends off the station. I even flew when I could. I looped a Chipmunk under the careful direction of one of the Stn Flt team whose name I cannot remember. "Buster" Brown, the Stn Adj (What happened to him?), took me for rides in the Hunter T7. I was briefly the only supersonic education officer in 2TAF and probably the RAF. I was given an engraved mug commemorating this triumph which I still have. I travelled extensively, locally on my Puch 125 cc motorbike.

Inevitably, I had little, if anything, to do with operational flying. Most of my friends were not from the squadrons although Chas Hopkins, the engineer on 4 Sqn and I were good mates. Others were, Dave Humpage, the Tech Wing Adj, Peter Watton, a signals officer and a Welsh teacher who taught in your father in law's [Karl Watson] school again, whose name escapes me. Phil Spooner whose AF Signals Troop occupied the bowels of the Education Centre became a life long friend and I have remained in contact down the years with both Andy Clark and Jock Ross. The PM girls were always friendly as were the SSAFA ladies and the Malcolm Club lot.

When Black Smith arrived with his reputation as a fire eater, he clearly thought we were a threat to good order and Air Force discipline and we sensed we were being scrutinised more carefully than heretofore. I remember being ordered to report to Smith's office halfway through my lunch once. I scurried down from the mess on my bike and, on arrival, I was severely bollocked by Smith for not saluting his car on the approach to the Officers' Mess earlier that day. The fact that I could prove I was no where near the mess at the time he alleged and that I was wearing a beret and not an SD hat has he also claimed, was of little avail. I was awarded six extra sessions of orderly officer. Of course, it was Bryn the bugger who was the culprit. Going to extreme lengths to avoid the approaching CO's Standard Vanguard was one of the little acts of protest against conscription Bryn regularly conducted. Bryn never admitted it but I suspect, at times, Group Captain Smith amused himself by driving round the station roads between SHQ and the mess looking for where Bryn might be trying to hide from him.

Bryn and I were demobbed within weeks of each other. I remember someone, it might have been the guy in SHQ, Furness, I think his name was, enquiring of each of us whether we were interested in joining one of the RAF Reserves when we left. Bryn responded robustly "I tell you, Boyo, when I get out of here, I'm not joining a bloody Christmas Club". Little did he know.


---
On 2 Sep09 Coreen Hayes (nee Lofthouse) wrote the following:


"I was stunned to find a photo of my Grandmother Ursula von Randow within an article by Ted Childs on the Education Centre at Upjever. I was just cruising round the site out of interest as my father, Ivan Lofthouse, did his National Service there around 1953-55. He met Frau von Randow's eldest daughter at some point and they married in 1956 after my Dad was demobbed. My Grandmother also lived opposite the Schutzenhof in a flat during the 1970's. I cam remember as a child going into the forested areas to look for mushrooms and being bitten by mosquitos. My Grandmother sadly passed away several years ago while she was living in the centre of Jever."