Bebe Sharman was a charismatic individual with a tremendous sense of humour. He was responsible for all the amusing history and background to the Jever Steam Laundry. These pages are dedicated to his life in the RAF and his sense of humour. He was a professional photographer having joined the RAF originally as an airman in the photographic branch. We are grateful to Mamie Sharman, his widow, who has kindly given us his five photo albums to load on to the web site in his memory.
---
The Five Albums, (a total of 761 photos), are as follows (Click on the green title to jump to that album):
Album 1 - January 1948 to November 1948 RAF Luqa, Malta - 198 photos.
Album 2 November 1948 to February 1951 RAF Luqa, Malta, Castel Benito, Libya, RAF Jurby, Isle of Man, flying training at RAF Heany in Northern Rhodesia - 214 photos.
Album 3 - February to November 1951 Flying Training in Rhodesia - 139 photos.
Album 4 - December 1952 to March 1955 Venoms at Fassberg and Hunters at Jever- 120 photos.
Album 5 - December 1955 to July 1966 Hunters at Jever and civilian life - 90 photos.
---
We continue with Album 4 covering the period in Germany at RAF Fassberg flying Venoms on 98 Squadron and latterly at RAF Jever where 98 Squadron converted to Hunters from December 1952 to March 1955.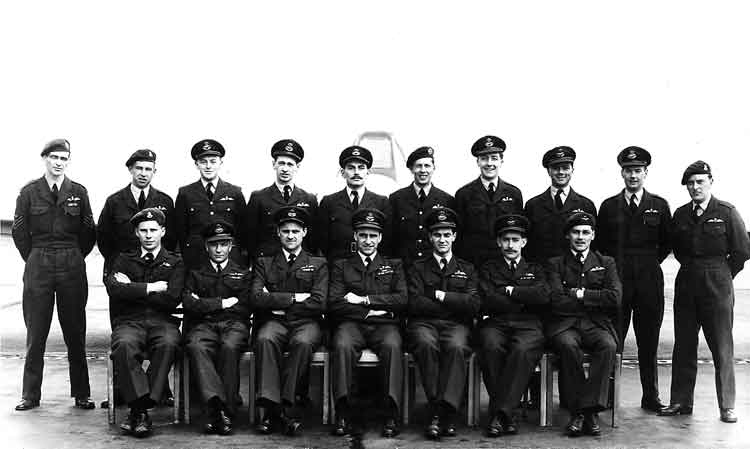 98 Squadron March 1953.
L to R: Back: Sgt Ken Wilson Dave Brunger Unknown Glyn Chapman Paddy English, Sgt Bob Bates, Unknown Bebe Sharman
Ray Endacott Harry Fry
Front: Bob Broad Alan Green Charles Maughan CO Sqn Ldr David A S R Strudwick Pete Dunn Alan Clark Ron Leslie.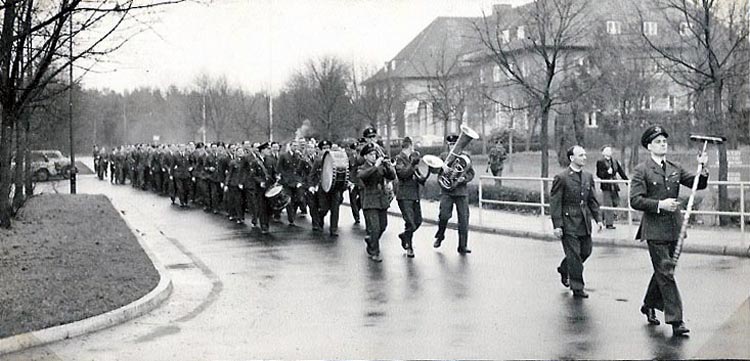 March to the Airmen's Mess Xmas Day 1952.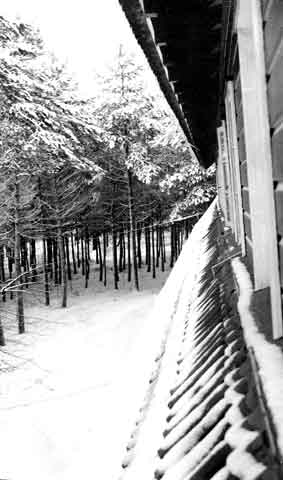 View from Bedroom Fassberg.





Paddy English Adjing.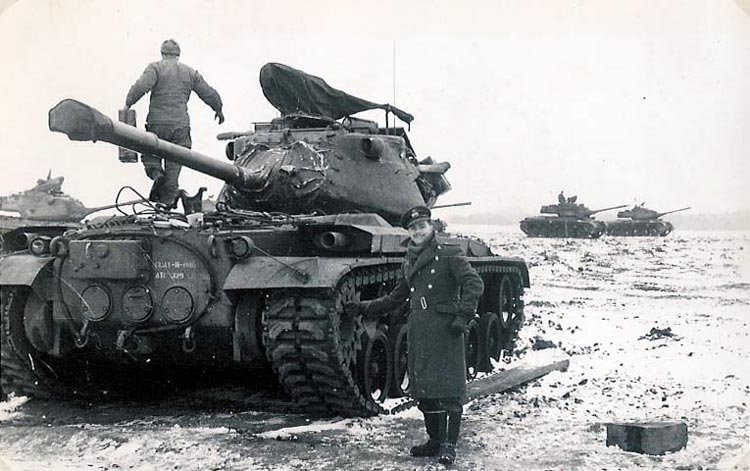 A day on the ranges - BeBe Sharman.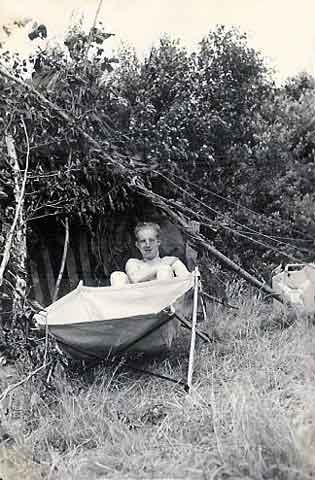 Dave Brunger Takes a Bath during Exercise Coronet on Fassberg Ranges.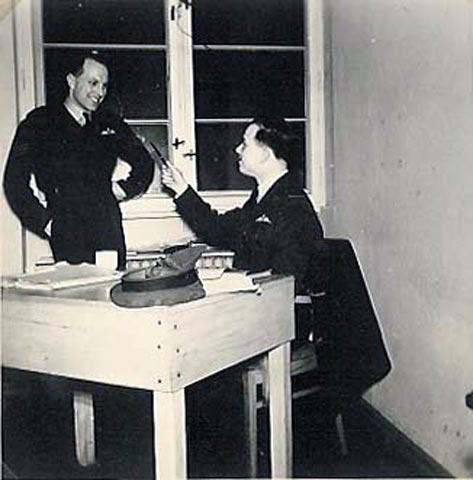 Sergeant Pilot Mike Uphill aged 27, (who was sadly killed the next week on 25th February 1953 during an RP attack on Fassberg Ranges) and BeBe Sharman. Michael pulled up his Vampire FB.5 WE834 after his first firing pass, then suddenly broke violently to port, flicked to port and crashed inverted into the ground.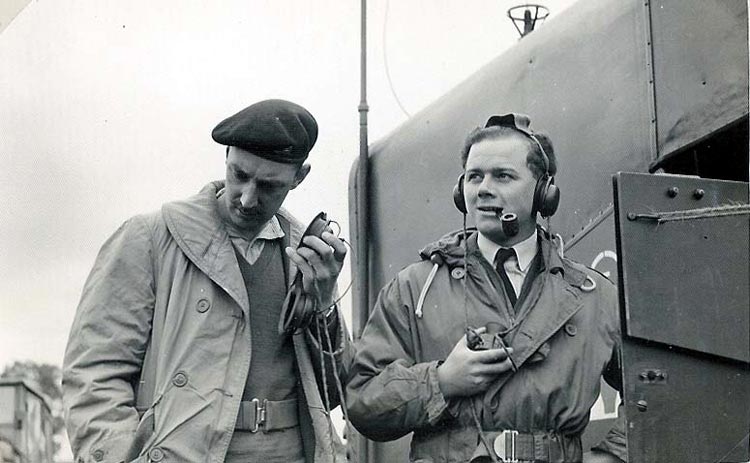 Captain Robbie Roberts GLO OC Air Contact Team and BeBe Sharman on Fassberg Ranges.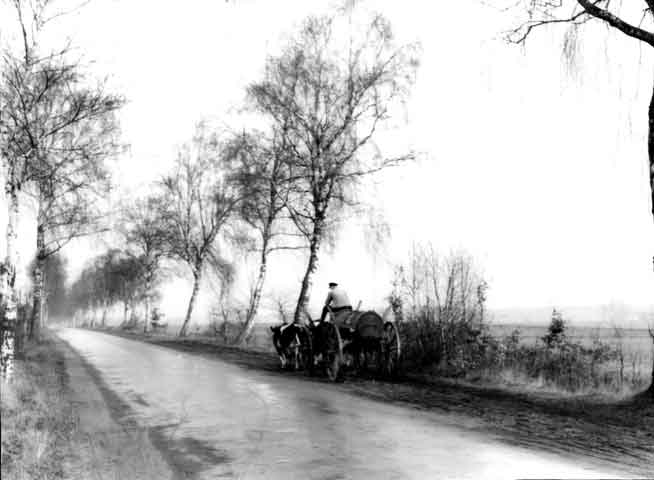 The Lonely Road - Fassberg 1954. [Konta 1/100 f4 HC3].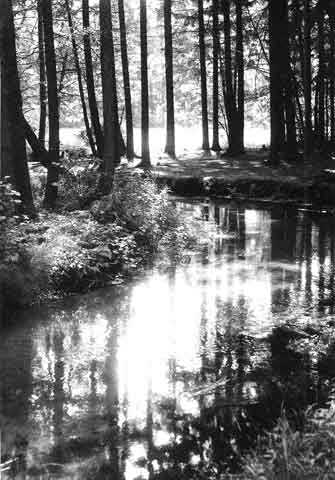 Die Oertze im Fassberg May 53. [Konta].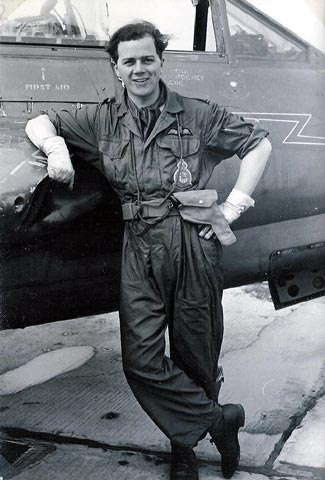 BeBe Sharman - Oh get That Boy! (Dad , what was the gun for?).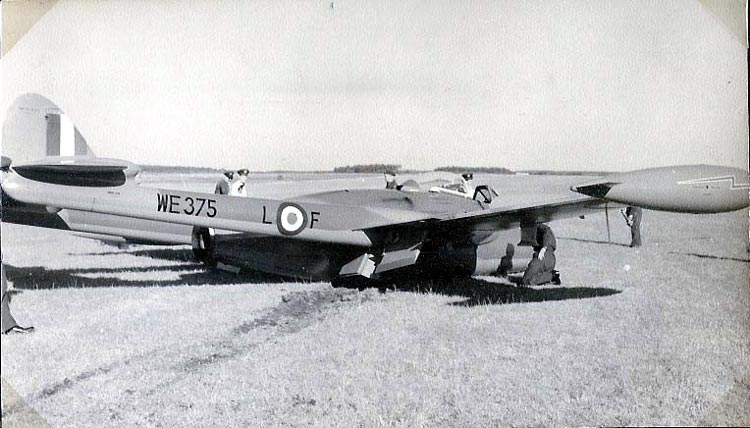 Terry Hughes 98 Sqn couldn't Get his Venom's 'Wheels down so made a Wheels Up Landing at Fassberg. Venom FB.1 WE375 L arrived on 98 Sqn on Wed 26Aug53 and left for 29MU on Thu 7Jul55.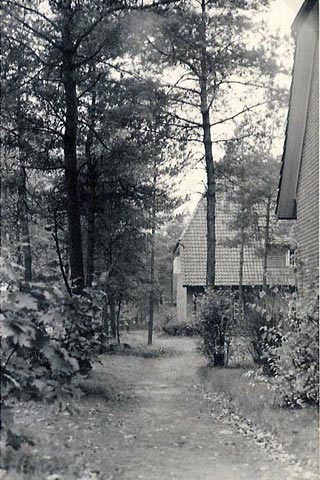 Officers' Mess Sleeping Blocks Fassberg. About 1953.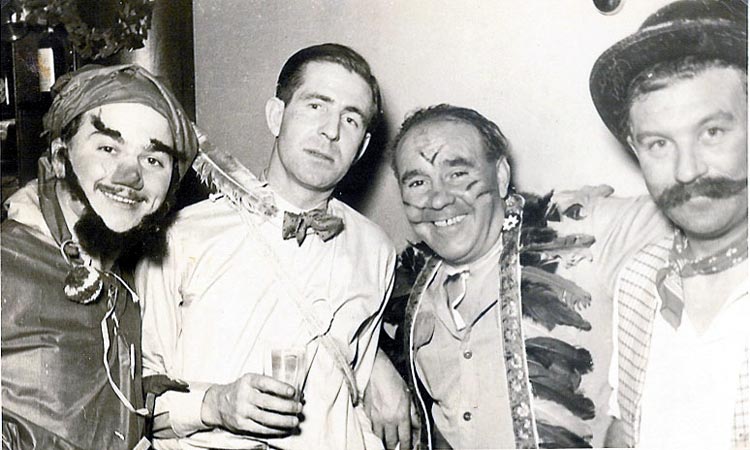 Ron Leslie Unknown, Unknown and John Forward ATC New Year's Eve Fancy Dress Ball Fassberg - 31Dec52.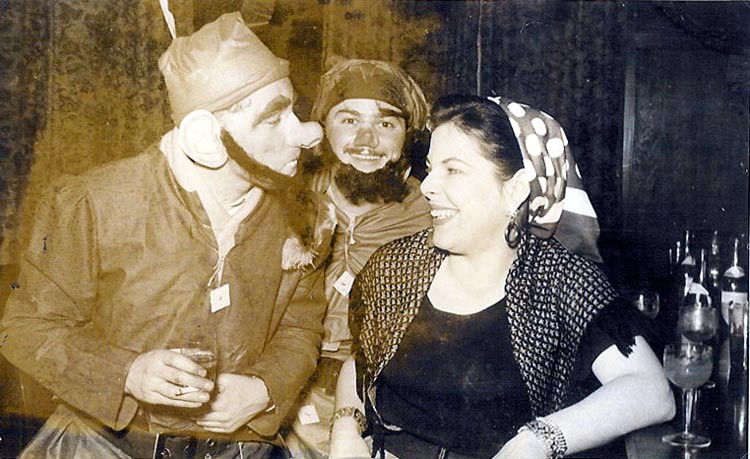 BeBe Sharman Ron Leslie and Unknown Lady New Year's Eve Fancy Dress Ball Fassberg 31Dec52.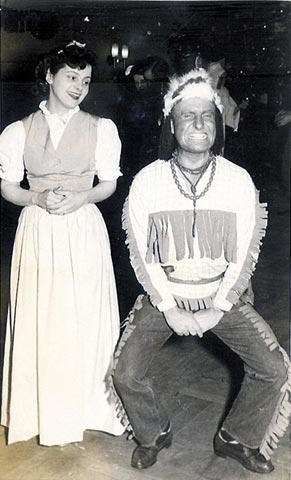 Mrs Peter Dunn and Wg Cdr Flying Teddie Donaldson RAF Fassberg New Year's Eve Fancy Dress Ball 1952.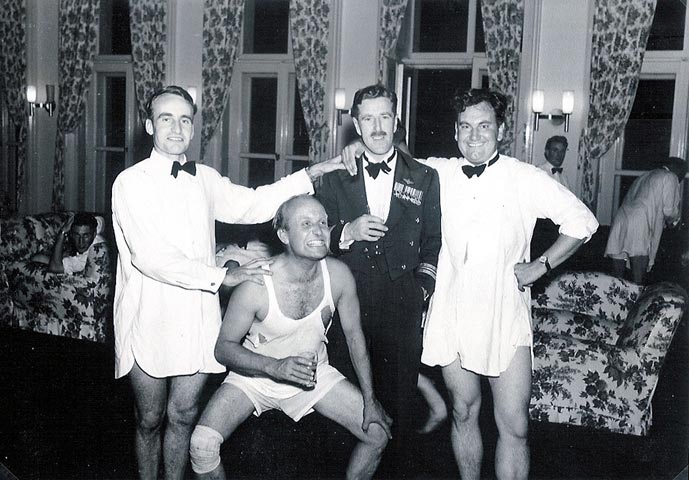 Three Sqn Cdrs - Dave Strudwick OC 98, Arthur Asker OC 118, Lawrence OC 14 sqn with OC Flying Wing Commander Teddie Donaldson in Front. Teddie's Dining Out sometime 1953.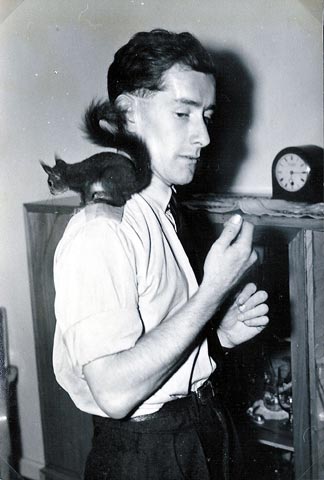 Nobby Clark 98 Sqn with "Squibbs".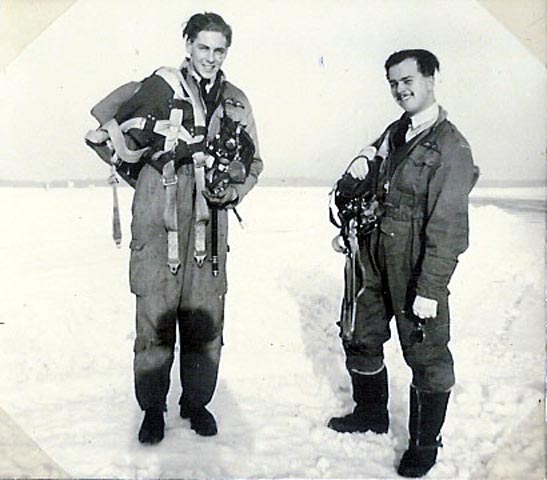 Les and BeBe Sharman. About Winter 1952.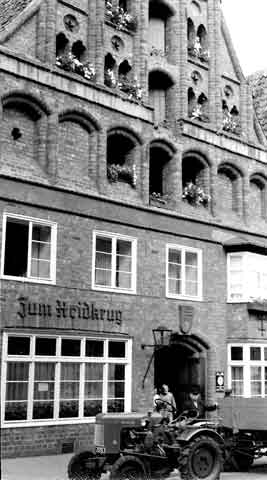 Zum Heidkrug Hotel and Restaurant, Lüneburg - 1953. Today a Michelin Starred Restaurant. South of Hamburg, between the Elbe Valley and the Lüneburg Heath, about 176,000 people live in the District of Lüneburg. At the heart of the district lies the Hanseatic City of Lüneburg with more than 72,000 inhabitants. This is where tradition and modernity merge seamlessly. Whereas in Lüneburg a wealth of historic sites brings the city's medieval history vividly to life, Amt Neuhaus provides a vivid reflection of recent history. Following a referendum held in 1993, Amt Neuhaus, which formerly belonged to the Kingdom of Hanover, was reintegrated into the Lower Saxony District of Lüneburg by the Federal State of Mecklenburg-Pomerania after nearly 50 years. This transfer from East to West is unique in the history of the Federal Republic of Germany. Today, the region is most impressive for its high standard of living. It is highly attractive to new companies, families and students. Another plus point for Lüneburg is its vicinity to the Lüneburg Heath, the Elbe Valley Meadows and the historic brick buildings in the city centre of Lüneburg, providing places for relaxation right on its doorstep. Lüneburg has the second most bars per mile and per resident in Europe after Madrid, Spain; it has the most bars per resident in Germany. The buildings in downtown Lüneburg survived from the 16th century on, escaping destruction even during the Second World War. As a result, the downtown district looks very old, and its rare state of preservation, along with the beauty of the surrounding Heath, attracts many tourists to the town.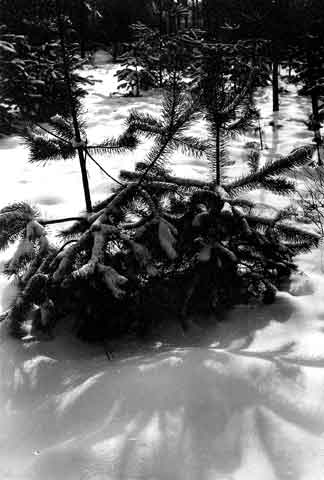 More snow scenes - Fassberg 1953.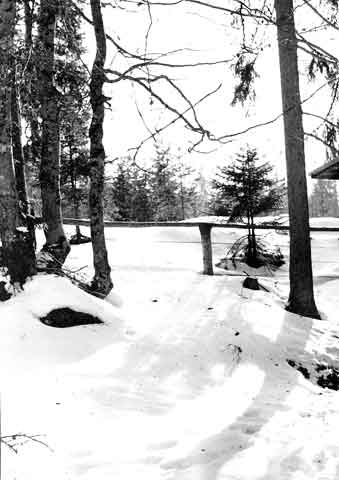 More snow scenes - Ehrwald 1954.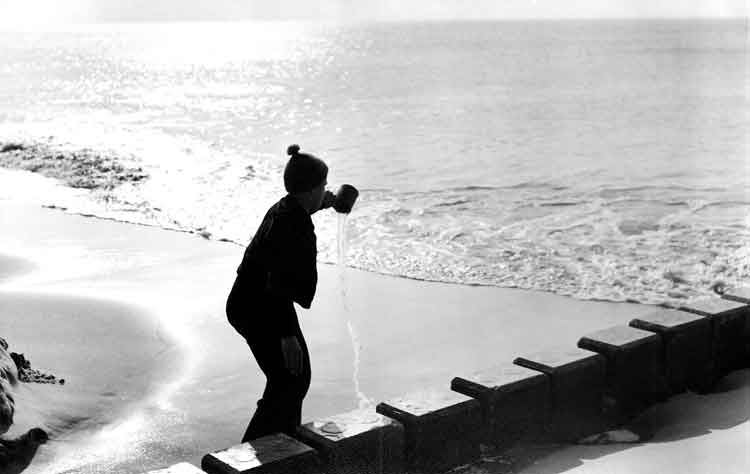 "Kid at Sylt" - North Germany June 1954.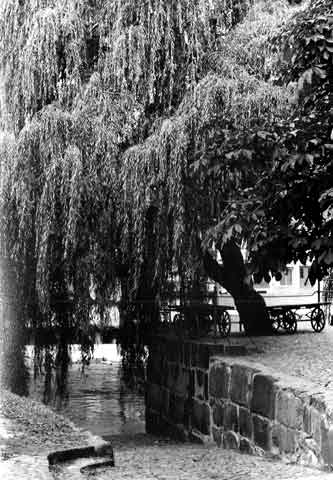 Lüneburg.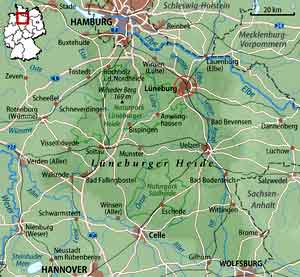 Lüneburg (officially the Hanseatic Town of Lüneburg, German: Hansestadt Lüneburg, formerly also called Lunenburg in English), is a town in the German state of Lower Saxony. It is located about 45 km (28 mi) southeast of another Hanseatic city, Hamburg. It is part of the Hamburg Metropolitan Region. The capital of the district of Lüneburg, it has a population of around 72,000. Lüneburg's urban area, which includes the surrounding communities like Adendorf, Bardowick, Bleckede, Amelinghausen and Reppenstedt, has a population of around 103,000. Lüneburg has been allowed to use the title "Hansestadt" (Hanseatic Town) in its name since 2007, in recognition of its membership in the former Hanseatic League; it is also a university town. Lueneburg is also called the "Salt Town", a hangover from the days when it was the centre of a major salt industry. As of December 2007, the town was the 120th largest in the Federal Republic of Germany.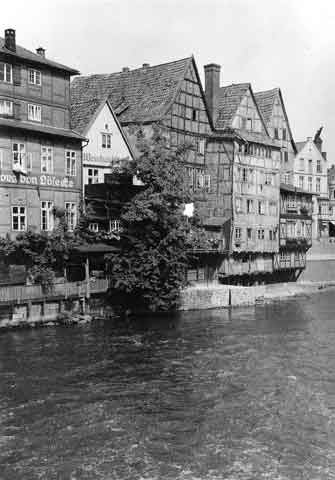 River Limenau- Lüneburg.

Lüneburg lies on the river Limenau, about 30 kilometres (19 mi) from its confluence with the Elbe. The river flows through the town and is featured in its song; it was formerly traversed by cogs taking salt from the town to the other, larger, ports of the Hanseatic League nearby. To the south of the town stretches the 7,400 square kilometres (2,857 sq mi) Lüneburg Heath which emerged as a result of widespread tree-felling, forest fires and grazing. The tradition that the heath arose from centuries of logging undertaken to meet the constant need of the Lüneburg salt works for wood is not historically confirmed. More likely, the heath was originally formed by clearances during the Bronze Age. The old town (Altstadt) of Lüneburg lies above a salt dome which is the town's original source of prosperity. However, the constant mining of the salt deposits over which the town stands has also resulted in the sometimes gradual, sometimes dramatically pronounced, sinking of various areas of the town. On the western edge of the town is the Kalkberg, a small hill and former gypsum quarry.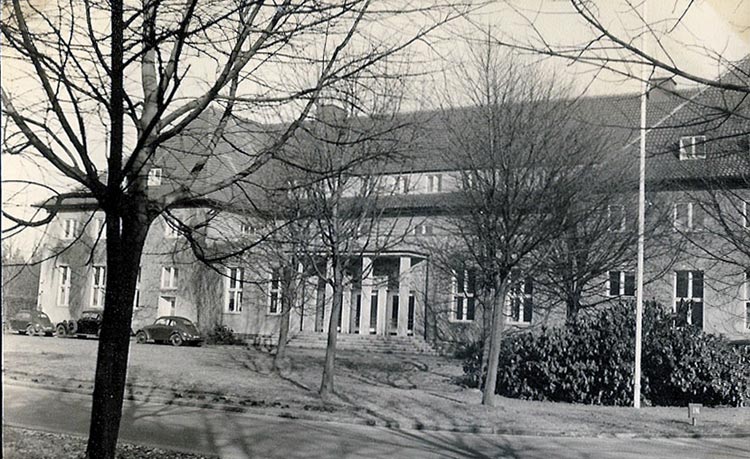 The Officers Mess, Fassberg.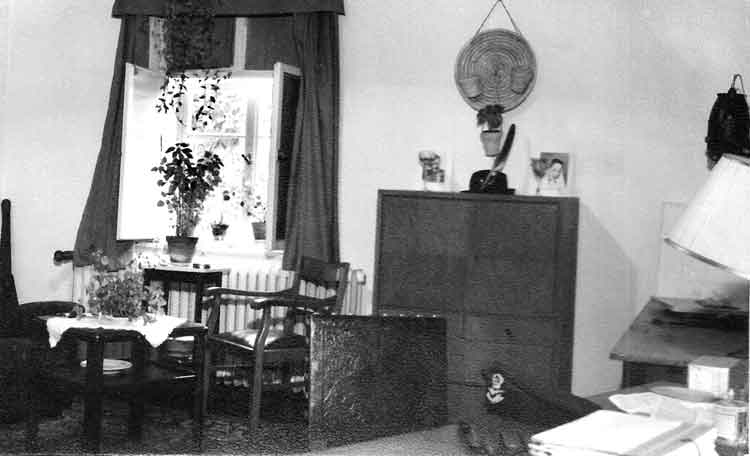 Bebe's room in the Officers' Mess RAF Fassberg.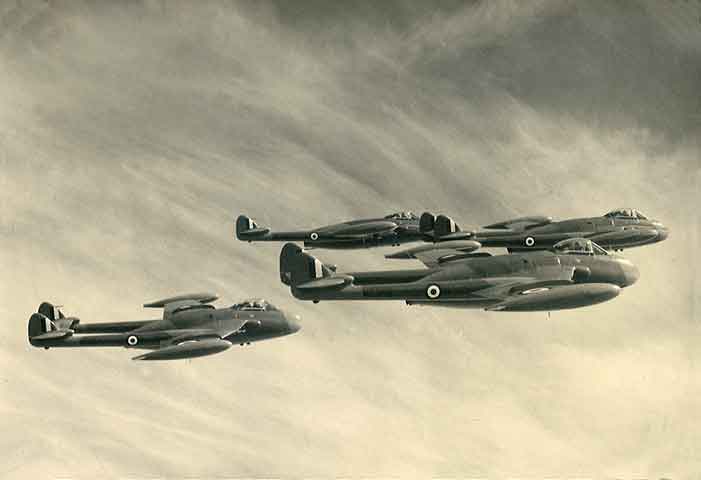 Four 98 Sqn Venoms in Box Four. Published in Aeroplane Magazine May 1955.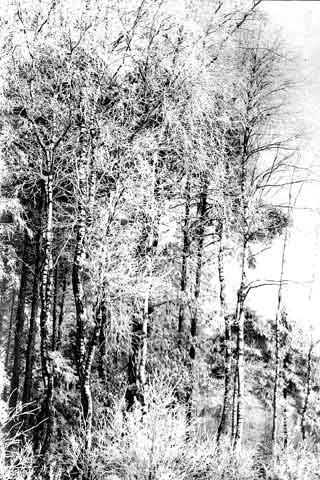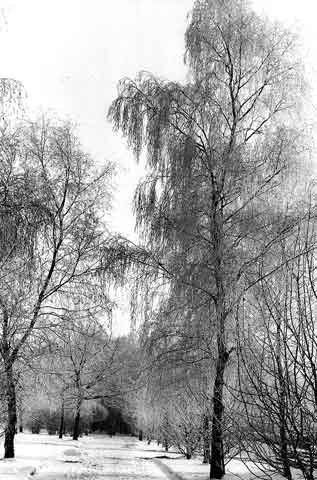 Winter Scenes at Fassberg - 1953.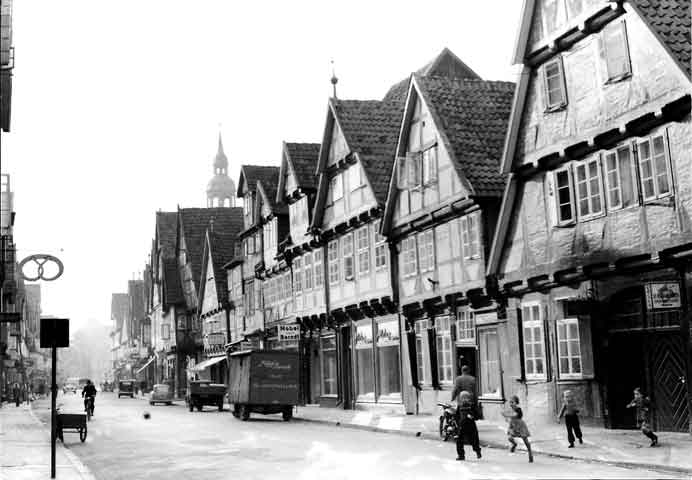 Street Scene, Celle. Celle is a town and capital of the district of Celle, in Lower Saxony, Germany. The town is situated on the banks of the River Aller, a tributary of the Weser and has a population of about 71,000. Celle is the southern gateway to the Lüneburg Heath, has a castle (Schloss Celle) built in the renaissance and baroque style and a picturesque old town centre (the Altstadt) with over 400 timber-framed houses, making Celle one of the most remarkable members of the German Timber-Frame Road. From 1378 to 1705, Celle was the official residence of the Lüneburg branch of the dukes of Brunswick-Lüneburg (House of Welf) who had been banished from their original ducal seat by its townsfolk.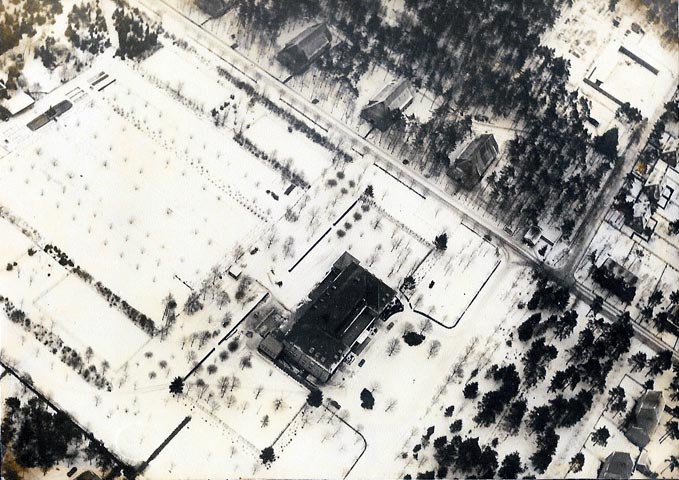 Officers Mess Fassberg taken from a Glider.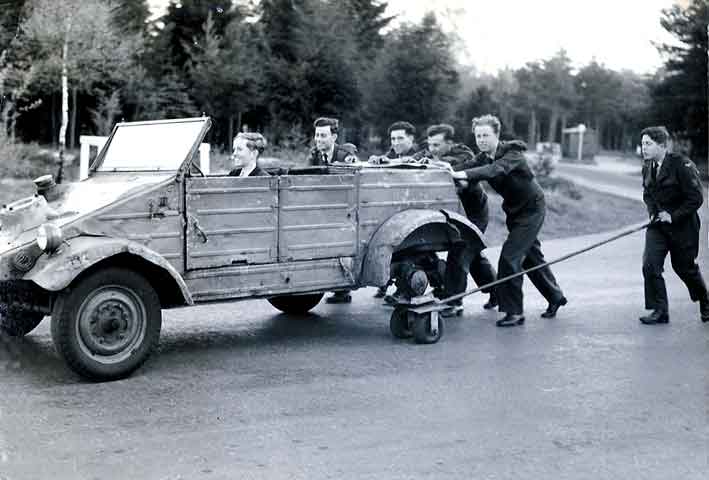 The Gliding Club's Retrieving Wagon at Fassberg. (The wheel came off!). About Summer 1953.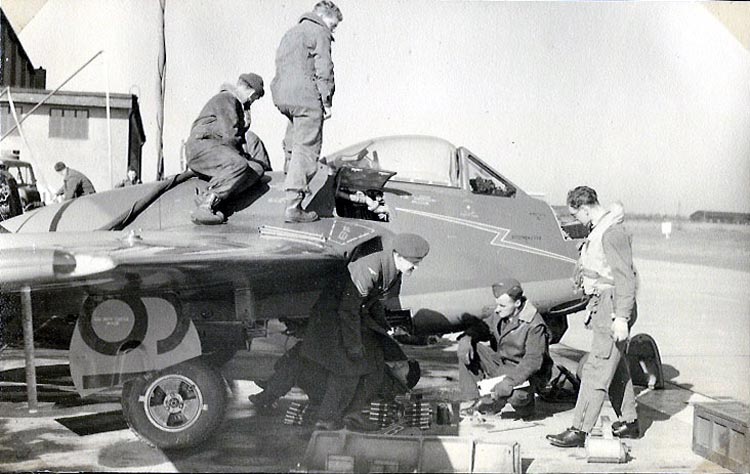 Fg. Off. G C Chapman watching the arming of a 98 Sqn Vampire at Sylt. 1953.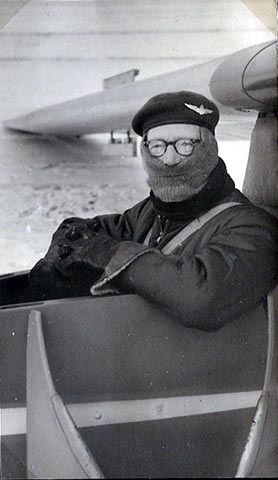 Wg Cdr Pegg OC Tech Wing in a Grunau, Brother of Bill Pegg who was test flying the Brabazon at about this time. About Winter 1952.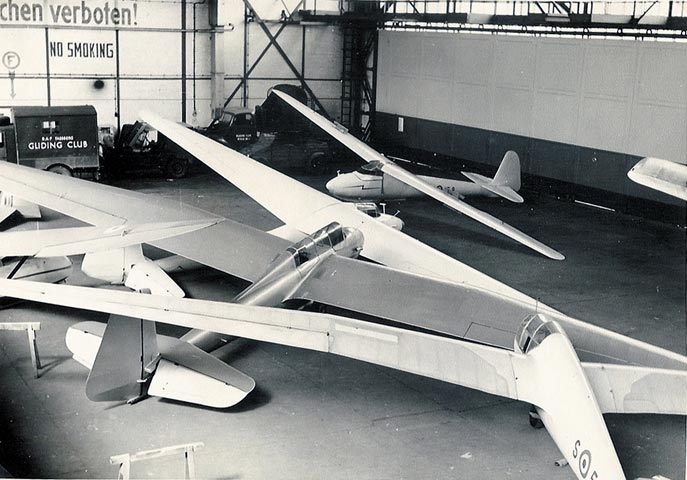 Gliding Hanger at Fassberg. About Winter 1952.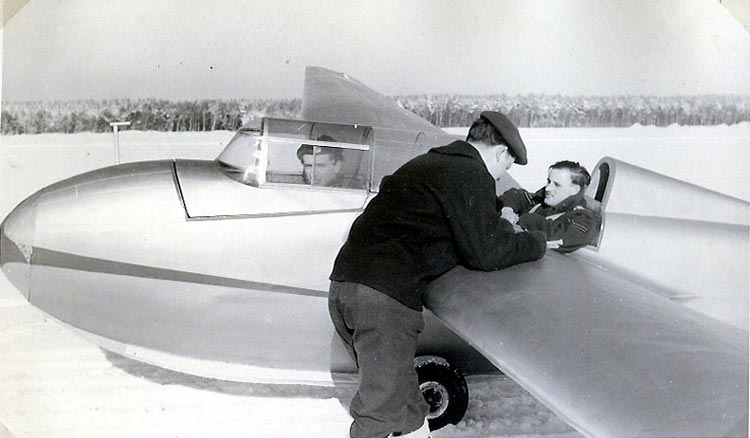 Gliding Shot on Fassberg Airfield sometime Winter 1952.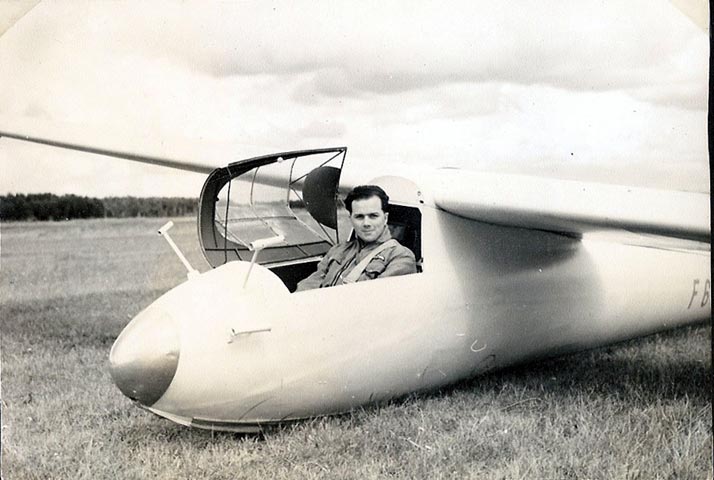 BeBe Sharman in the Weihe at Fassberg. About Summer 1953.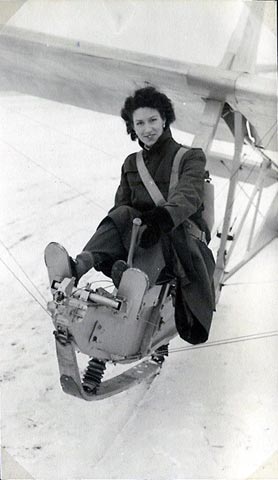 Malcolm Club Lady on Bungee Launched Glider sometime Winter 1952.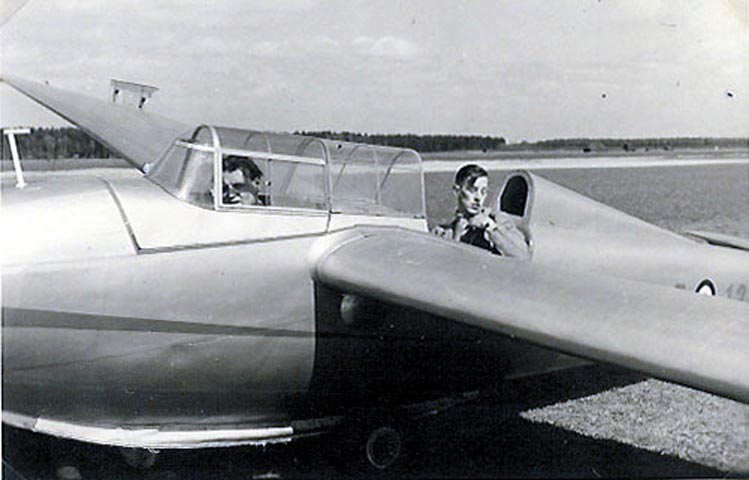 Gliding Scene at Fassberg. About Summer 1953.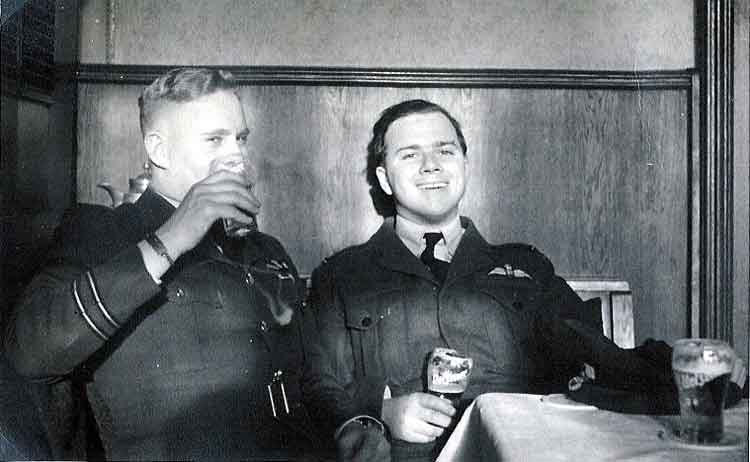 John Price and BeBe Sharman about 1954.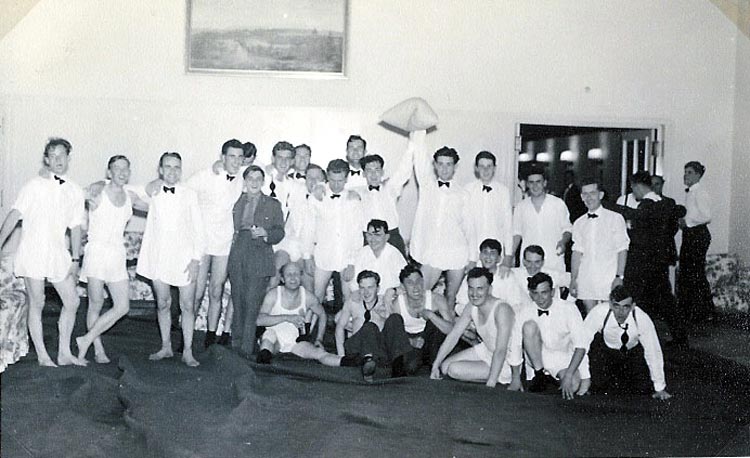 Another of Those Dining In Nights at Fassberg. About 1953.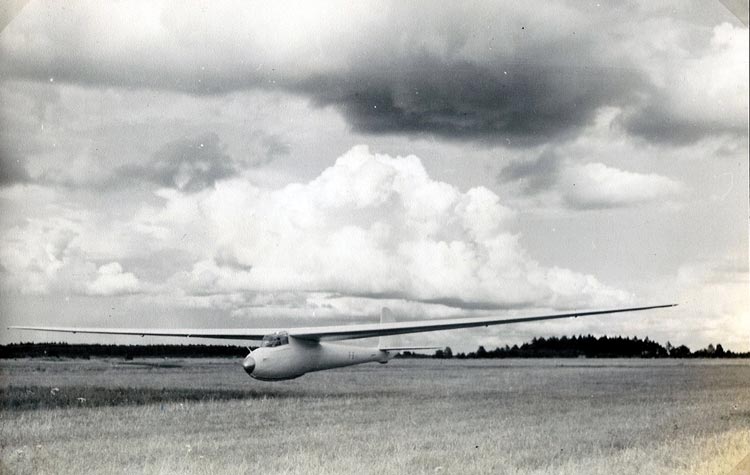 Weihe Sailplane Landing at Fassberg. About Summer 1953.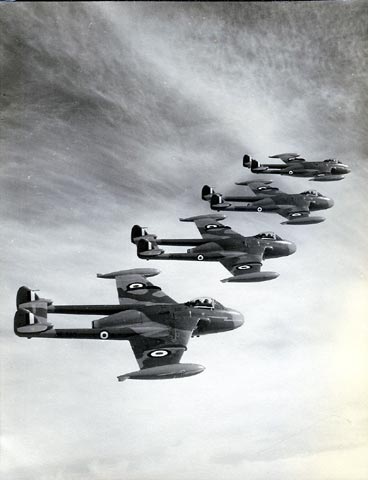 Four 98 Sqn Venoms Echelon Right. Lead CO Sqn Ldr Dave Strudwick, 2. Maughan, 3. Pete Dunn, 4. Harry Fry. This photograph was published in the Aeroplane and Flight magazines and on the cover of the de Havilland Gazette. (Taken by Ikonto at 1/500th sec f.4 with red filter.)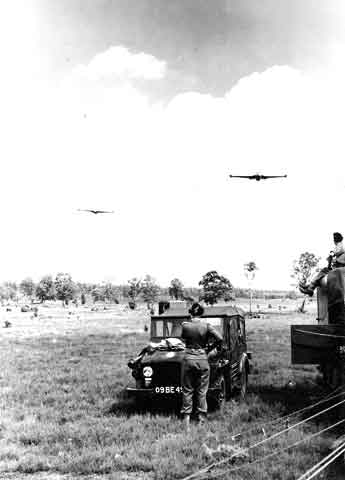 Air Contact Team on Fassberg Ranges controlling two 98 Sqn Venoms. (Taken at 1/500th at f.5 with a yellow filter.)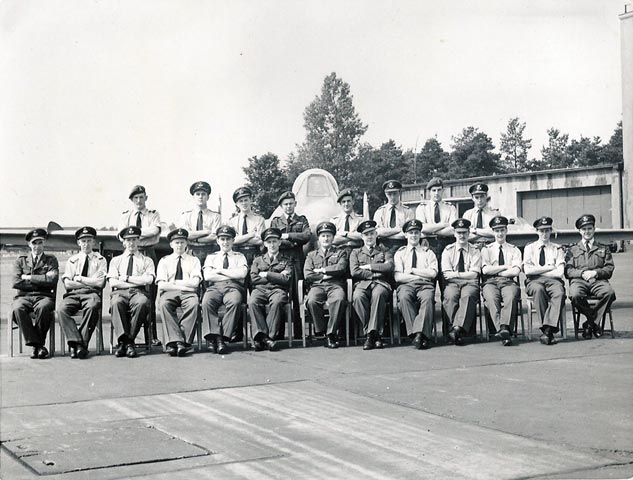 98 Sqn before October 1954.
L to R Rear: Eddie McCullagh, Pete Maillard, Gillie Gray, Brian Conway, Curly Hirst, Bill Ostrom, Sandie Sanderson, George Scholfield. Front: Terry Hughes, Dave Brunger, Glynn Chapman, Alan Lethbridge, Paddy Lyn, Alan Clarke, Boss Smith-Carington, John Price,
Ron Leslie, Harry Fry, Ray Endacott, Mike Dunford.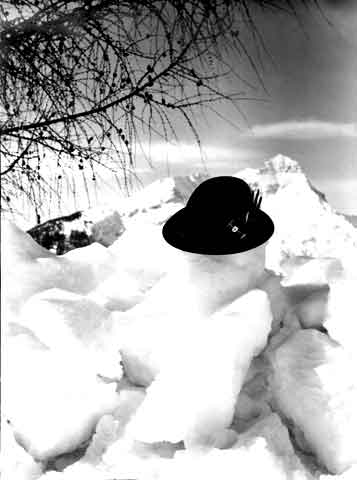 Supposed to be symbolic of Austria!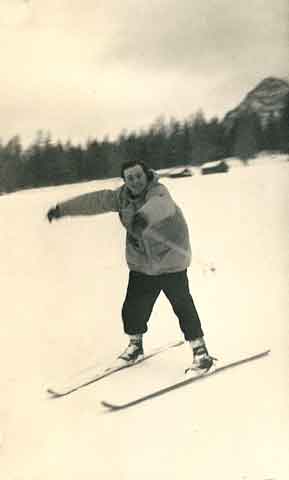 Look-Its Easy! BeBe Sharman on the RAF Skiing and Survival Course at Ehrwald. Jan1954.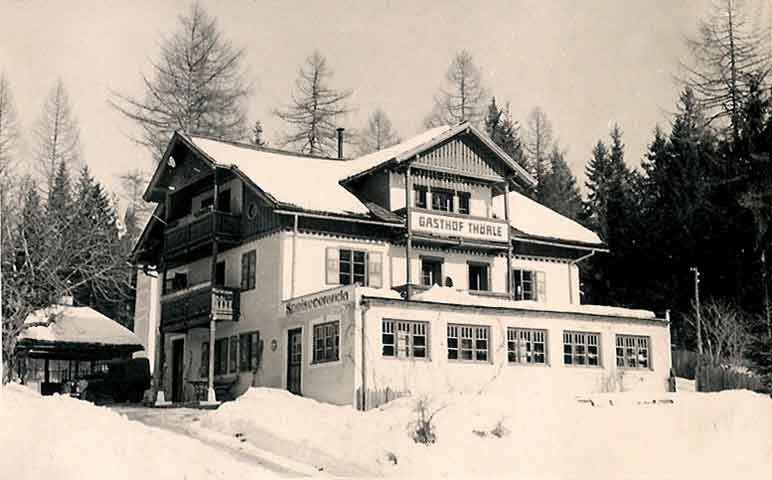 Gasthof Thorle Ehrwald - Home of the RAF Skiing and Survival Course. Jan1954.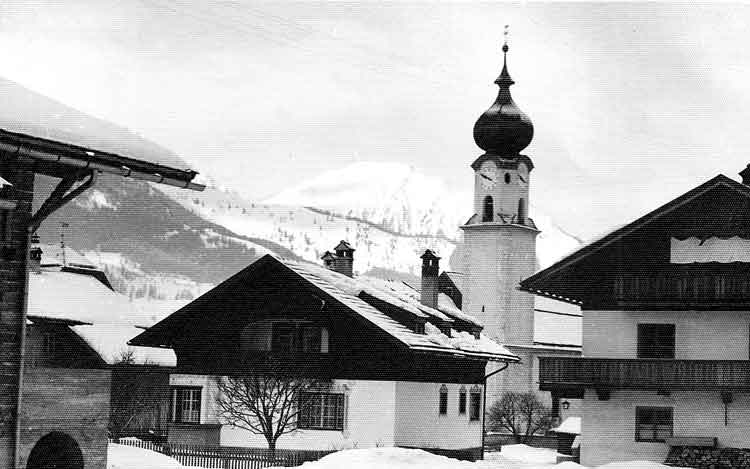 Ehrwald, Austria Jan54.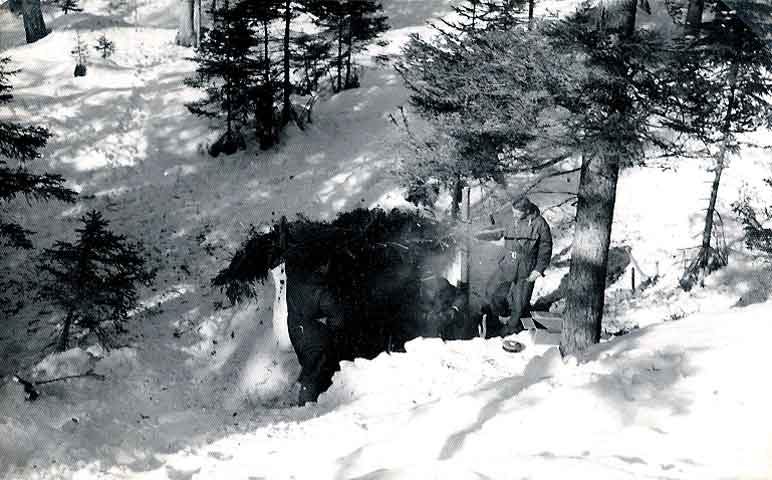 Survival Teepee on the RAF Skiing and Survival Course. Jan1954.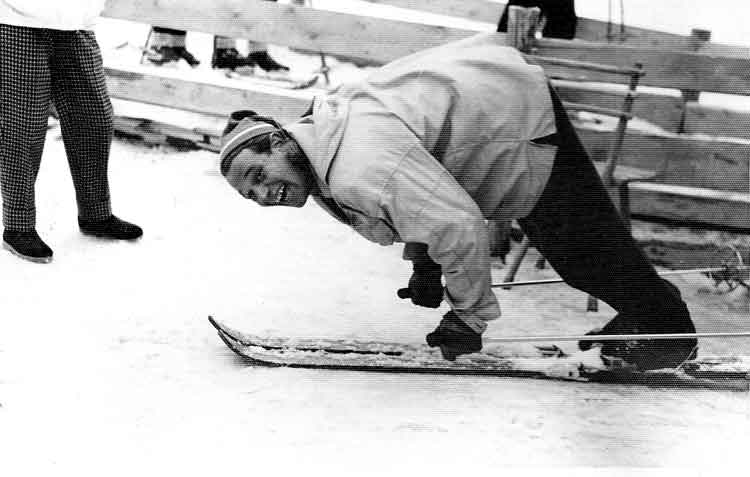 Bebe on the Survival and Skiing Course in Austria - Jan54.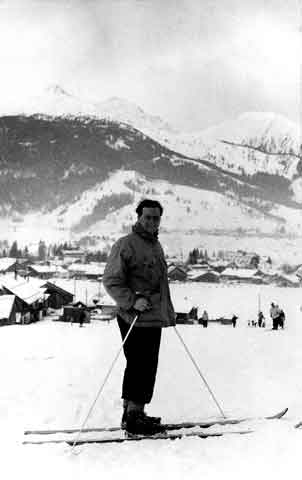 Bebe upright on the Survival and Skiing Course in Austria - Jan54.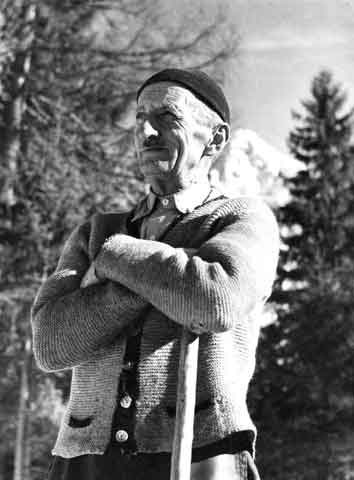 Ehrwald village elder Jan54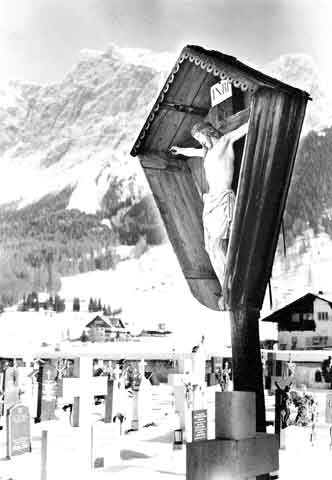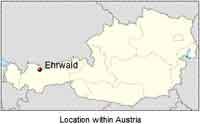 Ehrwald Cemetery - Jan54. Ehrwald is a municipality in the district of Reutte in the Austrian state of Tyrol. Ehrwald lies at the southern base of the Zugspitze (2,950 meters above sea level), Germany's highest mountain, but which is shared with Austria. The town is connected to the Zugspitze with the Tyrolean Aerial Tramway.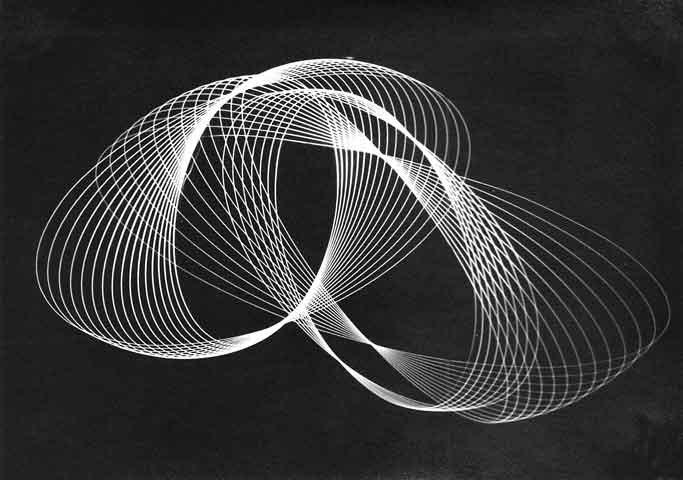 A "light doodle" - Swing that lamp!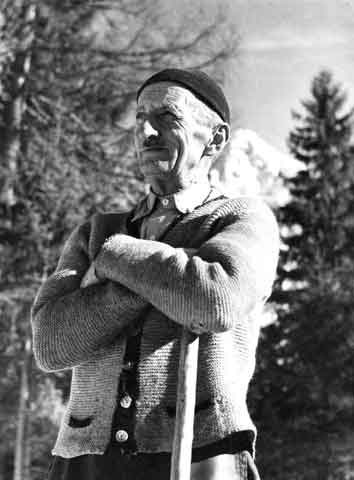 Alpine Farmer, Ehrwald, Austria - Feb54.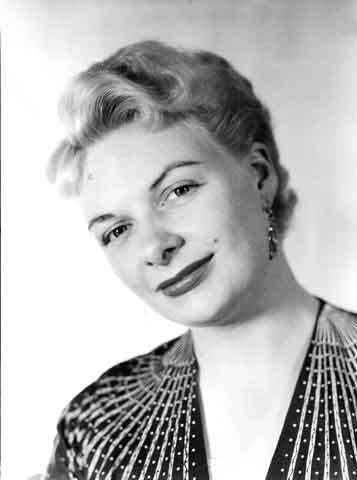 No Title [1/30 at f8.6]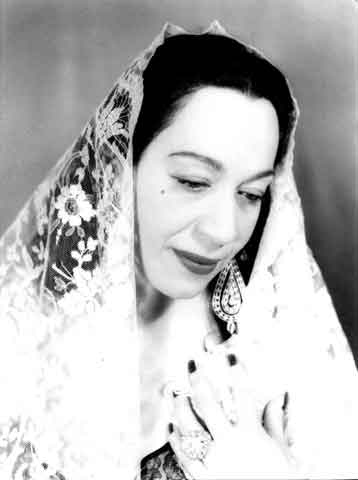 Rafi Cooke.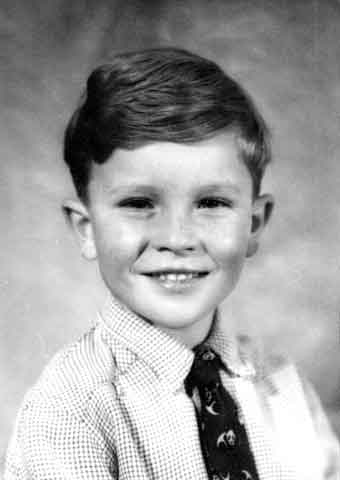 Freckles, Fassberg, Jan55.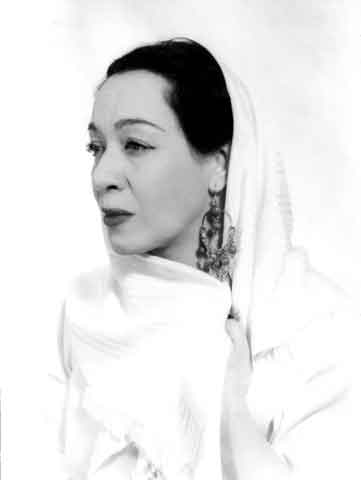 Mrs Fitzpatrick Cooke, Fassberg - Dec53.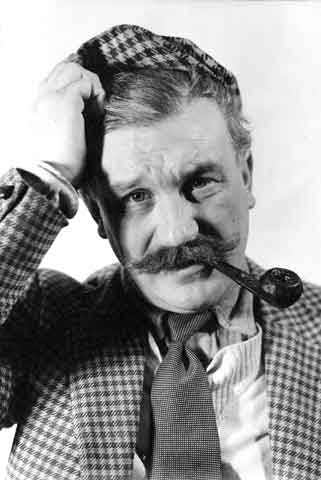 John Forward as 'Old Bill'.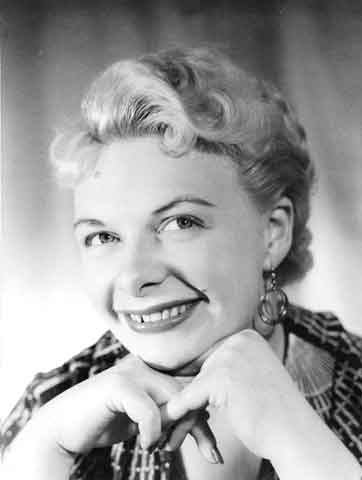 "Meg", Fassberg - May54.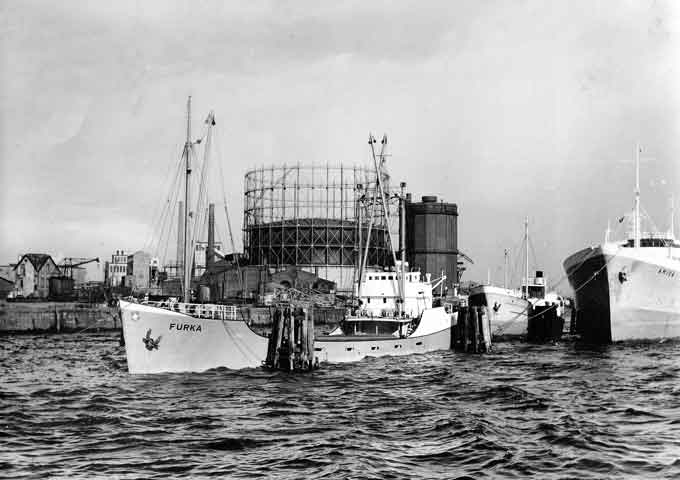 Hamburg waterfront - 1953.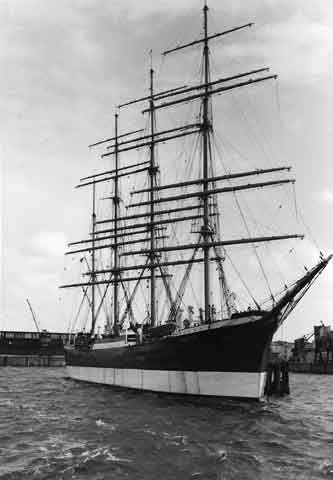 The Pamir, Hamburg Docks, 1953. Pamir, a four-masted barque, was one of the famous Flying P-Liner sailing ships of the German shipping company F. Laeisz. She was the last commercial sailing ship to round Cape Horn, in 1949. By 1957 she had been outmoded by modern bulk-carriers and could not operate at a profit. Her shipping consortium's inability to finance much-needed repairs or to recruit sufficient sail-trained officers caused severe technical difficulties. On 21 September 1957 she was caught in Hurricane Carrie and sank off the Azores, with only six survivors rescued after an extensive search. She was built at the Blohm & Voss shipyards in Hamburg, launched on 29 July 1905. She had a steel hull and tonnage of 3,020 GRT (2,777 net). She had an overall length of 114.5 m (375 ft), a beam of about 14 m (46 ft) and a draught of 7.25 m (23.5 ft). Three masts stood 51.2 m (168 ft) above deck and the main yard was 28 m (92 ft) wide. She carried 3,800 m22 (40,900 ft2) of sails and could reach a top speed of 16 knots (30 km/h). The regular cruise speed was around 8-9 knots

The Last Voyage

Due to ill health, her regular captain, Hermann Eggers, had been replaced by Captain Johannes Diebitsch, who had sailed on her as a young seaman and had commanded sail-training ships, but had little experience as master of cargo-carrying sailing ships. His first officer, Rolf Köhler, was only 29 at the time, and wrote that he was "getting thin with anger" over the state of the ship and that he was intending to quit the ship's company after arriving home from the next voyage. Captain Diebitsch was criticized for being a harsh and inflexible officer. On 10 August 1957 she left Buenos Aires for Hamburg with a crew of 86, including 52 cadets. Her cargo of 3,780 tons of barley was stored loose in the holds and ballast tanks, secured by 255 tons in sacks on top of the loose grain. Records indicate that this was one of the major mistakes implicated in the sinking - she had been held up by a dockworkers' strike, and Diebitsch, under severe pressure to sail, decided to let the trimming (the correct storage of loose cargo so that it does not shift in the hold) be done by his own untrained crew. It was later found that he also had the ballast tank filled with barley. Even though testing of the roll period (the time the ship took to right itself after load transfers) showed that she was dangerously unsafe, Diebitsch decided to sail. On the morning of 21 September 1957 she was caught in Hurricane Carrie before shortening sails. It was later considered that because the radio officer had also been given substantial administrative tasks (to save the money required for another officer's position), he had likely not received any of the radio storm warnings. She had also not responded to radio hails by ships that had sighted her earlier in the voyage. She soon listed severely to port in the sudden storm. As hatchways and other openings were not closed at once, they probably allowed considerable amounts of water to enter, as found by the commission who examined the probable causes of the sinking. The shipping company's lawyer at the investigation claimed that the water entered her due to a leak. According to the commission, the water caused her to list further and the grain to shift, which aggravated the list. The captain did not order the flooding of her grain-filled ballast tanks, which would have helped her to right herself. Once she listed severely, the lifeboats could not be deployed because her port side was under water and her starboard side was raised to an angle that did not allow use of the boats. She sent distress signals before capsizing at 13:03 local time, and sinking after drifting keel-up for 30 minutes in the middle of the Atlantic 600 nautical miles (1,100 km) west-southwest of the Azores at position 35°57'N 40°20'W. Three damaged lifeboats that had come loose before or during the capsizing and the only liferaft that had been deployed were drifting nearby. None contained any provisions or working distress signal rockets. Many sharks were later seen near the position. A nine-day search for survivors was organized by the United States Coast Guard cutter USCGC Absecon (WAVP-374), but only four crewmen and two cadets were rescued alive, from two of the lifeboats. It was reported that many of the 86 men aboard had managed to reach the boats, but most died in the next three days. As none of the officers nor the captain survived, the reasons for the capsizing remained uncertain. The sinking made headlines around the world; it was a national tragedy in Germany.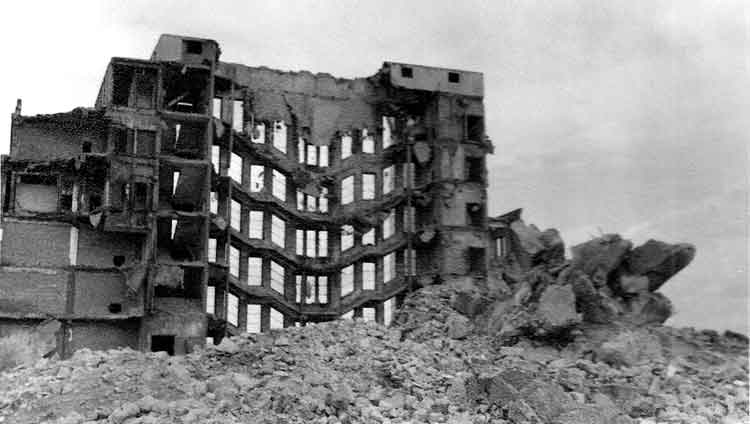 War Damage in Hamburg - 1953.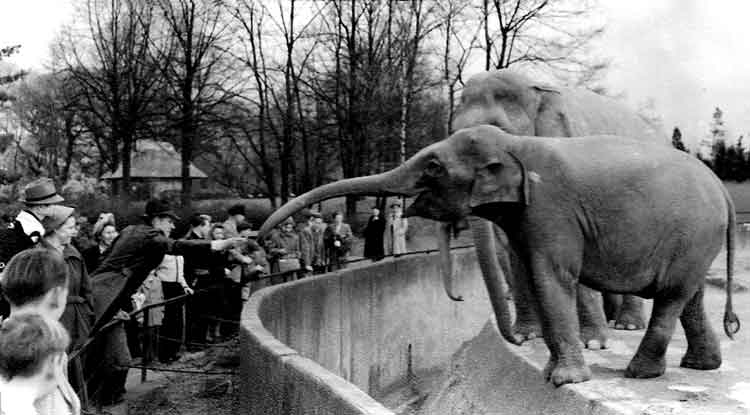 Hamburg Zoo - 1953. The Tierpark Hagenbeck is a zoo in Stellingen, now a quarter in Hamburg, Germany. The collection began in 1863 with animals that belonged to Carl Hagenbeck Sr. (1810-87), a fishmonger who became an amateur animal collector. The park itself was founded by Carl Hagenbeck Jr. in 1907. It is known for being the first zoo to use open enclosures surrounded by moats, rather than barred cages, to better approximate animals' natural environments.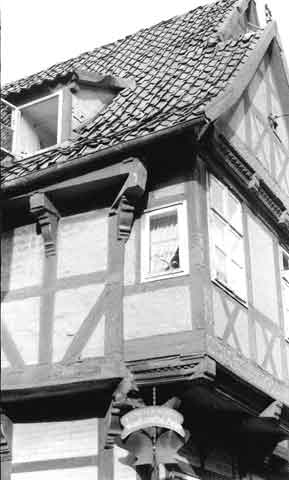 Presumably old Hamburg - 1953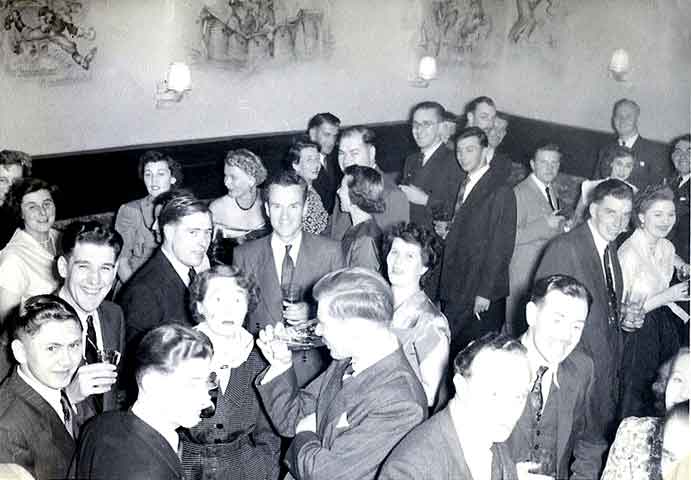 Harry Fry's Engagement Party in the Mess at Fassberg. About 1953.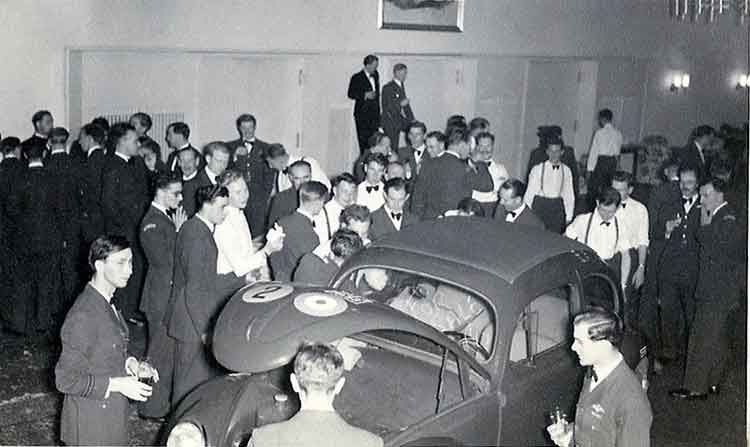 Another Engineering Feat with OC Flying's Volkswagon at Fassberg! About 1953.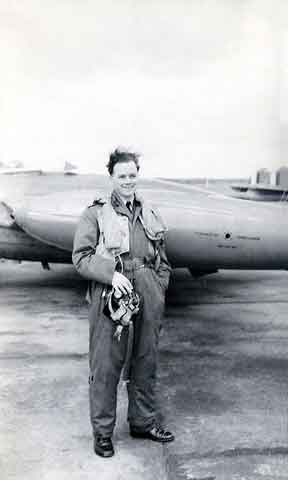 BeBe Sharman standing beside a Venom at Fassberg. About Summer 1953.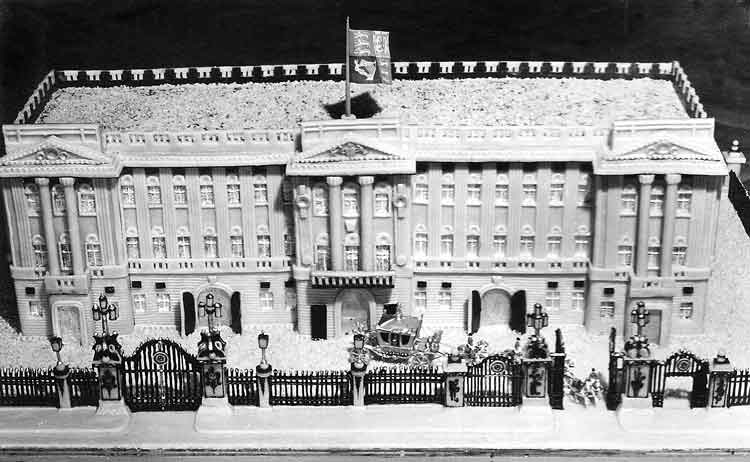 Believed to be a Cake of Buckingham Palace - occasion unknown.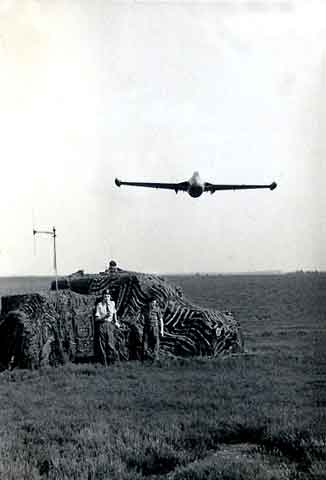 Low Pass by 98 Sqn Venom over the Air Control Team on Fassberg Ranges.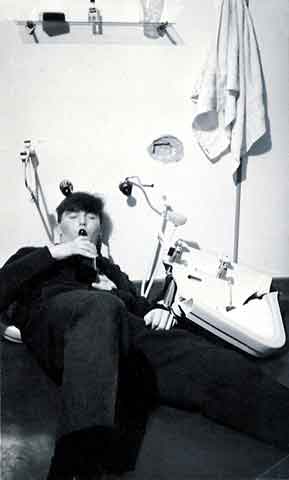 The Result of Bodger Edwards Sitting on Curly Hirst's Washbasin Fassberg 1955. This may have been after Apr55 in which case it would have been at Jever. [Click to see a possible account.]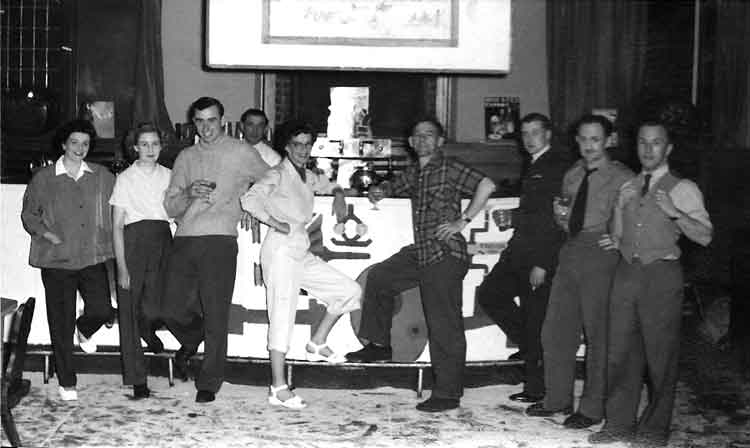 Unknown Party Unknown Bar.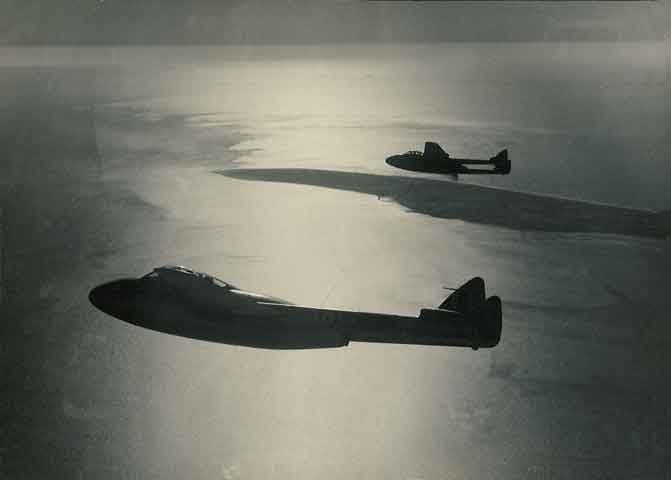 Vampire T.11s over Sylt 54/55.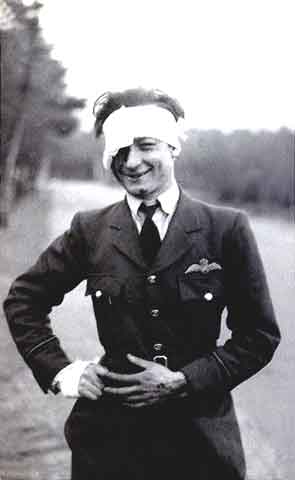 Sam D'Arcy 10 Minutes after being "Critically Injured"! March 1954 when Sam was on 14 Sqn. (Click here to see further report).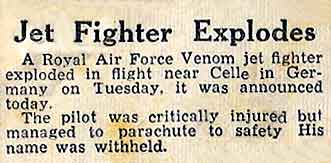 Newspaper Report of 14 Sqn Venom Explosion March 1954. (Click here to see further report).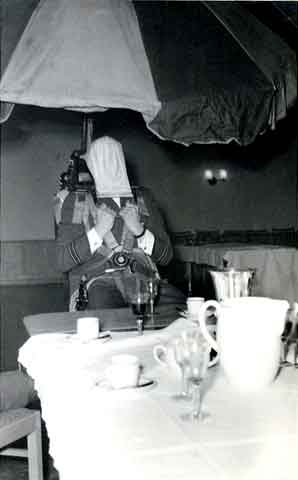 Sam D'Arcy Shows How to Do an Ejection! March 1954 when he was on 14 Sqn. (Click here to see further report).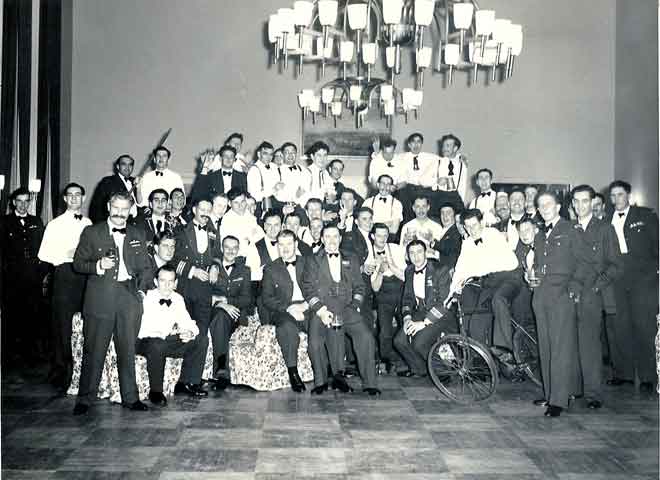 Fassberg Dining In Night, Ivanhoe About to Start 54/55.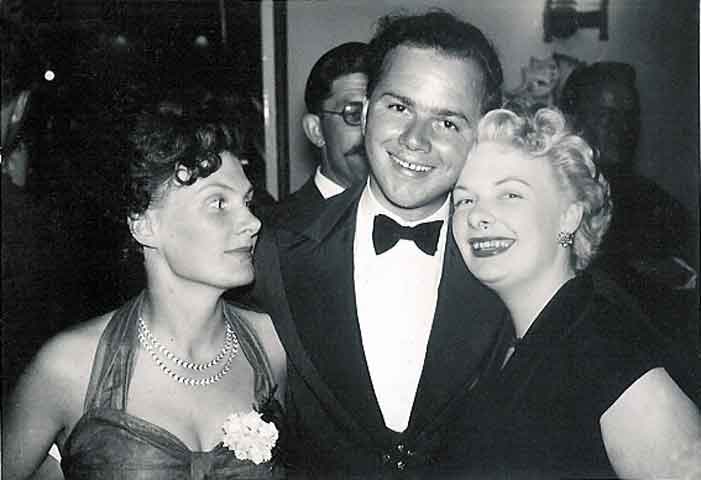 L to R: Marie Brooker, Doctor's Wife, BeBe Sharman, Meg Brooker, Doctor's Sister.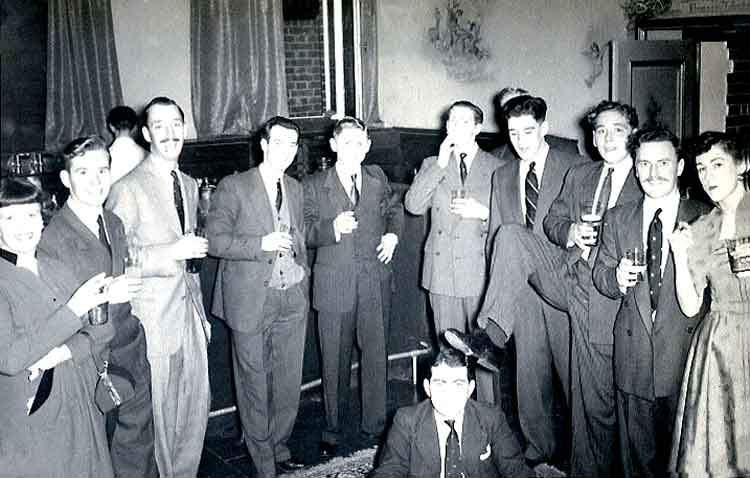 Party in Cellar Bar at Fassberg 54/55.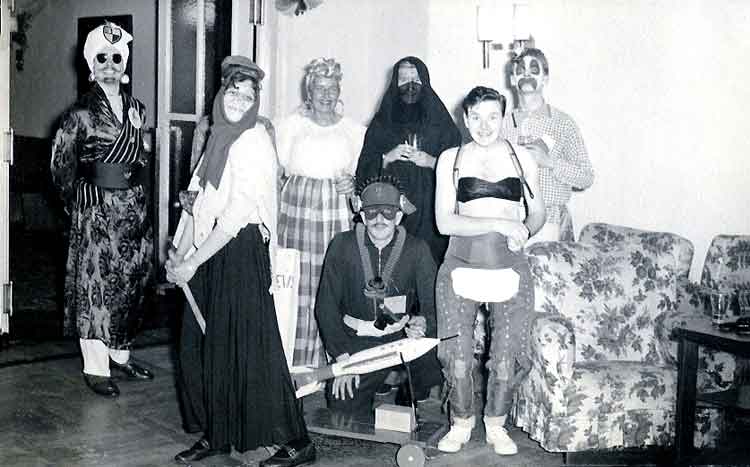 Fassberg New Year's Eve Ball. 31Dec1954.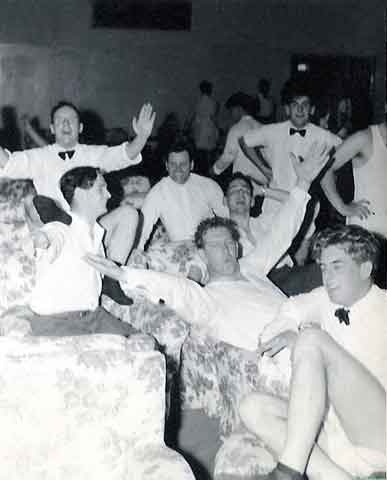 After Mess Rugby at a Dining In Night Fassberg Mess 54/55. L to R Front Row Only: Cess Crook, Jock Tighe, Butch Hoogland.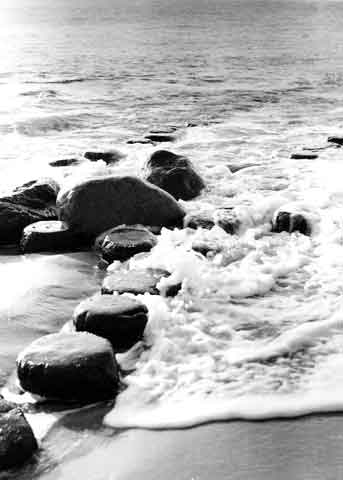 Sylt Attachment - 1954.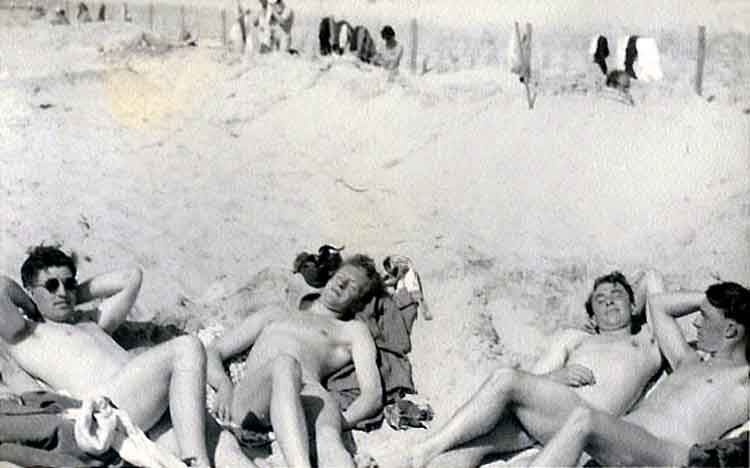 It's the Common Dress Here! Sylt 54/55. In the early 20th century many artists and intellectuals were attracted by Kampen. Haus Kliffende became the favourite quarter of Thomas Mann and many other celebrities. Ferdinand Avenarius is considered as the first popularizer of Sylt. After World War II the village continuously became a venue of the "rich and famous" - the tycoons of the Wirtschaftswunder. Also many celebrities of cinema and television thought Kampen to be fashionable. In the 1960s there was a considerable boost in the naturist movement. Especially the nude beach at Buhne 16 in Kampen gained popularity by frequent media reports. The boom slowed down in the 1980s. Today Kampen is still an upscale tourist resort but mostly without any spectacular events.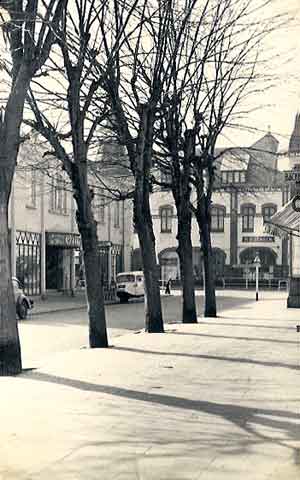 Westerlund, Sylt 54/55. Westerland lies on the North Sea island of Sylt and is Germany's northernmost town and a former municipality. Only the smaller communities of List, Wenningstedt and Kampen - none an incorporated town - lie farther north in Germany. Since 1 January 2009, it has been part of the municipality Sylt. Westerland belongs to the Nordfriesland district in Schleswig-Holstein. It lies about 70 km northwest of Husum, 74 km west of Flensburg, 134 km northwest of Kiel and 186 km northwest of Hamburg. Westerland is very posh and expensive and is quite often revered as the "Beverly Hills" of Germany.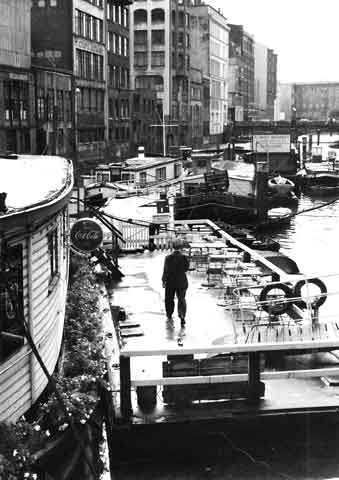 Hamburg - Canal System. In Hamburg the many streams, rivers and canals are crossed by over 2300 bridges, more than London, Amsterdam and Venice put together. Hamburg has more bridges inside its city limits than any other city in the world and more canals than Amsterdam and Venice combined. The Köhlbrandbrücke, Freihafen Elbbrücken, and Lombardsbrücke and Kennedybrücke dividing Binnenalster from Aussenalster are important roadways.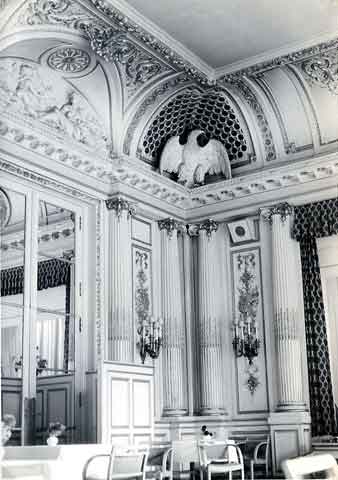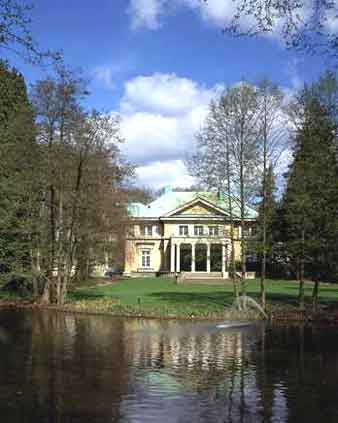 Interior and exterior of Officers' Club in Hamburg 54/55. In 1871 the villa at the Hamburg address Elbchausee 486 stood in a large park covering 8 hectares and was the summer residence of a well-to-do Hamburg merchant. After the Second World War the spacious building housed the officers' club of the occupying British forces, before it was transferred to British Petroleum and used as a training centre for international staff.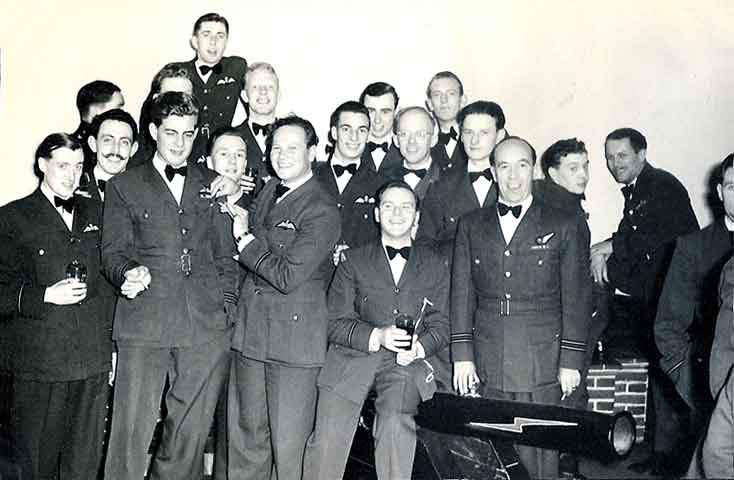 Group in Fassberg Mess Round Old Cannon that was Stolen Back and Forth from Celle Mess 1954. Dave Lockspeiser shows off Butch Hoogland's New Korean Medal.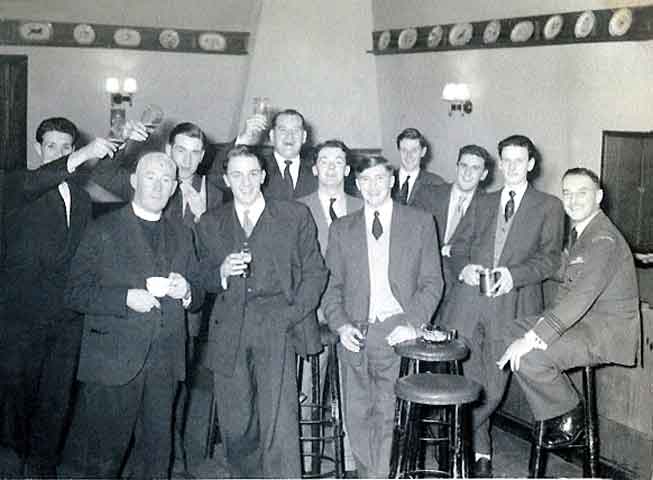 The Fassberg Bar 1954/55. L to R: Keith Adams, Padre Murphy RC front, Keith Sturt, Bill Ostrom front, Unknown, Ken Williams,
Bodger Edwards front, Mike Dunford, Curly Hirst, Vic Dabin, RAF Regiment Officer.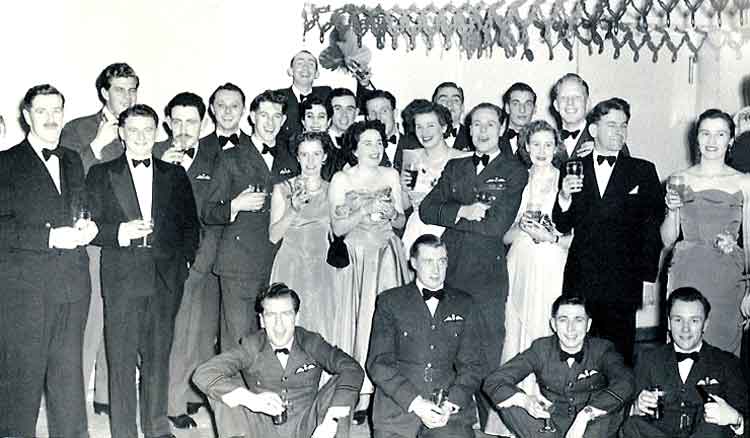 No 118 Sqn Christmas Party in Fassberg Mess Dec 1953.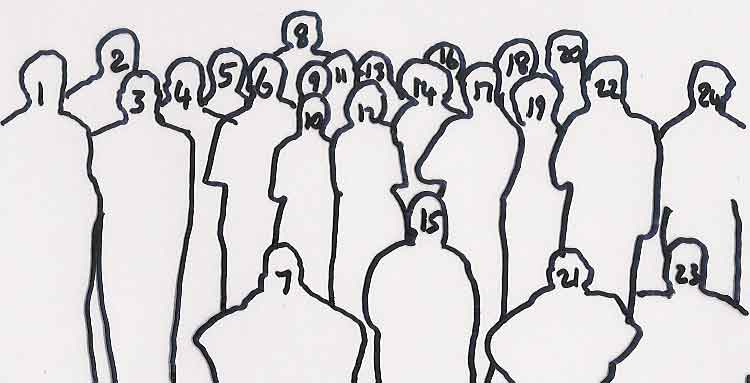 1. CO Sqn Ldr Arthur Asker, 2. Butch Hoogland, 3. Les Cooke, 4. Charlie Powell, 5. Ted Stratton
6. John Smith, 7. Jim Culley, 8. George Aird, 9. Ann Yeardley, 10. Mollie Asker, 11. Roy Irish
12. Barbara Jones, 13. Denis Yeardley, 14. Lady from UK, 15. Ian McLennan, 16. Ian Craig
17. Ken Jones, 18. Bill Dodds, 19. Mavis Powell, 20. Mike Wraight, 21. Fred Butcher, 22. Alan Powell
23. Brian Rogers, 24. Margaret Durrant.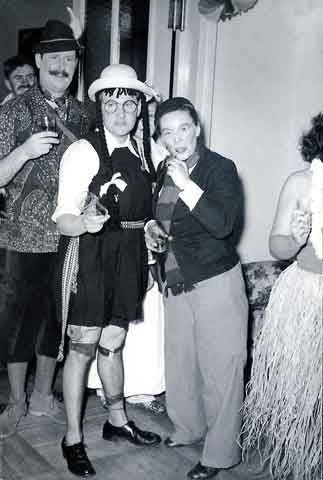 Fassberg New Year's Eve Ball. 31Dec1954. L to R: Major Fitzpatrick Inniskillen Fusiliers GLO, Boss Smith-Carington, 98 Sqn,
Mrs Smith-Carington.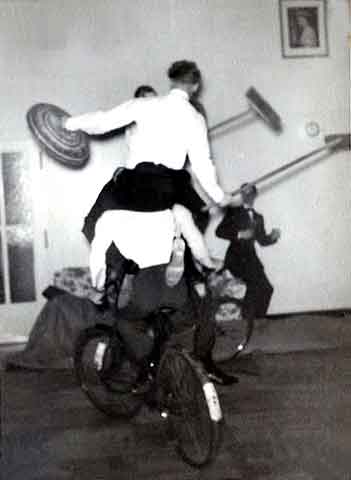 Fassberg Dining In Night, Ivanhoe in Progress 54/55.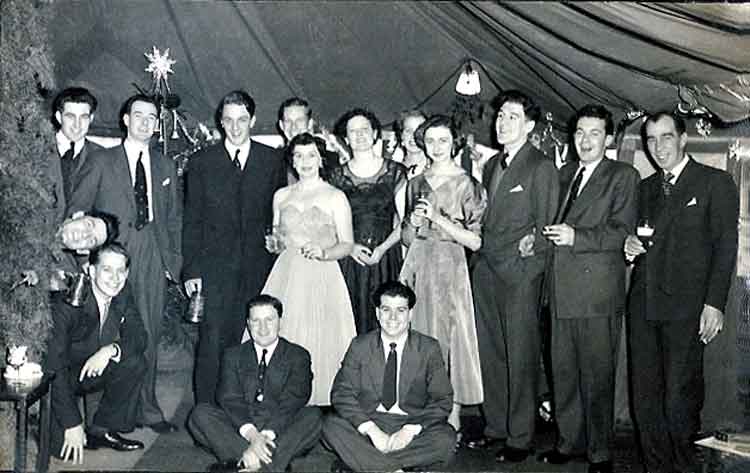 Party in the Fassberg Mess 54/55.



---
MOVE TO JEVER AND RE-EQUIP WITH HUNTER F.4s - APRIL 1955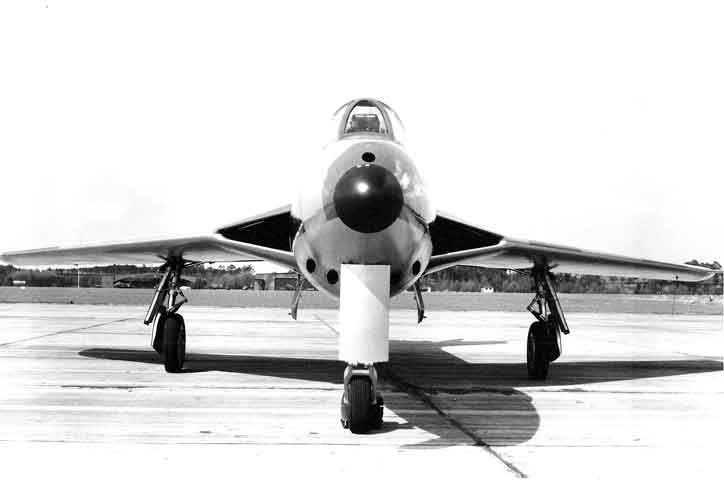 Probably the same Hunter F.4 that was photographed inverted over Wilhelmshaven flown by Dougie Adamson (click to see picture) - Early 56.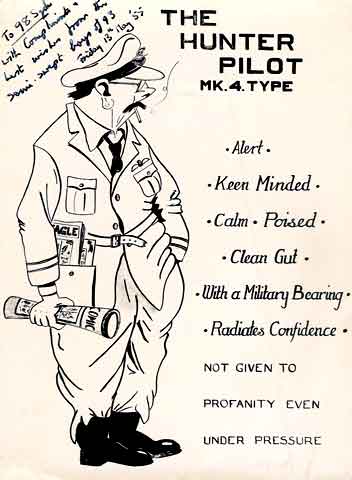 Card from 93 Sqn (still on Sabres) to 98 Sqn (First to convert to Hunter F.4s) 13th May 1955.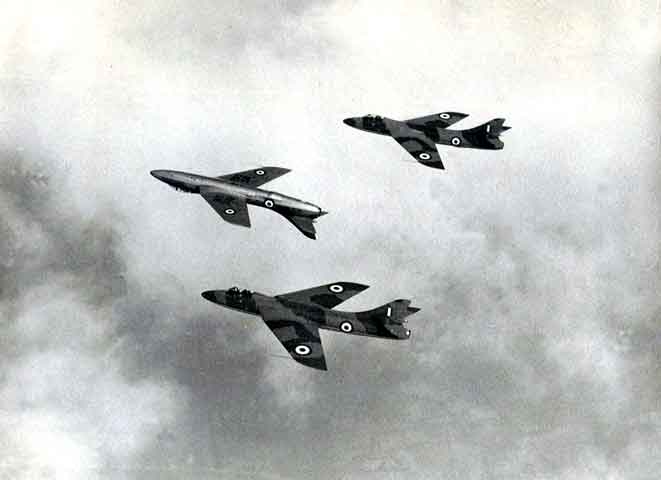 John Severne 98 Sqn leads inverted May 1955.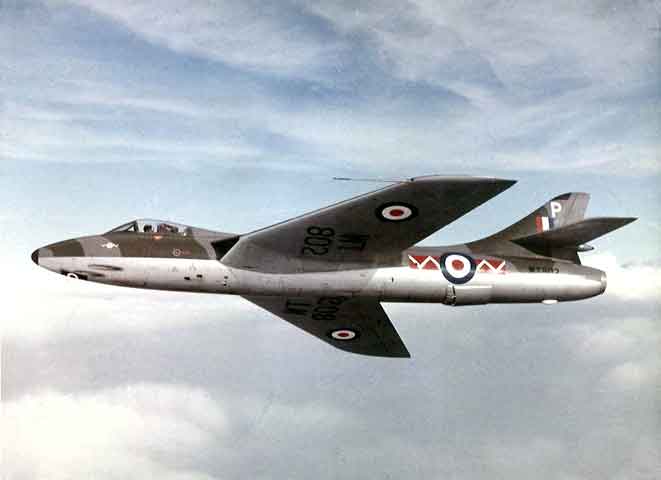 Dave Sawyer in 98 Sqn Hunter F.4 - May 1955 taken by BeBe Sharman from another Hunter. BeBe makes a note "Agfa colour ruined by the factory". Hunter F.4 WT802 P arrived on 98 Sqn on Thu 12May55 and left on Tue 9Jul57. 1st Flt 24Mar55 by M Anderson from Avions Fairey. Delvd 20Apr55 to 98 Sqn 12May55, 4Dec55 to gun firing modifications 33MU Lyneham back 11Jan56. Finally to 5MU.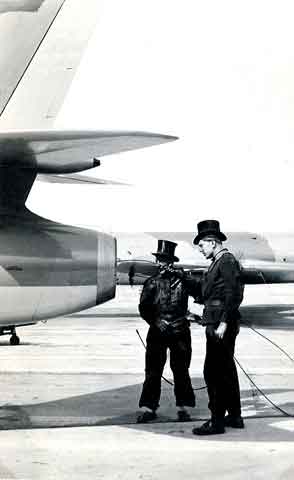 German Chimney Sweeps invited to clean up a Hunter F.4. May 1955.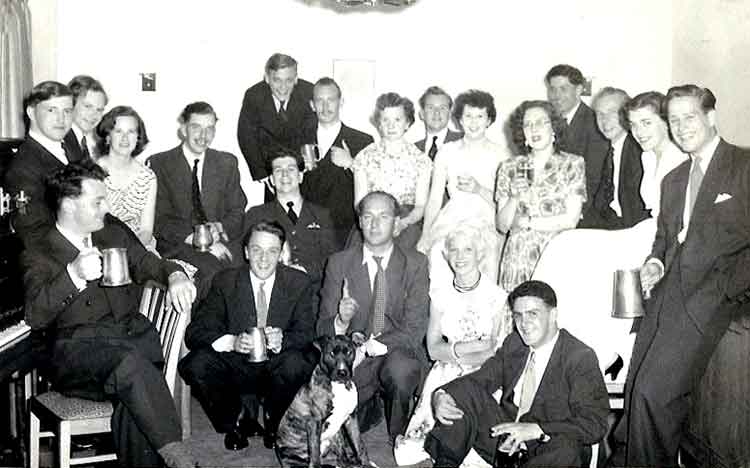 Jever Party 1955. L to R: Bodger Edwards, Alan Lethbridge rear, Ken Williams front, Avril Lethbridge, Terry Hughes, Bill Ostrom front, Ted Bywater uniform, Dave Sawyer rear, Eddie McCullagh rear, Hammer West Wg Cdr Flying with his dog Pinto in front, Val Pigdon behind Hammer, Gillie Gray rear, Unknown Lady rear, Nancy West next to Hammer, Curly Hirst seated, Unknown Lady, John Severne rear,
Dave Brunger, Unknown Lady, Unknown.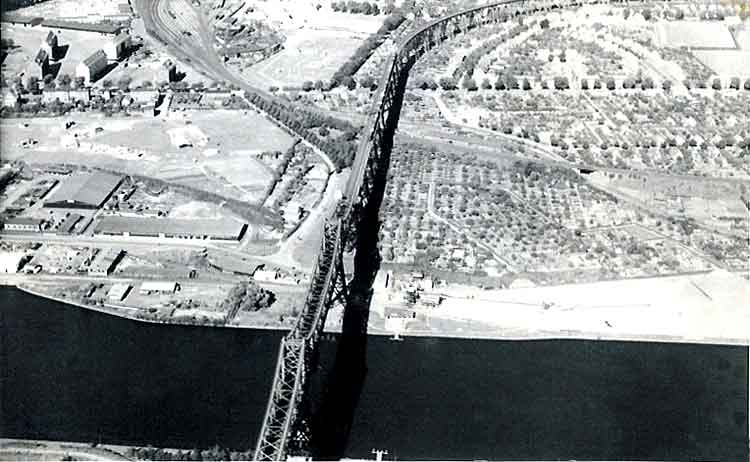 Famous Rendsburg Transporter Bridge over the Hamburg to Baltic Canal that was the target for flying under - 1955. The Rendsburg High Bridge is a railway viaduct on the Neumünster-Flensburg line that also serves as a transporter bridge. The bridge crosses the Kiel Canal at Rendsburg in the German state of Schleswig-Holstein. It is federally owned through the Federal Water and Navigation Administration that also owns and runs the canal. The Kiel Canal (then Kaiser-Wilhelm-Kanal) was built between 1887 and 1895 cutting through existing traffic lines including the railway line between Neumünster and Flensburg for which two parallel swing bridges were built. In 1907 it was decided to enlarge the canal and in the course of this expansion major obstacles were also to be removed. Main railway lines had right of way over ships on the canal and ships had to stop, losing about half an hour when a train passed. This was considered the major obstacle as the ships were unable to overtake and could pass each other at dedicated enlarged areas so that the traffic on the entire canal was hampered. Especially the navy pressed for a separation of traffic flows as closed bridges could delay flotillas by several hours. In order to allow the railway line to pass above the canal, the new bridge was to have a clearance over the canal's mean water level of 42 metres. The existing tracks crossed the canal about 7 metres above the canal's water level, so the tracks had to be elevated by about 36.5 metres including additional 1.5 metres to accommodate the thickness of the lower girder. The required maximum incline of 1:150 (one metre gain in altitude per 150 metres distance) made it necessary to build elevated embankments and access bridges of about 5.5 km at each side. The bridge was erected between 1911 and 1913 to a design by Friedrich Voss (1872-1953) and replaced the earlier swing bridges. The steel viaduct has a length of 2,486 metres (8,156 ft) and is supplemented by embankments that bring the overall length of the structure to about 7.5 kilometres (4.7 mi). The cantilever main bridge is 317 metres (1,040 ft) long, has a main span of 140 metres (460 ft) and provides a clearance of 42 metres (138 ft) above the canal's water level. To serve Rendsburg station, situated at ground level only a couple of hundred metres from the main bridge, the railway line is routed through a large 360-degree loop on the north bank of the canal ("Rendsburg Loop") [This can be seen at the top centre of the photo.]. The total cost of the construction, including the relocation of railway lines but excluding work related to the elevation of Rendsburg station, was 13.4 million Mark. This figure includes 5.7 million Mark for bridges, 2.7 million Mark for the mounds and 1.3 million Mark for underpasses and the relocation of roads. The "Schwebefähre" (suspension ferry) runs daily every quarter of an hour from early morning until late at night. It covers a distance of 125 metres (410 ft) within 1½ minutes and provides the shortest connection between the municipality of Osterrönfeld and the city of Rendsburg. As this mean of transportation is especially useful to students on their way to school, larger maintenance work that requires suspension of service is coordinated with school holidays. The gondola is fourteen metres long, six metres wide and travels six metres above the canal. In recent years the nominal transport capacity has been reduced from six to four automobiles in order to factor in increased car size and weight. While the gondola is equipped with nautical equipment such as radio, radar and life-rafts, there is no prerequisite for the operator to hold a master's license for inland navigation. The only incident so far happened during a storm in January 1993. The unmanned and unlit gondola broke loose at night, was blown over the canal and collided with a ship. Fortunately both ship and gondola suffered only minor damage.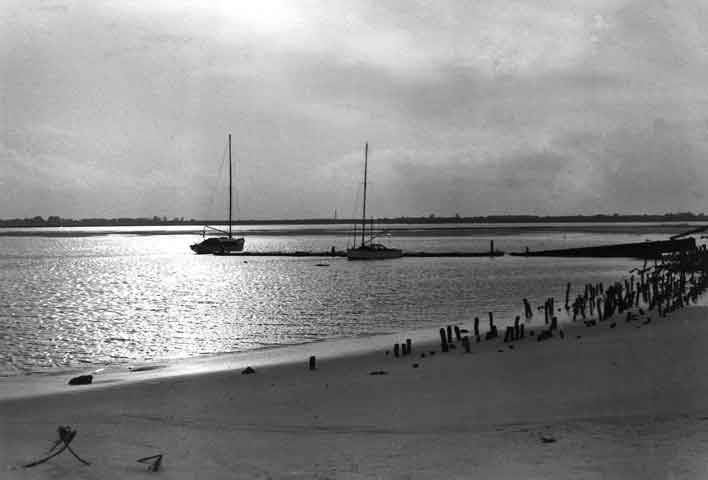 Believed t51o be Sylt.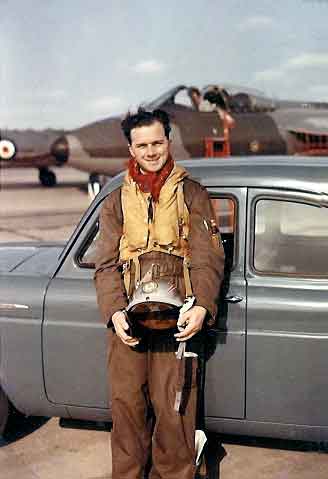 BeBe Sharman in front of his first car and the new Hunter F.4s of 98 Sqn May 1955.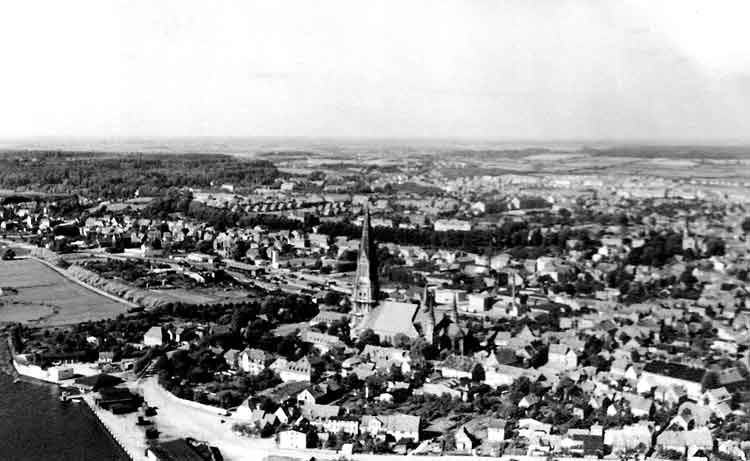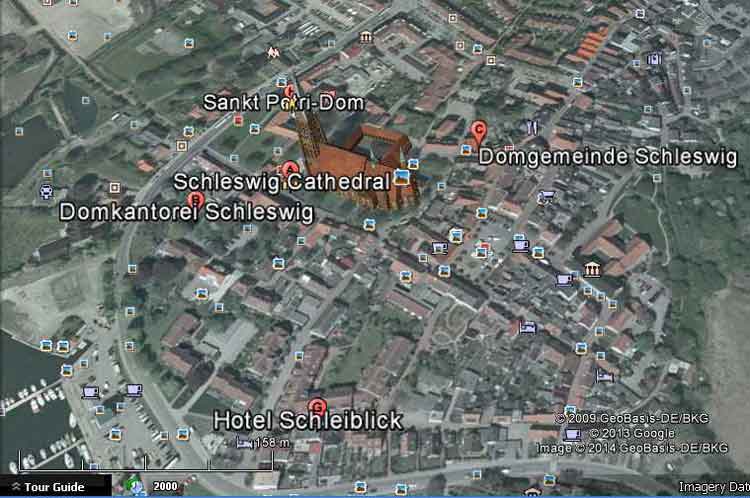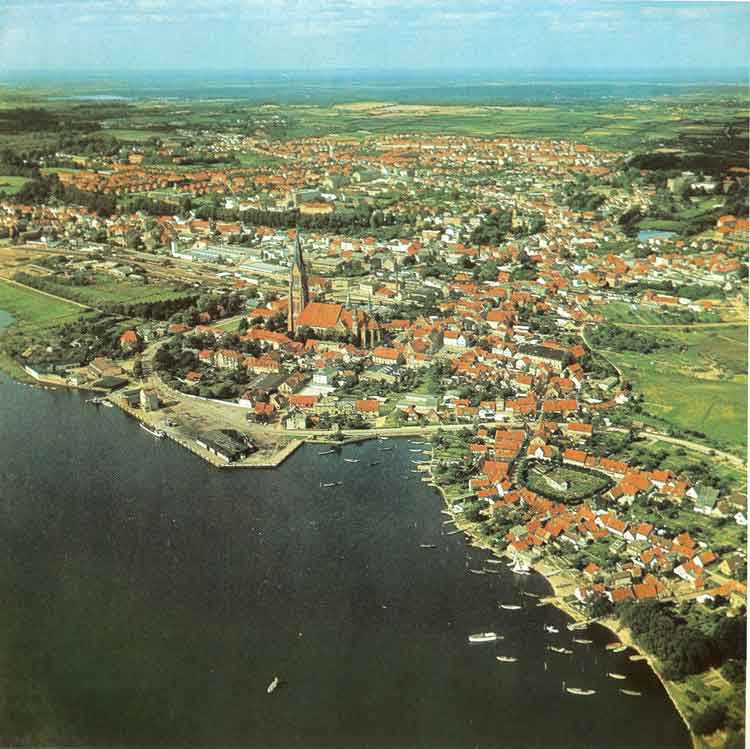 Thanks to Marcus Christ who has identified this untitled aerial shot as being of Schleswig Cathedral. The middle picture is from Google and the bottom an almost identical aerial shot was taken in 1965. Schleswig Cathedral officially the Cathedral of St. Peter at Schleswig is the main church of Schleswig and was the cathedral of the Bishop of Schleswig until the diocese was dissolved in 1624. It is now a church of the North Elbian Evangelical Lutheran Church, seating of one of its bishops, and ranks among the most important architectural monuments of Schleswig-Holstein. The Late Gothic Hall Church was built from 1200 to 1408 and was finally perfected in the 16th century. It was in 1894 that the cathedral got its final outward appearance. In 1888, when Schleswig became provincial capital, the construction of a Gothic revivalist western tower began at the request of the King William II of Prussia. It was finally completed in 1894 and was, measuring 112 metres, a little too high when compared to the proportions of the cathedral. There is a panorama platform on the tower at 65 meters which commands a great view on the city of Schleswig, the Schlei and the fishing village of Holm. As of 2006, it is possible to view the bells above the platform with a special guided tour starting in the cathedral.





Row of 98 Sqn Hunter F4s May 1955. This is the same photo as 98 Sqn 139. See the notes under that photo about the link collector fairings - Sabrinas. In May 1955 4 and 93 still had Sabres and 98 and 118 had just re-equipped with Hunter F.4s.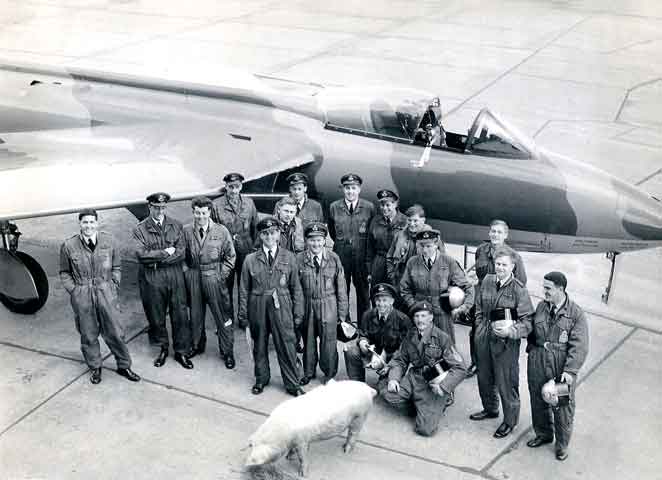 98 Sqn with Pig Mascot Elspeth May-Dec 1955
L to R: John Severne, Bill Ostrom, Ted Bywater, Terry Hughes, BeBe Sharman, Brian Conway, Ken Williams rear, Boss Smith-Carington front, Peter Sanderson, Dave Sawyer rear, Dave Brunger kneeling front, Bodger Edwards rear, Eddie McCullagh kneeling front,
Gillie Gray standing with bonedome, Dave Young rear, Alan Lethbridge, Curly Hirst. Elspeth was won at a fete in Celle.
[Click to see about her sty].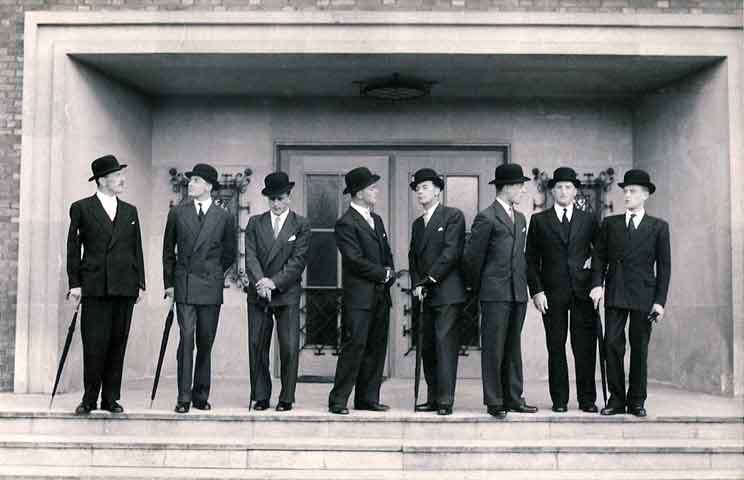 98 Sqn Setting a Good Example in Elegant Dress Bowler Hats and Rolled Umbrellas Late 1955 L to R: Muckluck Mccullagh, John Severne, Curly Hirst, BeBe Sharman, Ken Williams, Dave Sawyer, Bodger Edwards, Dave Young.





Unknown event - photo loose in the back of Album 4. Anyone recognise names?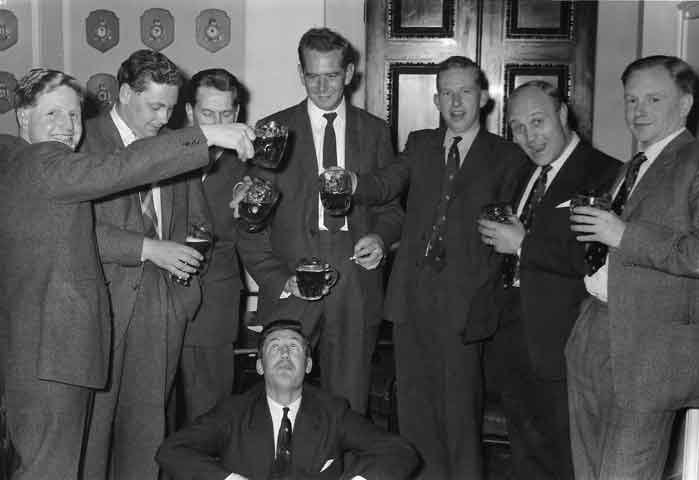 Another loose photo in the back of Album 4 - sometime between Nov56 and 16Jul57. L to R: Paddy Hipperson, Mutt Summers, Unknown,
Andy Mcnae, Dave Brunger, Don Riley, Alan Lethbridge and Barry Dale on the floor.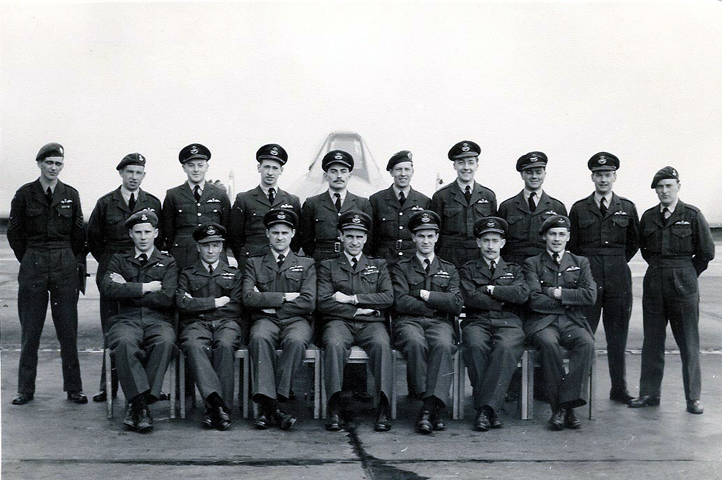 98 Sqn Aircrew at Fassberg March 1953
L to R: Back: Sgt Ken Wilson Dave Brunger Unknown Glyn Chapman Paddy English, Sgt Bob Bates, Unknown Bebe Sharman
Ray Endacott Harry Fry
Front: Bob Broad Alan Green Charles Maughan CO Sqn Ldr David A S R Strudwick Pete Dunn Alan Clark Ron Leslie.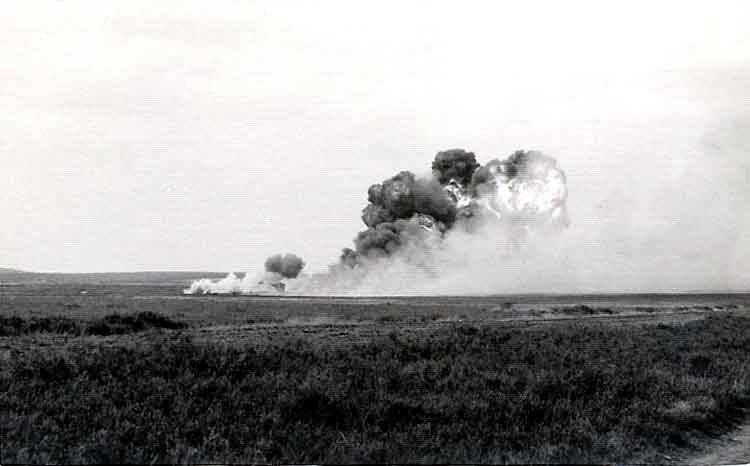 John Severne Drops the First RAF Napalm from 98 Sqn Venom on Fassberg Ranges 1954.
This was on or after 10May54. (Click to see fuller report).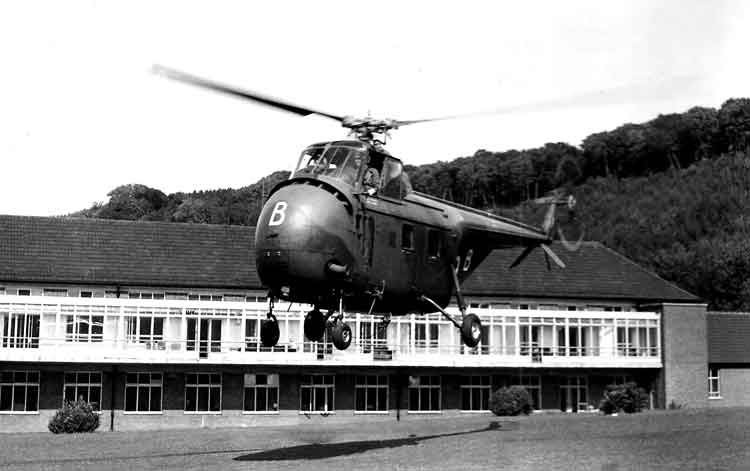 Loose in the back of Album 4. Whirlwind helicopter location and occasion unknown.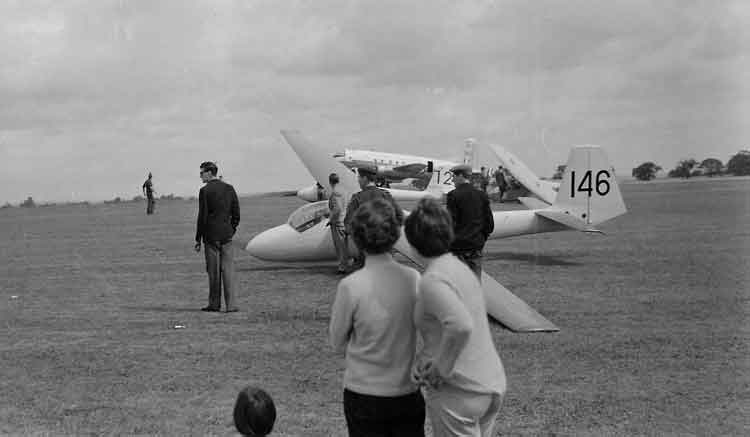 Loose in the back of Album 4. Gliding but location and time unknown.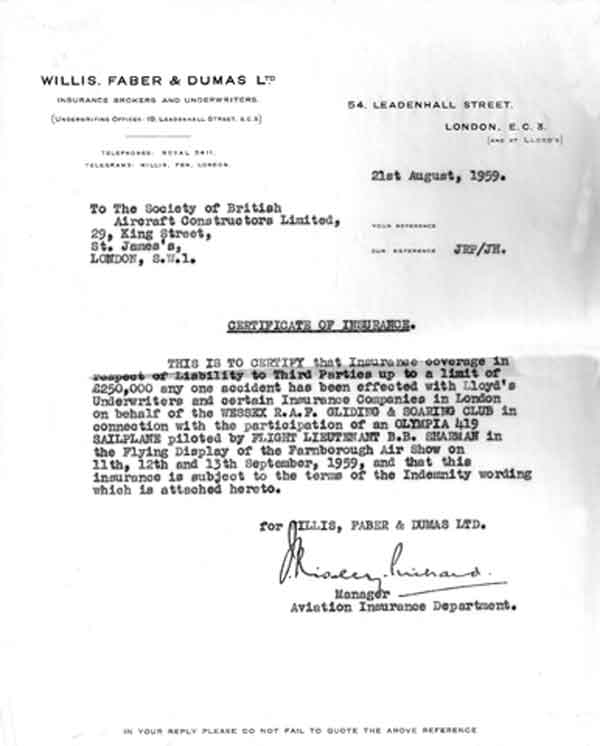 Loose letter in the back of Album 4. This gives insurance cover for Bebe to perform in an Olympia 419 at the Farnborough Air Show on 11th, 12th and 13th September 1959. e previous gliding photo may have been taken during this event.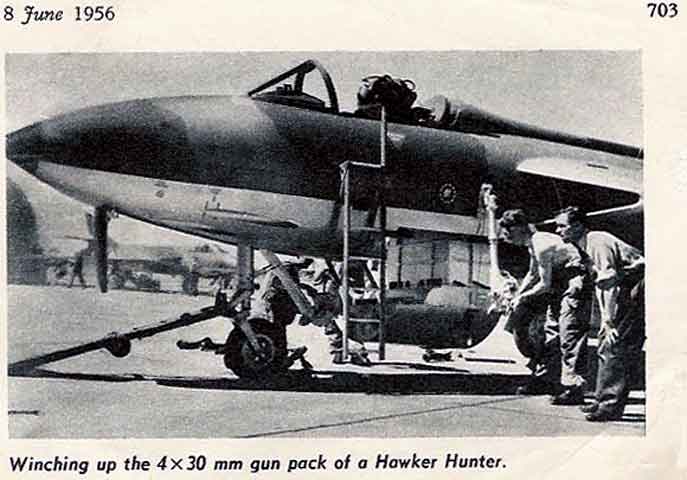 Re-arming 98 Sqn Hunter F4. Early shot without 'Sabrina' link collectors. Compare this to the photo of a line up of 98 Sqn Hunter F.4s later on where the Sabrina link collectors can be clearly seen. Published in Flight 8Jun1956. Clipping loose in the back of Album 4.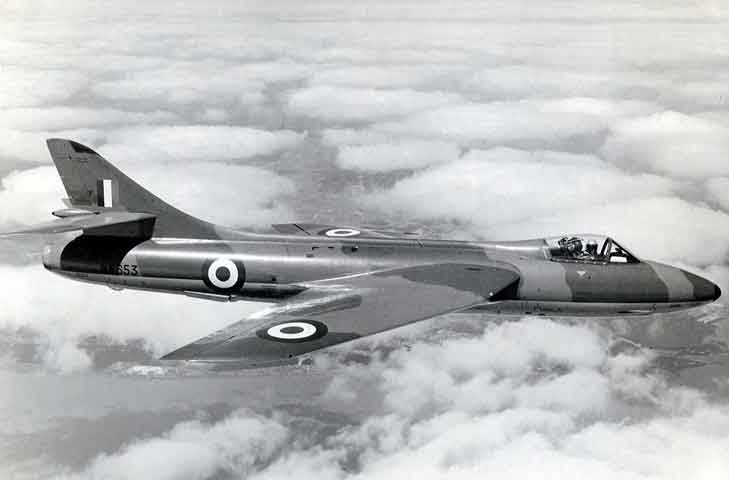 Last photo in Album 4 - 98 Sqn Hawker Hunter F.4 May 1955. BeBe Sharman took this from another Hunter.


(Thanks to Mamie Sharman and many quotations from Wikipedia.)
(
Click to go to Album 5.
)